Menswear Catwalk Print Trends F/W 2015-16
Fresh off the Fall/Winter 2015-16 catwalks comes a range of inspiring and directional prints, updating menswear with forward looks for the coming season, say the trend experts at Trendstop. Here, a sneak peek at Arabian Interiors, an essential Contemporary and Young Fashion sector print trend.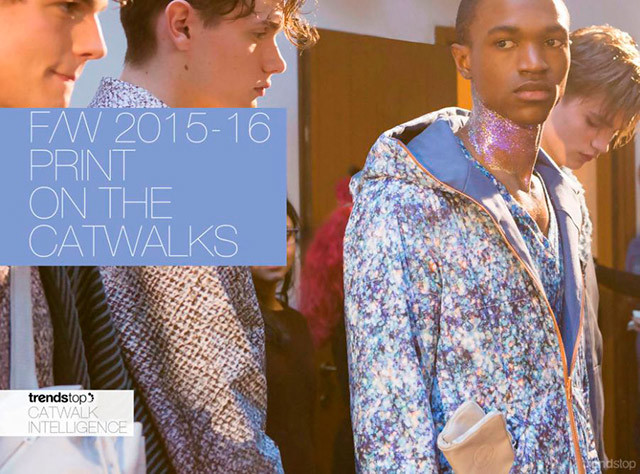 image courtesy Trendstop
Men's Contemporary Print Theme: Arabian Interiors
A focus on interior inspirations is key, together with subtle plays on tone and minimal takes on classic styles. Sourced from the menswear shows at London, Milan and Paris.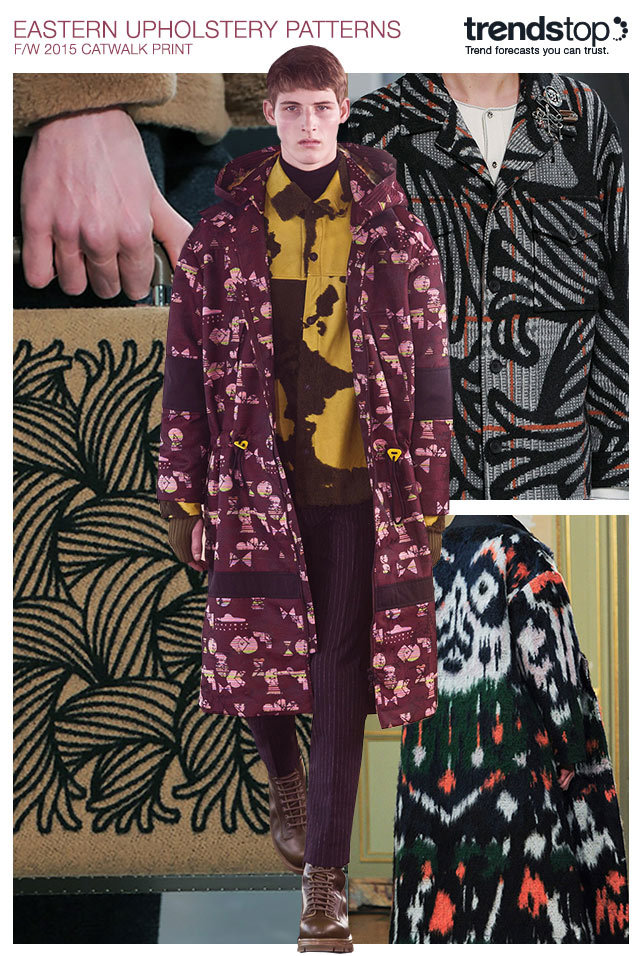 image courtesy Trendstop: Kenzo, Louis Vuitton and Walter Van Beirendonck, all Fall/Winter 2015-16.
Eastern Upholstery Prints
A key trend on the Paris runways, menswear prints look to the East for fall, transforming interior-inspired patterns with a hint of Arabian exoticism. Upholstery-style surfaces play with scale, executed with tactile fabrics in the form of Louis Vuitton's square briefcase and Dries Van Noten's knitted sweater. Other highlights include Kenzo's urban winter coat and Antonio Marras' coordinated top/scarf combination.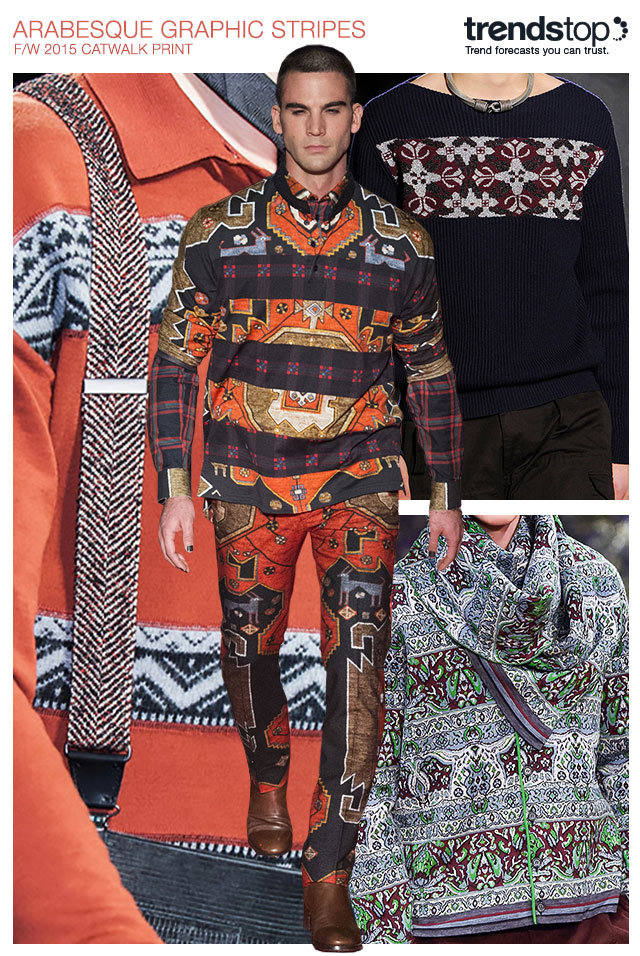 image courtesy Trendstop: Givenchy, Bottega Veneta, Dries Van Noten and Antonio Marras, all Fall/Winter 2015-16.
Arabesque Graphic Stripes
Other interpretations mix Arabian motifs with ikat patterns or apply placement stripes to create a culture clash of prints, as seen at Givenchy and Bottega Veneta. Bold pops of winter brights stand out on dark seasonal colourways, as seen on Walter Van Beirendonck's tactile coat, while Louis Vuitton layers prints for a statement effect on a jacket. This print trend updates F/W 2015-16 styles with a modern East-meets-West appeal.
THE FULL REPORT IS AVAILABLE NOW
Good news for WeConnectFashion readers. Receive an exclusive deal on the Trendstop Men's F/W 2015-16 Print On The Catwalk report, click here for details.
Sourced from the shows at London, Milan and Paris, discover the best-selling print and pattern trends of F/W15 for the Contemporary and Young Fashion sectors, and see how they can improve your new season collections.
A full range of Trendstop reports are available at Trendstop.com, one of the world's leading trend forecasting agencies for fashion and creative professionals. The agency is renowned for its insightful trend analysis and forecasts. Clients include Forever21, Ralph Lauren, H&M, Hugo Boss, and L'Oreal.