Mens & Womens Denim Forecast, FW 2014-2015
On view, F/W 2014-15 top denim themes as forecasted by Fashion Snoops for women, contemporary, men and young men. From the rugged cowboy inspired Malboro Woman, to the fairytale influences of Folkloric Punk, women's and young contemporary markets are full of adventure inspired themes. For men's denim, Bootlegger looks to the jazz era for inspiration, while Sunset Strip embodies 90's rock nostalgia.
Women's Denim Trend Themes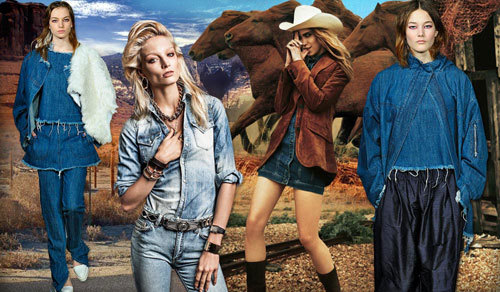 MALBORO WOMAN
A woman's denim trend - inspired by the rugged and renowned Marlboro Man. It's about indigo denim and denim in its natural form. Frayed edges and boxy cuts have a masculine feeling, while suede elbow patch inserts and collars give the cowboy edge. Sheepskin and shearling is also paired perfectly here. This theme is strong in its shapes and fabrics and does not really dive into the feminine cowgirl; it's definitely more about a working cowgirl.
Women's Fall 14/15 denim themes look to a lot of natural elements for inspiration. Marlboro Woman incorporates the dusty desert, while Bhutan Explorer is culturally rich with vivid embroideries and colors. New Order is a fresh approach, looking to the Isle of Man and the Irish Sea for inspiration. Studio 54 is sexy and fun with metallic colors, coatings and 70's shapes.
Contemporary Trend Themes
FOLKLORIC PUNK
Folkloric Punk combines two worlds that may seem unlikely, however as a fashion collection, they intertwine brilliantly. From the embroidered peasant blouses with crimson red shredded skinny jeans, to the punky mohawk at Watanabe with patchwork covered boyfriend jeans. We love the skull emblems done in rhinestones on top of denim. This theme is romantic and girly, while the punk element allows for some real creative play - from studding, to safety pins, patchwork, rips, motorcycle jackets done in a denim brocade, and colorful tie-dye for Fall.
Contemporary women's Fall 14/15 denim themes cover a lot of ground, with each group serving up unique colors and shapes. Folkoric Punk combines the idea of German folklore and fairytales with punk influences. Beautifully embroidered blouses look stunning when paired with crimson red, shredded denim. Nascar is sexy and speedy with jumpsuits and moto inspired design details. Military Academy is a more disciplined look at the use of army clothing in denim, while Dive Bar is layered with baby doll grunge and rock 'n roll appeal.
The Top Men's Denim Themes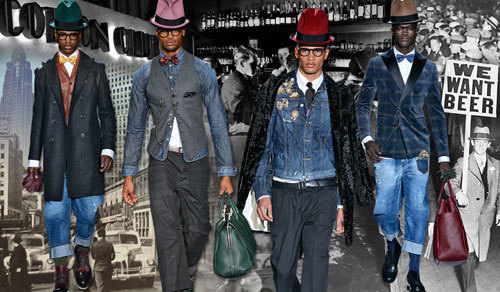 BOOTLEGGER
DSquared's show played with the 1940's, jazz era - some of that 40's city vibe. We reached a bit deeper and combined the dirty 30's with prohibition themes, adding to the mysterious and underground fun. Bow ties, 40's denim silhouettes, vests, and newsboy capes are all part of the look. This is a great theme to accompany fall knitwear and vintage graphic tees.
Men's Fall 14/15 denim themes largely look back to the times of yore. Bootlegger embodies the 30's and 40's jazz era and prohibition times, while Lone Ranger is a salute to the shadowy cowboy. Preppy themes include Refined Militia, which look to WWII soldier suiting and aviator inspired garments. Old Money pulls inspiration from noble American pedigree with Rhode Island family estates. Workwear influence continues, however, it is now less utilitarian feeling and more factory-influenced. Working Class is inspired with patches and paper boy caps.
Young Men's Trend Themes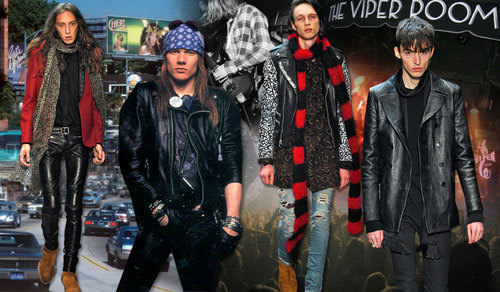 SUNSET STRIP
A large part of this theme comes from the Saint Laurent show in Paris - late 80's, early 90's Los Angeles rocker grunge is what it's all about. Looking to iconic bands like Guns 'n' Roses and the Chili Peppers, we see the tiered-denim, sexy coatings and tighter denim silhouette for men. This theme brings back the sexy rock star for Fall 14.
Young Men's Fall 14/15 denim themes touch a pivotal moment in a range of memorable generations, starting in the sixties and ending with a future gothic vision. The psychedelic 60's theme is full of colorful prints & abstract patterns, while the 80's and 90's look to iconic music breakthroughs with east coast hip hop influenced styles and the west coast's sexy rock n' roll. Denim is a constant in wardrobes season to season, and these updates show the innovative technologies behind new processes - from sleek and shine coatings to a manipulated camo prints.
Purchase the Full Report
F/W 2014-15 Seasonal denim themes reports for women, contemporary men and young men are now available for purchase through the new WeConnectFashion digital Trend Shop. These concise product roadmaps are here to guide you through the most influential denim trends and themes of the season.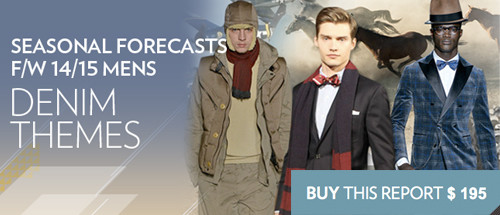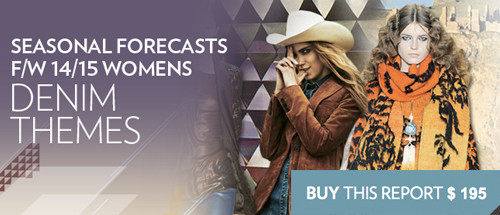 Each report includes an overview and analysis of the themes and a denim connection index summarizing all of the top trends. Each report also includes a global inspiration collage, coverage of details and washes, and a photo gallery of additional high-resolution supporting runway images and a written analysis of each theme.