Mens Fashion Week, Print Trends Fall 2014
Patternbank presents a currated selection of the key print highlights from the London and Milan Menswear Catwalk collections for Autumn/Winter 2014. With bold shapes, super-sized futuristic images, and photographic monochrome allover prints, these collections deliver a vibrant and eye-catching pattern mix. We love Patternbank!
Men's Fall 2014 Catwalks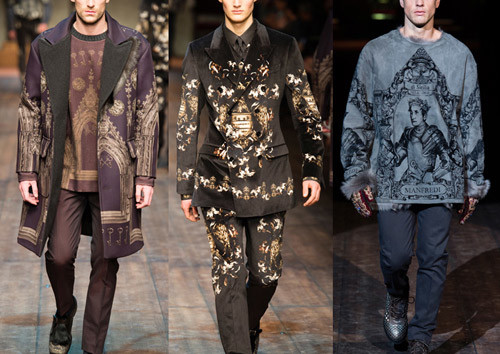 Dolce & Gabbana Medieval Pageantry. References to Regal Splendour. Church Engravings. Coat of Arms. Opulent and Exuberant Decoration. Milan. Photos via Style.com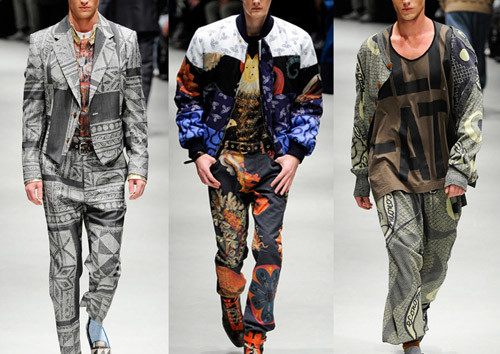 Vivienne Westwood Geometric Foil Print. Architectural Patterned Suitings. Political Slogans. Bold Fractured Geometrics. Elizabethan Paintings. Underwater Botanicals. Sea Creature Studies. Hand Drawn Political T-Shirt Graphics. Milan. Photos via Style.com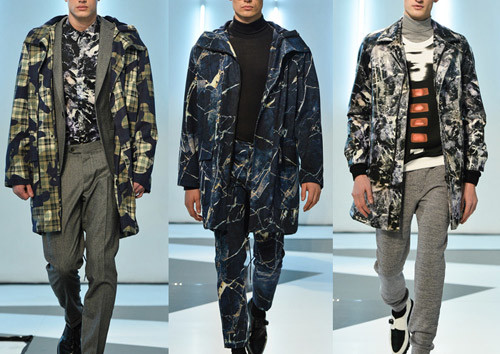 MSGM Oil Rich Colours. Shiny Surface. Reflected Colour. Iridescent Shine. Copper and Gold. Foil Accents. Milan. Photos via Style.com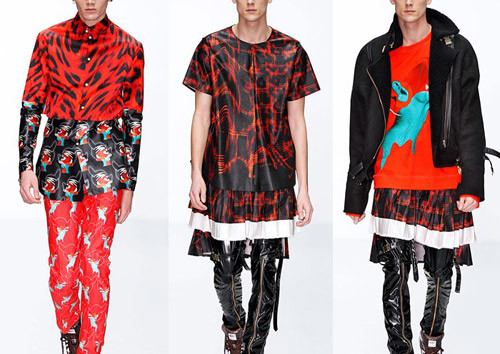 Katie Eary Vibrant Animal Skins. Surreal Conversational's. Mickey Mouse and Disney Iconography. Blurring Techniques. Punk References. Electric Colour. London. Photos via Vogue.co.uk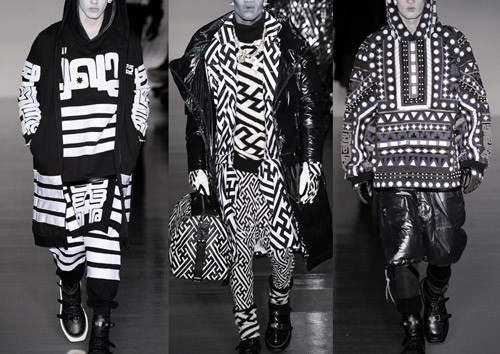 KTZ Black and White Tribal Graphics. Icon and Symbol Motifs. Mosaic Tiled Pattern. Bordered Layouts. Berber and North African References. London. Photos via Style.com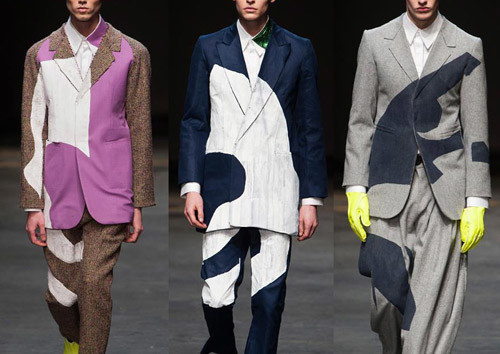 Alan Taylor Cut Up Graphic Shapes. Flat Painted Brushwork. Oversized Imagery. Minimal Colour Use. Abstract Pattern. Screen Printed Garments. London. Photos via Fashionising.com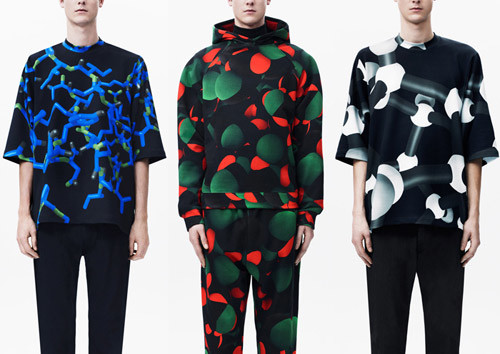 Christopher Kane Conversational Scientific Imagery. Quirky Colour Combos. Optical and Sculptural Constructions. Digital Print. Molecular Design. London. Photos via Style.com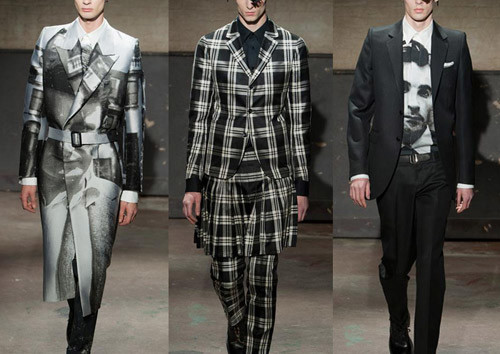 Alexander McQueen Photographic Prints of Lucien Freud. Super sized Imagery. Tonal and Monochromatic. Traditional Plaids. Embroidered Poetry Extracts. London. Photos via Fashionising.com
More Report Details
Patternbank aims to keep you up to speed with the rapidly evolving world of print, pattern and apparel graphics. Our global research brings you essential inspiration ideas for graphics, prints and patterns, making patternbank a valuable resource and intelligence tool for any business, designer or buyer.
View this Menswear Print Trends report in it's entirety.