Mens Collections, The Key Items Spring 2011
Runway Report Menswear: the necessary contrast to the colorful exuberance of Jil Sander and Prada, designers update classic menswear pieces for Spring Summer 2011. Casual garments are rendered with a surprisingly smart twist, whilst the smart are reinvigorated in technical fabrications; aiding in the creation of a thoroughly contemporary wardrobe that is suitable for more than one purpose. Loose and slouchy silhouettes dominate, culminating in low-cut tanks and long-l
Menswear Runway Call-Outs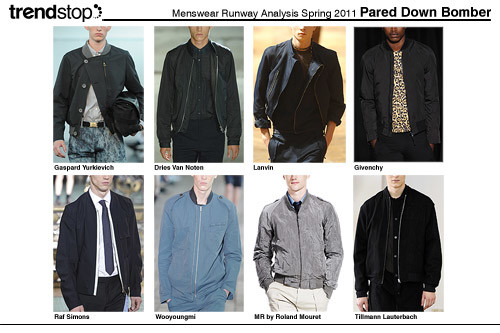 Pared Down Bomber
The Nineties staple comes with pared down detailing, a clean and functional minimalism ideal for the Spring to Summer transition. Explore the potential of technical performance fabrics, or add contrast zips and asymmetric fastenings, as exemplified by Raf Simons and Gaspard Yurkievich.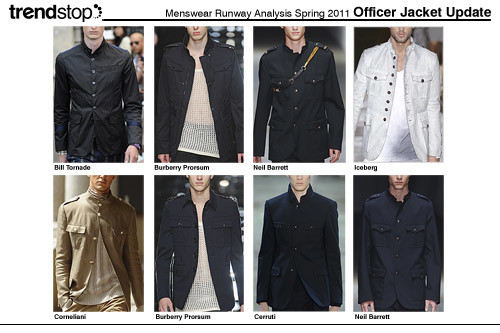 Officer Jacket Update
The influence of the military inspires a reworking of the office jacket. Nylon finishes promote a casual stance, or opt for a formal conceit with gold buttons and braiding, or a cutaway front, as seen at Burberry Prorsum. White and natural color palettes introduce a safari aesthetic.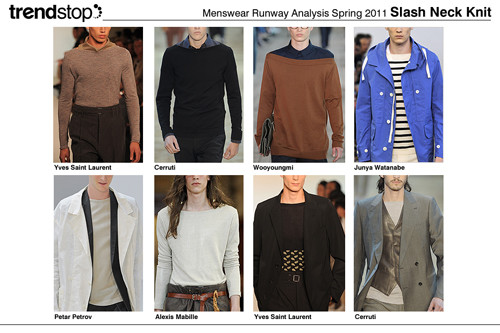 Slash Neck Knit
Layer over formal shirting to the archetypal office wear, or wear under a blazer and waistcoat. Contrasting or coordinating color palettes place emphasis on the new knitwear shape.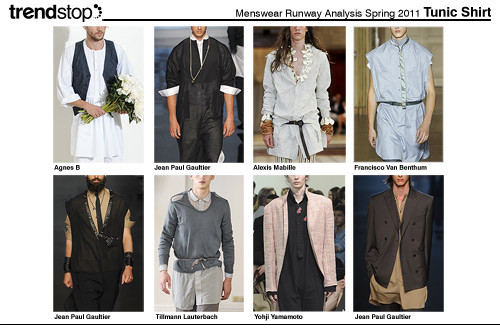 Tunic Shirt
Menswear is imbued with a subtle womenswear twist, as designers borrow from ethnic inspired attire. Longline shirts and tunics are belted with simple ties and belts that reiterate an alternative summer cool.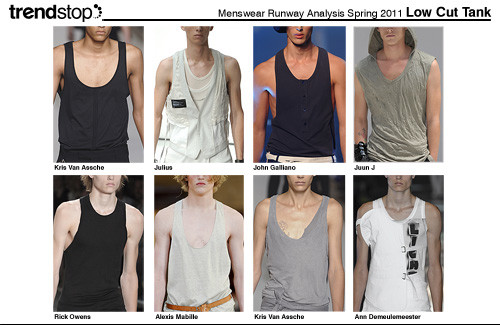 Low Cut Tank
Promote an easy-wear, effortless summer style with slouchy vest tops. Scooped necks and low cut armholes create the required insouciance, manipulated and crumpled finishes strengthen the overall conceit.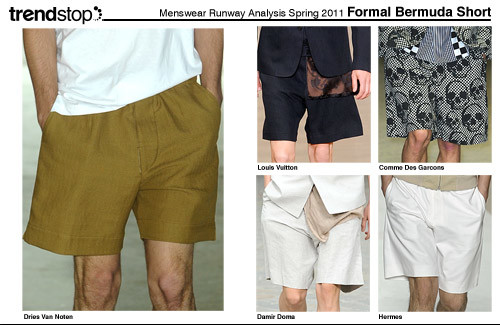 Formal Bermuda Short
The casual Bermuda is updated for the season in smart cotton fabrications. A loose and roomy shape extends to just above the knee, and can we adapted for printed and plain finishes. Best worn with sandals.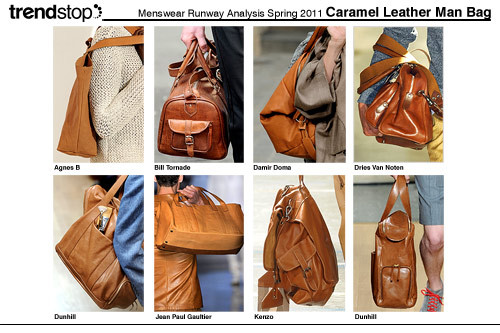 Caramel Leather Man Bag
Luxe caramel tones are applied to leather holdalls, backpacks and satchels, enhancing the appeal of the ubiquitous man-bag. Enhancing a well-dressed, gentleman-like apparel, caramel leather is a summer staple for the style conscious man about town.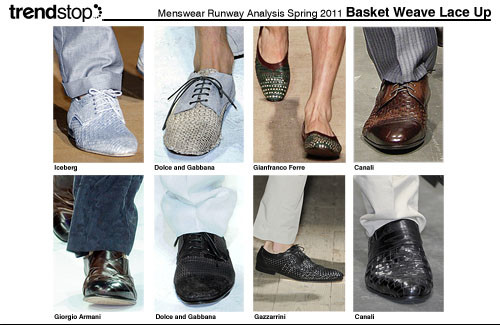 Basket Weave Lace Up
Reinvigorating the pastoral cliche, basket-weave details inspire a new take on the masculine lace-up shoe. Polished leathers create an air of distinct refinement, whilst straw like and cotton weaves update shabby chic for a new season.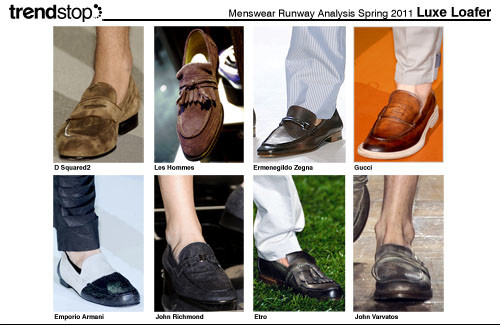 Luxe Loafer
The humble loafer is elevated to a fashion must-have by numerous designers. Suede uppers are detailed with kiltie fringing at Les Hommes, the same feature appearing on leather loafers at Etro. Detailed embossing and silver additions further promote the luxe conceit.
More Report Details
Trendstop.com is a leading trend agency whose clients include leading brands, luxury brands, retailers, etailers, stylists and celebrities. Trendstop.com specializes in the commercial translation of conceptual trend looks to help you create best-selling on-trend styles. With access to vast image galleries, focused key trend reports, emerging trends and major themes updates, trendstop subscribers are always ahead of the trend.