Mens Activewear Seasonal Trend Theme, F/W 2016-17
We are entering into a unique era of men's style — one in which consumers are more mobile, active and aware of global interests to adopt and to contribute too. Fashion Snoops presents their editors' pick of men's active forecasted trends for F/W 2016-17. O R C I M: a mix of utility, comfort and personal taste into an everyday look. Seeking out tech-specific textiles, rioting color, modern aesthetics, street utility details, and new subcultures is the starting line for this directional trendline. The full report is available in the WeConnectFashion.com Trend Shop.
EDITORS' PICK: O R C I M
O R C I M looks into the physical make up of cyber security in a future-scape. Reacting to this evolution of digital communities within our reality, paves the virtual road to a revolution established my non-physical athletes but mental warriors. In a context that the creators of this art, language and overall imagination guiding the evolution of this world is being created by non active participants in reality but hyper active athletes in their virtual realities creates an overall mind blowing realization that form followed by an exaggerated function offers up a new set of extremes. This is the intersection of wearable technology, culture identification and most importantly urban innovation.
MOOD
Mood, clockwise from top left:
Combat paneling 
Pop colored framing 
Digital dashboard graphics 
Urban terrain systems 
Culture of reality shift 
Theory of sport evolution 
Textile fusions 
Modern makeshift military 
Anime inspired digital neighborhood 
Wearable borough representation

COLOR

MATERIALS
Materials, clockwise from top left:
Future motherboard 
Compound Fleece 
Controlled Textured Acid Dye 
Double colored yarn 
Waterproof softshell 
Metal shape mesh 
Armor fleece 
Warp mesh

PATTERN
Pattern, clockwise from top left:
Geometric volcanic rocks 
Tri-Helix Text 
Organic metal pieces 
Digi-terrain 
Sharp shattered clusters 
Enigma based line lockups 
Twisted liquid metal

BRANDING
Pattern, clockwise from top left:
Cyber sport symmetry 
Cryptic Asian inspired characters 
Breakaway splint text 
Pulsating warning icons 
Hidden minimalism 
Dual tone beacons 
Vantage point stamp out text 
Embossed characters, puff gel text on waistband

WORD BANK

INFLUENCERS

Purchase The Full Report
These seasonal narratives for F/W 2016-17 focus on a clear, concise product & lifestyle road map for the Men's active customer, a guide of the most influential activewear trends and themes of the season. Each forecast starts with a seasonal narrative and collage to set the mood, exploring who each man is, what he does for a living, and what inspires him most.
Click the banner below to visit our Trend Shop for more details or to purchase the full Mens Active Forecasts today.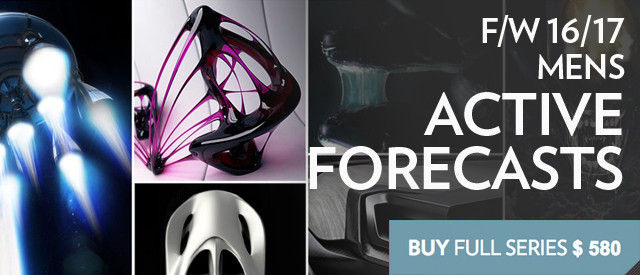 The complete series of forecasts for Fall/Winter 16/17 and previous seasons are available now for purchase through the WeConnectFashion digital Trend Shop. Additional comprehensive reports are also available across all markets.