Men's Women's Street Style Trends Euro SS 2011
The start of the 2011 summer music festival season is underway in Europe. First up, Spain's Primavera and Sonar festivals. This street style report cronicles looks worn by concert revealers. The key trends, on view, include: a rave return of the hardcore ninties, 21st century bohemia remixing, neons, optic patterns, and cerise coiffure, to name a few.
Trend Report, Summer 2011 Music Scene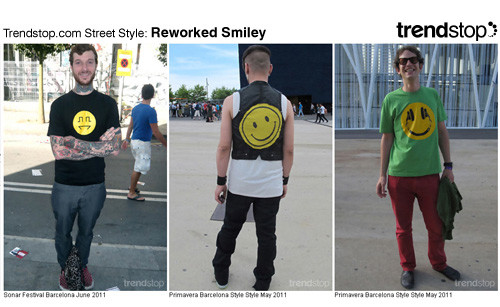 REWORKED SMILEY
The days of Happy Hardcore Nineties rave return with an update of the symbolic smiley. At once a menswear take on the playschool trend perking up womenswear and an optimistic alternative to dour skulls, crosses and crucifixes, a sunny grin appropriately accompanies the onset of summer. Ripe for DIY, iron-on-patches, hand-painted circles and screen-printed transfers encourage hands-on handicrafts across cut-off leather jackets and staple jersey t-shirts. Standout against black, startling yellow smileys compliment schoolroom primaries of Kelly Green, High-Risk Red and vibrant Cobalt.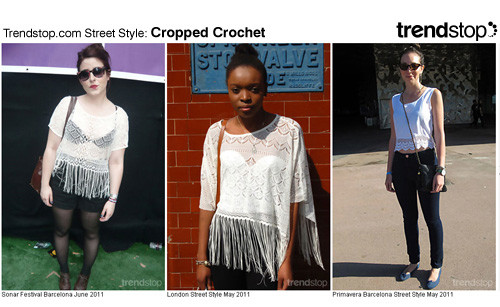 CROPPED CROCHET
The 21st Century Remix trend still going strong, cropped crochet forms align contemporary athletic silhouettes with Sixties bohemia, sober Victoriana and geriatric chic. From subtle scalloped edges to all over placement in petal and tile-like forms, cropped vests and t-shirts are rendered in delicate crochet. Whilst fringed edging balances bohemia and elaborate interiors, slick, simple silhouettes and a fluid asymmetric drape introduce a feel of crisp modernity in rich ivories, creams and whites underlined with styling against black hot pants, cross body bags and chocolate brown accents.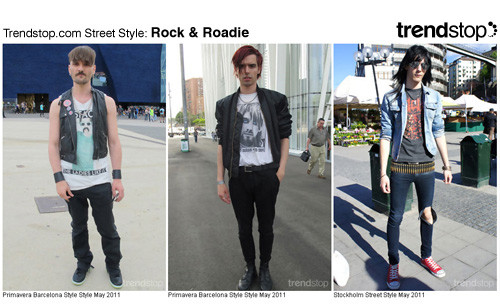 ROCK & ROADIE
Signalling fashion's continuing evolution, dressed down faux-Grunge evolves to echo the out-and-out rebellion of a Rock and Roll roadie. More death metal than Kurt Cobain, battered leather jackets, bulky bovver boots and mussed-up locks anchor kick off a tribute to the stagehand. Helper rather than hellraiser, weathered band t-shirts, souvenir pins and converse say behind the scenes idolatry whilst heavy silver jewelry, leather wrist bands, aviators and bullet belts pick-up on the urge to become a Front Man.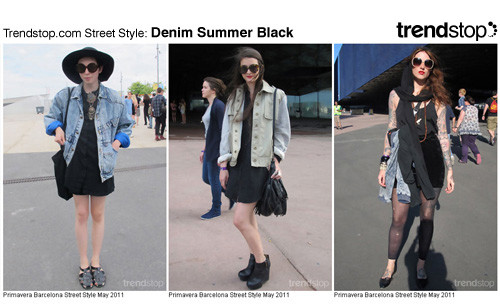 DENIM SUMMER BLACK Though summer finally slinks into view, the fashion savvy refuse to surrender a characteristic dearth of black. From Eastern inspired tunics to oversized silk shirting to a tank and snood combination, the introduction of oversized Eighties denim undercuts the brooding with an accent of pallid blue. From acid to stonewash, blouson silhouettes to a workwear inspired variation finished with all-weather storm flaps, all black styling from wide-brimmed Amish headwear to fringed handbags to weighty wedges to oversized sunglasses directs the focus toward denim.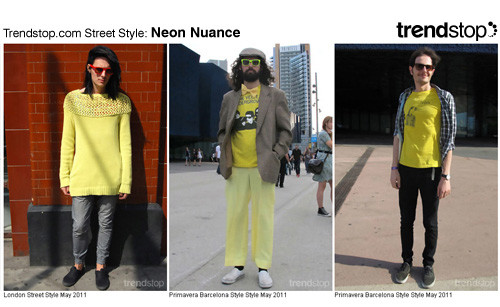 NEON NUANCE
An acidic homage to summer's arrival, jolting yellow accents provide an exaggerated embrace of the season's brights. Drawing parallels to Raf Simons mille-feule of color at Jil Sander for Fall/Winter 2011-12, vibrant yellow tones are anchored with neutral companions. Spanning oversized knitwear, jersey casuals and oversized tailoring, styling against hues of black, blue-gray and heritage browns balance a hit of amped-up lemon. Whether worn head-to-toe, as t-shirt beneath open shirting or more subtly as statement sunglasses, a neon nuance brings the sunshine.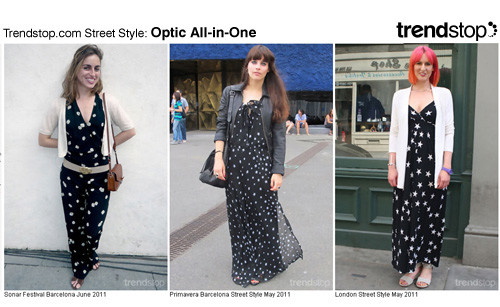 OPTIC All-IN-ONE
A flighty, season appropriate take on the all-in-one, floor length jumpsuits are peppered with black and white optic patterns. In the finest of fabrications – from silk to chiffon – loose relaxed silhouettes are finished with cutesy sweetheart and halter-necklines and punctuated with sweet conversational from florid daisies to Dolce & Gabbana inspired stars. Lifting a swathe of black, white accents are complimented with white cardigans – both cropped and longline – and casual summer sandals whilst a black leather jacket and matching bucket bag add an air of still elegant rebellion.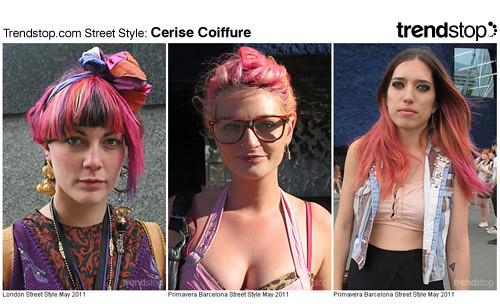 CERISE COIFFURE
In line with Charlotte Free's storming of the Fall/Winter 2011-12 runways with her idiosyncratic pink locks, the pallid lilacs, baby pinks and ice blues that have been bleeding through peroxide locks are replaced with in-your-face cerise. Whether making like Lady Gaga with a fade-out gradient from root-to-tip, committing to all-over coverage or as an aspect of a multi-hued, rainbow extravaganza, Cerise Coiffure is a strong summer statement.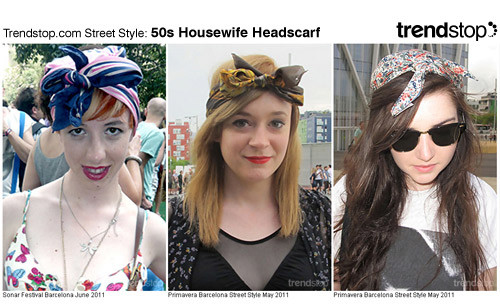 50's HOUSEWIFE HEADSCARF
Though the runways have moved away from the Mad Men mavens that troubled Fall 2010-11, a Fifties bent still holds sway upon the streets. A subtle nod then to a Far From Heaven aesthetic, twisted and tied headscarves make a cross-generational leap. Taking in prints from Liberty micro florals to seaside rock stripes and fabrics from silk to chiffon, small scale variations are banded around the head to finish in a prettified bow whilst larger scale variations are pulled forward from the nape of the neck to cover the whole head. Whether worn with complimentary retro outfits or to bring an element of 21st Century Remix to contemporary dressing, Housewife Headscarves usher in a Fifties feel.
European festival trend reporting is one of Trendstop.com 's specialties. By the time you read this, we will have published a bumper report of exciting trends and individual looks from our reporters from this year's amazing Glastonbury festival, with Beyonce and U2 headlining, and glorious 86 degree sunshine on Sunday. In the meantime, these trends for Spain's Primavera and Sonar festivals give you a sneak preview of the 2011 summer festival trends at Trendstop.com.
Find the earliest, emerging and breaking trend forecasts alongside essential commercially relevant major seasonal trend analysis at Trendstop.com.