Men's Women's F/W 2009-10 Nelly Rodi CIFF Trend Report
Season Themes Men's, Women's: Nelly Rodi rules! This Paris based trend forecasting company has put together a spectacular trend presentation for the Copenhagen International Fashion Fair (CIFF), which took place earlier this week, February 5 - 8, 2009. Four distinct trendlines are on display, each has substantive material, both visual and descriptive. Themes – Dandy Manifestio, Gold Diggers, Bewitchment, and Techno-Folk – capture the mood of Fall/Winter 2009-2010. Courtesy of Nelly Rodi, and the {::event fido="INFSB0000071" /}
DANDY MANIFESTO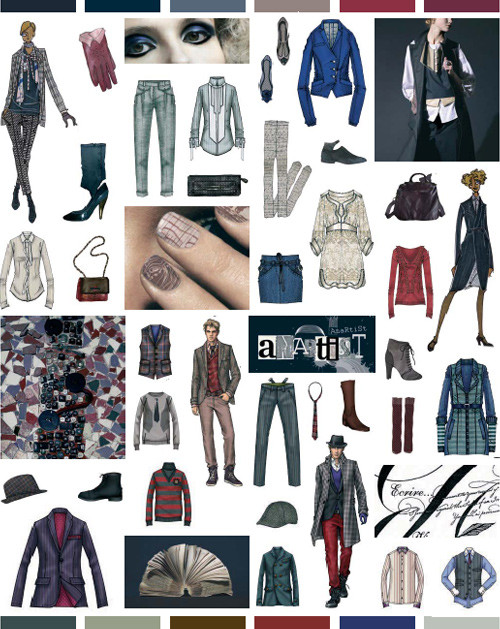 DANDY MANIFESTO
The world of books, writing, manuscripts, calligraphy and coded language. A theme combining the somewhat stuffy elegance of the Oscar Wilde style dandies with a bohemian, more modern, poetic, "artist" spirit. An androgynous silhouette: chic and decadent for a look both outdated yet contemporary.
Colors
A dark, shady range in a variety of inky tones. Touches of color electrify the palette. And to tone it all down: white and taupy or grayed shades.
Beauty
Experimental, audacious make-up borrows from Dadaism, typography and photo-montage. Two palettes co-exist: the first explores paper, whiteness and material effects, while the second, darker range is inspired by ink, pencil, charcoal and graphite.
Materials
    - Men's supple, ultra-fine worsted wools in the spirit of Savile Row tailors    - Stripes used with subtlety: discreet banker's stripes, stippled chalk stripes, tuxedo pants emphasized with a band of tone-on-tone satin. A graphic spirit borrowed from the wide stripes of club ties or men's satin waistcoats    - Fluid fabrics, heavily drapey silks: crepe, crepe georgette, chiffon    - Delicate lace and embroidered tulles    - Jacquards and tapestry style weaves are inspired by the elaborate covers of old books
Key Women's' Products
   - Redingote-coats. Short 2-in-1 jackets (jacket + waistcoat). Little men's waistcoats.    - Cigarette-legged pants and darted cropped pants.    - Striped shirts or with plastrons, shirttails, with scarves and lavallieres.    - Cardigans. With tailored collars, belted, Jacquard    - Oversized jackets    - Skintight miniskirts in stretch cotton with rock details: zips, buckles, insets    - Lace tops and dresses.
Key Men's Products
   - Tuxedo spirit, fitted cuts, in a sportswear mood    - Short coats in little English checks, basket weaves, tweed. Duffle-coats    - Historical military coats: engraved ball buttons and double-breasted    - Prints: checks and flowers for hunting jackets, waistcoats and tapered pants.    - Riding jackets, short, buttoned and fitted
Accessories
   - Women: lambskin gloves. Textile shoes, decorated pumps, with patent or gimped and perforated toes. Material mixes for bags: skins, crocodile, and natural leather    - Men: caps inspired by riding hats. Tartan ties. Military and riding boots. Checked Borsalinos.
GOLD DIGGERS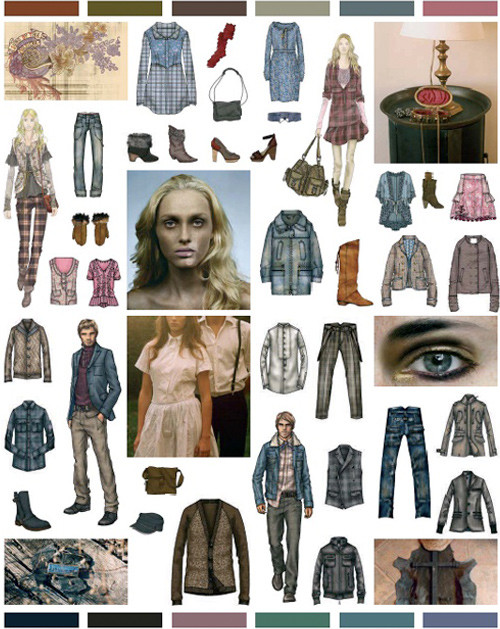 GOLD DIGGERS
Inspiration of functional country buildings. Focus on a modern barn spirit. A new take on the pioneer spirit. The good sense of the Shakers, the simplicity of the Amish, a pre-industrial world where gold diggers and hobos jumped trains in search of adventure. A rough, rebellious chic, not lacking in sensuality.
Colors
A range of neutrals evoking the dusty landscapes, from ocher to green and completed by grayed blues and the colors of enamel.
Beauty
A range of denuded tones, greenish and yellowish neutrals evoking the vegetation of the American prairies, completed by a grayed blue and the pinkish notes of heather. Make-up favors material effects: powdery, used, faded, gradated, and washed-out. Flashes of golden or coppery shine in touches and associated with grayed or greenish neutrals. Hair is very sober in neat, controlled volumes.
Materials
    - Raw materials: tweed, thick broadcloths, boiled wool flannels, thick military blanket-style wools     - Very masculine notes: Prince of Wales checks, Harris Tweed, big checks     - Soft, slightly used fabrics: washed, brushed, used, emerized cottons     - Denim: authentic, raw or slightly softened by washing     - "Handkerchief" checks, tone-on-tone embroideries, flounced trims. Cotton laces, floral poplins, quilt-style motifs
Key Women's Products
    - Little coats and square jackets with rows of buttons     - Officer-style jackets and coats     - Carpenter-style cropped pants: multi-pockets, oversized, removable braces     - Elaborated smocks, blouses and tunics: topstitching, Liberty prints, broderie anglaise     - Shirttails and light dresses in "farmer's daughter" satin and cretonne. Tone-on-tone crochet     - Mini blazers in cotton plain weave or coated tweed, piped in nubuck     - Silk peasant dresses in a romantic spirit.
Key Men's Products
    - Wide, cropped, darted trousers in big retro checks     - Short spencer-style jackets.     - Denim work blousons lined in lambskin or rabbit, or in wadded quilting     - Boxy leather blousons: perfecto, biker, aviator styles     - Coated or oiled cotton trousers with yokes, panels and leather reinforcements     - Short US military officer's jackets     - Slim fatigues: less volume, pockets are more discreet
Accessories
    - Women: straight drawstring boots, snap-fastened belts, belt-purses, aumonieres, carpincho gloves, shearling sandals     - Men: biker's boots, slouch bags in aged leather or in grungy checked canvas, retro military caps
BEWITCHMENT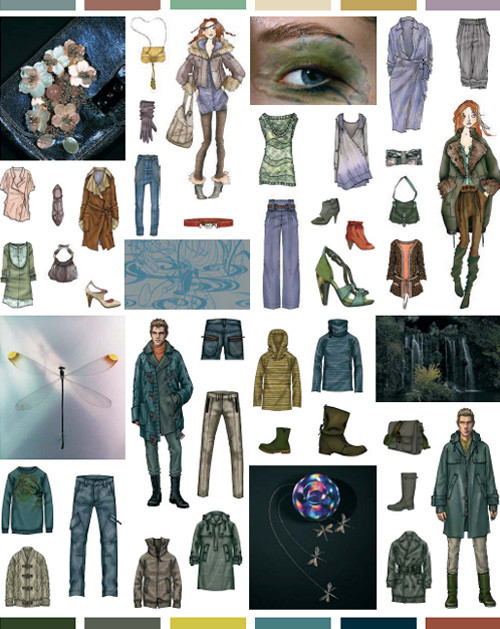 BEWITCHMENT
Water leaves its trace on architecture and soaks it in poetry. Moving, fluid metamorphoses create the illusion. An intriguing, aquatic universe, conducive to charm, all sorts of metamorphoses or mutations and expressing the deep desire for a poetic, re-enchanted everyday.
Colors
A precious range inspired by the brilliance of raw gemstones. Baroque pearls, amethysts, tinted quartz.
Beauty
The gradated palette favors water colored and moire effects in liquid blue-green tones. Tied-up, crimped, very long and dense, pulled back and worked in complex volumes… hairstyles are spectacular and represent abundant vegetation.
Materials
    - Silky, fluid fabrics: chiffon, crepe, silk pongee, light satin     - Heavy-draping panne velvet     - Shot effects: moire, metalized, vibrant surfaces     - Coatings and prints for damp, aqueous aspects     - Precious weaves and cloths: damasks, Jacquards, lace or embroidery effects     - Fringed effects evoking animal hair
Key Women's Products
    - Long, supple coats in shearling     - Wide cotton sateen fatigues, wide multi-dart pants, cropped crinkled linen/polyester pants     - Soft, loose, enveloping, diaphanous knits. Loose jersey tops.     - Layers: short jersey knits to wear over ultra-fluid dresses, skirts and pants     - Ultra-supple lambskin coats and jackets     - Fishermen's capes and parkas. Coated, oiled cotton plain weaves
Key Men's Products
    - Fishermen's jackets: long, enveloping, with drawstring and belt plays     - "Anointed" pants: oilskin aspects     - Zipped blousons in heavy-gauge knits, heavy cables or ribbed knits     - XXL volume coats, worn oversized     - Maxi heavy-gauge cardigans: extra-long, cabled, worn as a coat     - Sinuous knits: new cables and ribs in marled knits
Accessories
    - Women: pleated gloves, python-printed leggings, insect jewelry, open ankle boots, daywear purses, tied, gathered bags     - Men: fishermen's style boots, colored rubber rainboots, rainboots in a Doc Martens spirit, multi-pocket slouch bags in a Barbour spirit
TECHNO-FOLK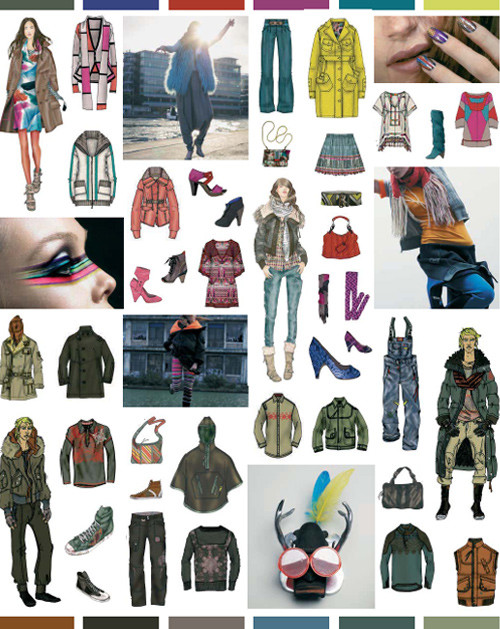 TECHNO-FOLK
The city and the urban world are sources of inspiration, with sculptural forms between the raw and the ultra-technical and where color is highly present. An awareness of the world born of the desire to save endangered resources and folklore. A nomad, tribal spirit, also inspired by urban landscapes. A cultural mix where natural instinct is reconciled with technological progress.
Colors
The bright shades of traditional embroideries: flame red, bright pink, turquoise, fuchsia or purple-blue. In contrast are a variety of more neutral beige accents inspired by the steppe and the desert.
Beauty
A bright range of colors is associated with a second palette composed of pale or dark neutrals, evoking the nomads' tents. Make-up is happy, colorful, fresh and joyous, almost naive.
Materials
    - Rustic wools: tweeds, boucles, floating or ripped-out yarns, granular hands     - Thick, felted, boiled broadcloths     - Ornamental or folkloric motifs in the form of Jacquards and damasks     - Technical, waterproofed fabrics in a windbreaker spirit, occasionally enlivened by handcrafted trims or very soft lining (wool or cotton)     - Folk trims and appliques: pom-poms, beads, feathers, passementerie, embroideries
Key Women's Products
    - Wide oversize pants with dropped crutch     - Uncluttered jackets and fitted trench coats     - Miniskirts with gathered panels, either solid or printed     - Graphic knits with big cowl necks, asymmetric knits     - Folk blouses and smocks, tunics, ornamented with braids, plastrons, fringes, embroidery     - Wadded puffer jackets, maxi collars, tonic colors     - Jodhpurs worn loose in jersey or dyed denim, flashy colors
Key Men's Products
    - A-line volume lumber jacket, mixed skins     - Multi-pocket overalls     - Fur-lined parkas and puffer jackets + rib trims     - Windbreakers in light cotton/nylon     - Ethnic track pants, embroidered and printed     - Military jackets: braids, medals, fantasy decorations     - Undershirts with added value: plastrons, embroideries, prints
Accessories
    - Women: tabbed, ergonomical sandals, fur collars, zipped platform soles, high pleated boots in stretch patent leather + lacquered heel, long gloves with graphic cuts     - Men: ankle-high runners with folk-printed fabric, runners and bags with heat-set printed ethnic motifs, caps in big two-tone checks