Men's Top Color Trends S/S 2015
View Fashion Snoops' favorite Menswear color palettes for Spring / Summer 2015: New Neutrals. There's a new group of colors that keep showing up each season, no matter spring or fall. These masculine hues that include indigo blue, dry sage, earth brown, heather blue and vineyard make up a group that has quickly become the "new neutrals." This super-saturated palette is easily paired back to brights, pastels, or even true neutrals for a refreshingly complicated experiment in styling that resonates with today's contemporary menswear customer. 
The New Neutrals Color Palette
EARTH BROWN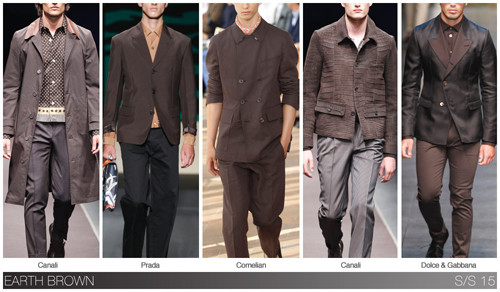 There's no denying that all shades of brown have shifted to be a more mainstream option for classifications like outerwear, knits and tailored clothing. After two seasons of rich shades of chocolate and hazelnut, the key brown for S/S 2015 is rooted in the Earth - with saturated shades of red as an undertone.
DRY SAGE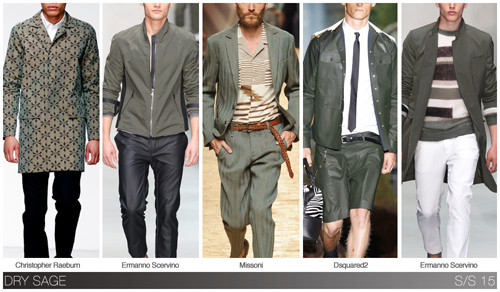 Utilitarian influences and uniform-inspired silhouettes are nothing new to menswear, so shades of olive green always hold a place in seasonal collections. This shade has transitioned from being slightly blue-based in S/S 2014, to warm, yellow-based pea green in F/W 14, to finally landing as a dry sage for S/S 2015. The washed-out appearance is more in keeping with the season's relaxed fits and techno materials.
INDIGO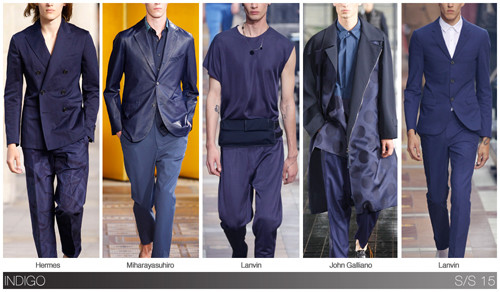 Inky shades of navy blue and indigo have become the must-have option for all collections and markets - no matter the season. The "almost black" shades of S/S 2014 and F/W 14 lighten up just a bit for S/S 2015, but still maintaining a saturated look. Multiple shades of indigo seem contemporary when styled together as a monochrome look. For S/S 2015, there's also a subtle hint of purple under the rich shades of blue.
HEATHER BLUE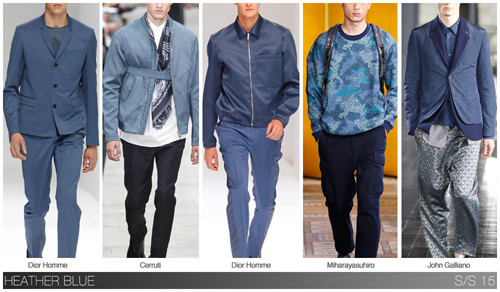 Industrial-inspired neutrals have moved from being fashion accent colors to all-season options. The steel blue of F/W 14 lightened up for S/S 2015, with more hints of grey thrown in to look even more utilitarian. The color plays up lustrous surfaces on fabrics like nylon, cotton poplin, and silk.
VINEYARD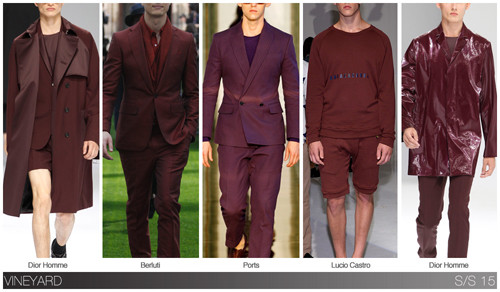 Rich and juicy shades of claret and wine have been around for several seasons, but they're quickly transitioning to be more commercial for knits and jackets. After the super-saturated colors in F/W 14, the vineyard of S/S 2015 is more multi-faceted with novel currents of pink and purple fused together.
Trend Themes Inspired by New Neutrals
DARK PARADISE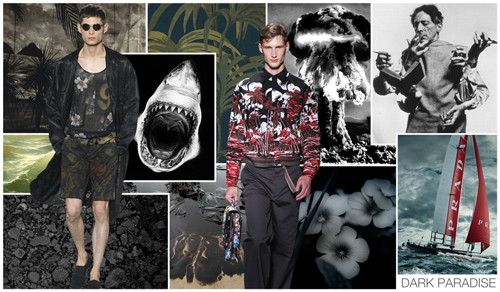 DARK PARADISE is the unexpected side of wholesome summers by the sea. With a decidedly expressive approach, this theme celebrates moody nature and its astonishing power. Early surf subcultures, the subversive side of 1950s Tiki kitsch, and gloomy black-and-white photos by famed artist Robert Longo inspire this slightly sinister and somewhat apocalyptic trend. Nature's juxtapositions are key from dark florals and molten lava textures to blackened surf and sunsets right out of Judgment Day.
LAUREL CANYON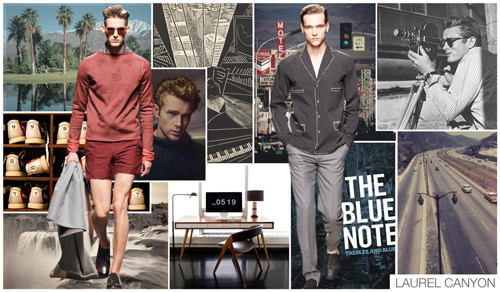 LAUREL CANYON is a neighborhood in the Hollywood Hills where icons of cool have lived and played for decades. Inspired by this storied locale (as well as the early days of Palm Springs and Las Vegas), along with idols like Cary Grant and James Dean, Laurel Canyon puts the spotlight on today's leading man. With a touch of leisure mixed in with traditional tailoring, this theme is as much about classic comfort as it is looking polished and buttoned-up at all times.
SWEET REBEL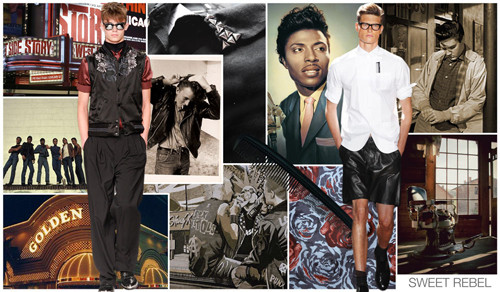 SWEET REBEL finds that the irreverence of youth can be charming and bitter at once. After several seasons of prep school rebels, the bad boy for S/S 2015 turns his eye towards dark cowboys from Nashville, clashing kitsch from LA, and boyish punks from East London. Patterns typically perceived as innocent like florals and teddy bears are contrasted with aggressive leather, metallic, and pinup girl motifs.
Purchase The Full Report
The S/S 2015 Mens Color Seasonal Recap is a comprehensive report by Fashion Snoops, breaking down the key men's colors & palettes for the Spring/Summer 2015 season. Click here for more info and to purchase this trend report.
The S/S 2015 Mens Theme Seasonal Recap is a comprehensive report by Fashion Snoops, breaking down the key men's colors & palettes for the Spring/Summer 2015 season. Click here for more info and to purchase this trend report.