Men's Top 4 Trend Themes SS 2014
Get the first look at S/S 2014 trends from Fashion Snoops. Take a glimpse into our top themes of the season for menswear - from the active wear and tech sportswear inspired Athleisure theme, to the 60s kitsch trends emerging in the Pop Art theme, to a fresh point of view in the perennial safari influences with Jungle Book, to Seattle Sound alt-rock influences and more.
Seasonal Direction
ATHLEISURE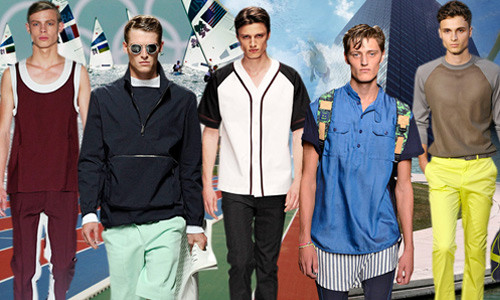 ATHLEISURE takes a more refined approach for active wear and technical sportswear. After a couple seasons of vivid plastics, artificial surface effects, and synthetics, the trend takes a much more urbane point of view for S/S 2014. Sporty lightweight layers, luxe reinterpretations of athletic uniforms, the fusion of natural and man-made materials, and the inclusion of "smarter" textiles for menswear basics make ATHLEISURE a theme that can easily be translated into either the Contemporary or Young Men's market.
JUNGLE BOOK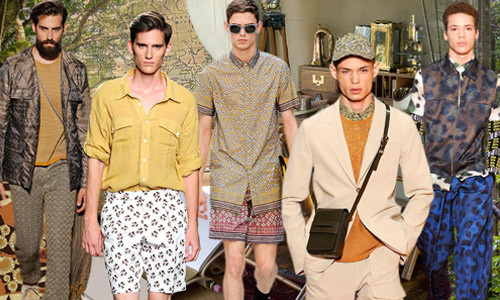 JUNGLE BOOK finds a fresh point of view in the perennial safari influence that remains a constant in menswear. With a decidedly ethnic influence, the trend celebrates bold print and pattern with digital camouflage, animal prints, batik and medallion motifs - all accentuated in a wide range of saturated Earthen colors. After several seasons of neutral-colored uniforms, followed by last spring's kaleidoscope approach, the JUNGLE BOOK trend for SS14 fuses the best influences together for a look that's as much about rugged adventure and dimensional fabrics as it is colorful tribes and a truer appreciation of globalism. These are clothes that a modern day Ernest Hemingway would sport as he explores the world.
POP ART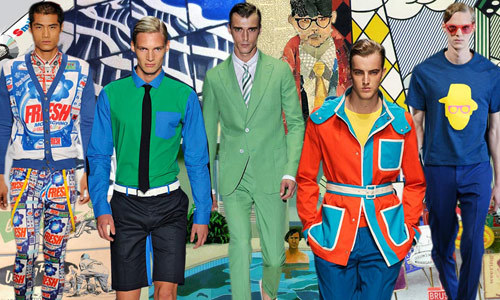 POP ART paints a picture full of jovial color, clashing patterns, and whimsical design details like "thought bubble" embroidery and boldly colored linings. Comic book prints, graphic novel-inspired sketches, and an ironic take on classic advertising through the years makes this trend all about nostalgic Americana with a subtle nod to 60s kitsch. Evolving from a strong black-and-white graphic approach last spring, the POP ART theme for SS 14 nicely complements other reinterpretations of classic menswear with vivid tailored clothing, splashy outerwear, and a playful salute to artists like Andy Warhol, David Hockney, and Roy Lichtenstein through allover pattern and color-blocking.
SEATTLE SOUND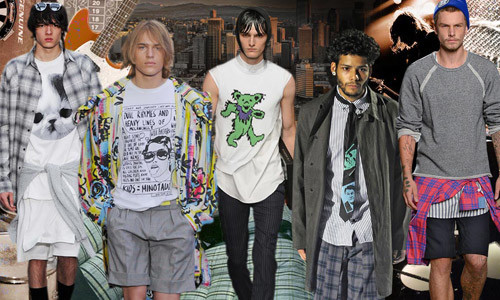 Over two decades since the Grunge movement affected everything from music to fashion, the multi-layered and gritty influence of Seattle once again finds its way to menswear. SEATTLE SOUND puts a renewed focus on alternative rock culture, but with subtle updates like unexpected pop colors, more urbane styling, and active-inspired design details that make the trend appropriate for a whole new generation. Thrift-store finds like baggy trench coats, grandpa cardigans, marled sweatshirts, and unconstructed blazers provide a cozy contrast to technical elements like flat-quilted surfaces, and contrasting stitching. Originally made famous by the band Nirvana, this relaxed approach at menswear is back for a second act.
Purchase the Full Report
SS14 Seasonal Wrap-Up reports are available for purchase individually or in packages. These concise product roadmaps guide you through the most influential trends and themes of the season. Each report includes global inspiration collages, trend-specific color palettes, supporting images, trend emersion, materials, prints and patterns, design details, key items, downloadable sketches, a style guide and the must-have components for your head-to-toe look.