Men's Synergy Trend Theme FW 2011-12
F/W 2011-12. "Synergy" marks a new era of pragmatism, simplicity and efficiency, as a fresh model for living is sought across the globe, after decades of excess and heady capitalism. Innovative design meets a Scandinavian aesthetic for precision and minimalism that retains a sense of warmth and homeliness. The traditions and architecture of the Nordic States inspires contemporary looks. The "Synergy" trend forecast presents many opportunities to inspire and to be directed into seasonal phases as seen in this report.
Seasonal Inspiration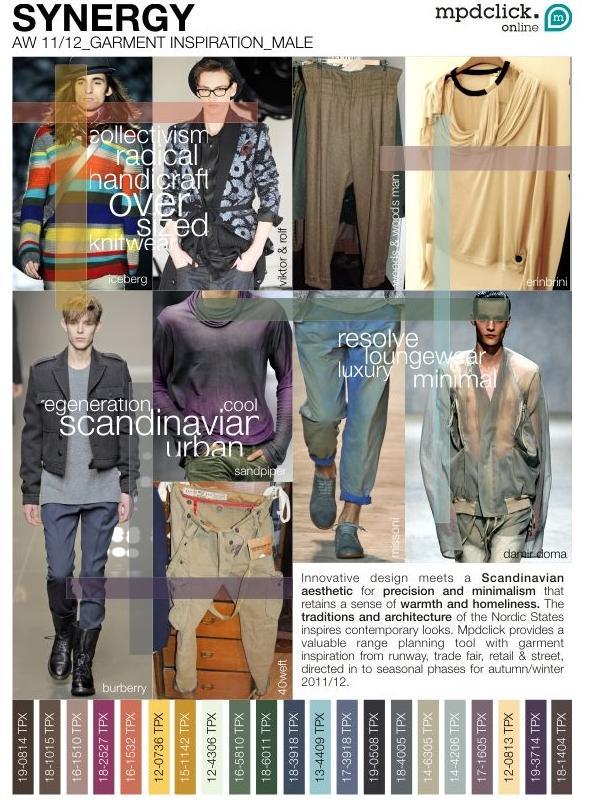 Phase 1: Regeneration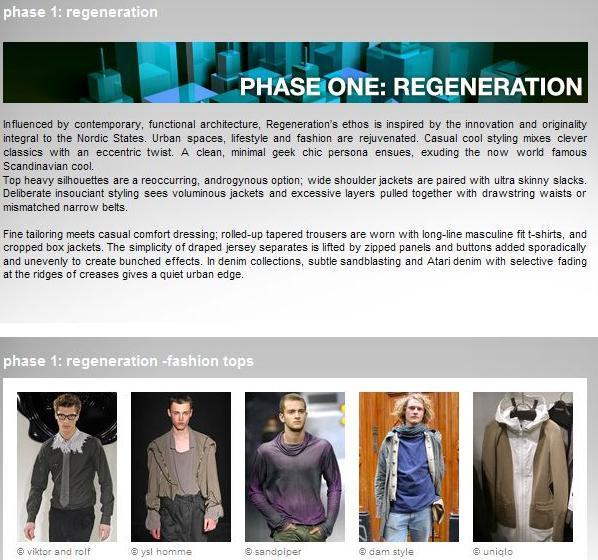 key words: casual tailoring; geek-chic styling; dip dye effect; minimal utility designs; jersey long sleeved tops; blurred northern lights inspired tones; simple urban t-shirt designs; layered 2 in 1 cardi shirts; traditional knitwear with an industrial twist; clean cut tailoring.

key words: Scandinavian cool; voluminous jersey pants; tapered leg designs; smart geek chic styling; sandblasted, faded denim; utilitarian combat trousers.

key words: classic blazer styles with an eccentric twist; casual tailoring; urban greys; faded denim jackets; two-tone heavy jackets; military inspired industrial work wear; zipped pockets; wide shoulder jackets; boiled wool.
Phase 2: Collectivism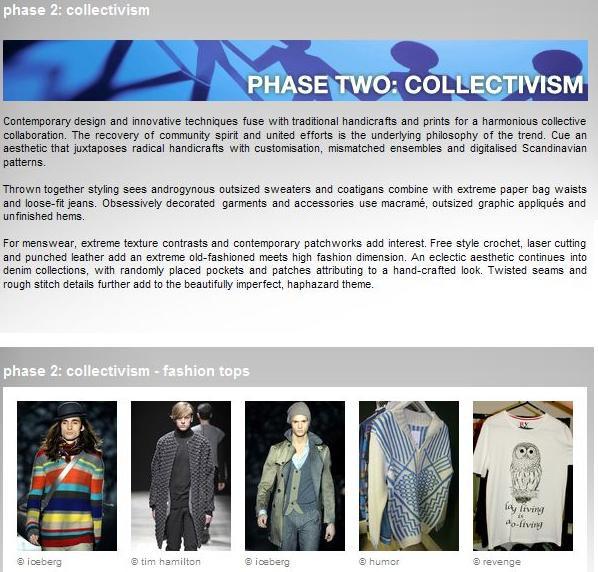 key words: chunky knitwear; eclectic styling; diverse colour palette; androgynous styling; simple, honest design; extreme handicraft; revived & repaired garments; cross stitch detail; print heavy; owl iconography.

key words: checks & gingham prints; contemporary patchwork designs; restored element; customisation; panelled patch sections; boyfriend fit trousers & jeans; old meets new styling; comfortable casual fit; neutral colour palette.

Key words: haphazard tailoring; frayed edges; outsized box shaped jackets; wool & lightweight contrasting fabrics; heavy prints & embroidery; warm, folk style patterns & prints; chunky coatigans.
Phase 3: Resolve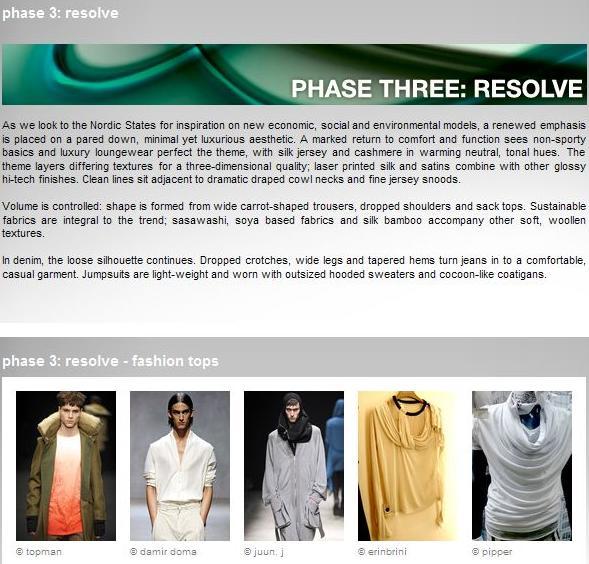 key words: comfortable casual loungewear; silk jersey fabric; icey pastel colour palette; luxe layering options; cowl necks; soft draping effects; loose, free fall silhouettes.

key words: soft, slouchy designs; sustainable materials; rolled up hems; comfortable casual styling; wide leg pants; loose silhouettes; extreme denim fading; minimal designs with a luxurious feel; carrot-shaped trousers; lightweight playsuits & all in ones.

key words: luxe layering options; outsized jackets; long line silhouettes; warm winter coats; soft woollen textures; blazer inspired outerwear; slouchy draped neck; controlled volume; hi-tech finishes.