Men's S/S 2008 Seasonal Trend Report
The Style Council Menswear trend forecast reports for the spring/summer 2008 season. Complete with color, motif, sensibility write-up and fabric details…. Pictured: "Graphic Content," continues the fascination with all that is graphic and drawn. The three other trend themes include: Nostalgic Adventure, Flashback, and Shipwrecked.
GRAPHIC CONTENT
Illustrations

Mistakes

Stencils

Graphic

Rough Comic Strips

Scribble & Doodle

Street

Graffiti
A continued fascination with all that is graphic and drawn. Visual statements of individuality, bold expressions, slogans and message. Narratives are raw and subversive, reflecting society and art. Textures and overlays create depth, linear scribbles, collage, manipulated images and welcome mistakes combined to create dramatic and devastating effects. Irreverent, striking, chaotic, but most importantly, unique & poetic.
Colors: A palette of street inspired shades: cement - ink - siren - chrome yellow with ultra marine, khaki and bruise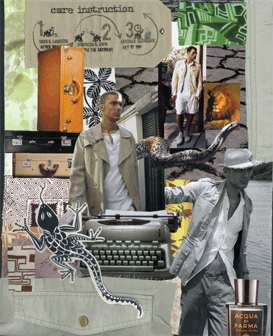 NOSTALGIC ADVENTURE
Pre-aged

Utility

Organic

Earthy tones

Travel

Authentic

Ethnic patterns

Camouflage
A charming adventurer, long journeys through steamy jungles, intriguing archeological hunts or wild safaris. Nostalgic colonial style, relaxed broken down tailoring. Frayed hems textures weaves and slightly crumpled. Cargo pockets, epaulets, drawstrings and military details emphasize functionality. Natural formations inspire geometrics and update camouflage patterns. Flora and Fauna is the subject of graphics and bold indigenous patterns bring a feeling of antiquity. Garments are pre-aged, stained, dip-dyed and worn creating an authentic mood.
Colors: Draw inspiration from the environment with a palette of neutral hues-acacia, olive, lemonwood, sage, ochre, cork, and carbon.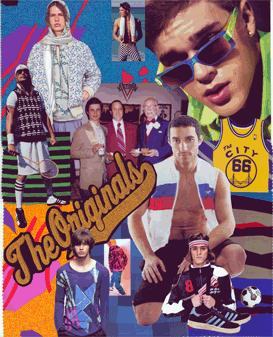 FLASHBACK
80's

Color Clashes

Retro Varsity

Abstracts

Acid Neon

High Energy

Optical Engineered Layouts
Sights and sounds of the 80's inspire this fearless clash of funky street wear and retro athletic style. This fusion of modern abstract pattern and classic varsity iconography is bold and brash. Authentic collegiate colors are highlighted with pop brights and neon acids. Graphics and clear geometrics take on an optical element. Dislocated layouts with broken stars, circles and triangles create interesting spatial arrangements. All star track and field, hip hop and the era's chaotic art scene influence this punchy combination.
Color: A retro palette of royal blue, tile red, acid green and yellow, with stark black and slate. Use hot pink for 80's pop.
SHIPWRECKED
Pre-aged textures

Seersuckers

Linen

Stripes

Island Florals

Nautical Details

Map Travel
Washed ashore on a paradise island. Garments are disheveled but precious. They are repaired patched and embroidered weather and salt become integral to fabrics. Crushed linens, papery cottons, sailcloth canvas and washed denims. Colors are sun bleached and contrast with admiral red and navy blue. Aquatic and nautical motifs create a narrative watery tie dye and luscious tropicals give a care free feeling while formal striping brings a civilized edge to our Robinson crusoe.
Colors: Desert Island shades of sea-kelp, banana, bone and shell; use a wash of paradise green, azure and mango, for more intense contrast.