Men's Innovate Trend Theme FW 2011-12
Fall/Winter 2011-12 presents a clean, considered aesthetic drawing inspiration from instructional diagrams & scientific symbols for the Mens market. Refracted light patterns and chemical colors synthesize with organic structures and moulded shapes for an invigorating vision.
Menswear Direction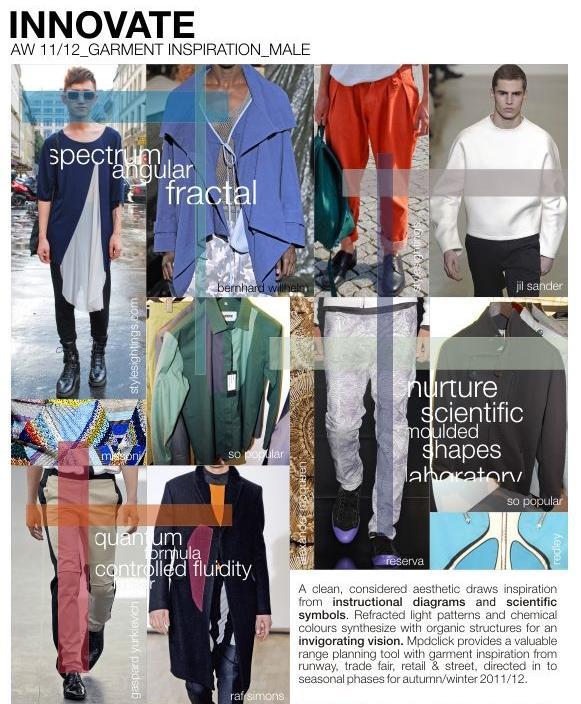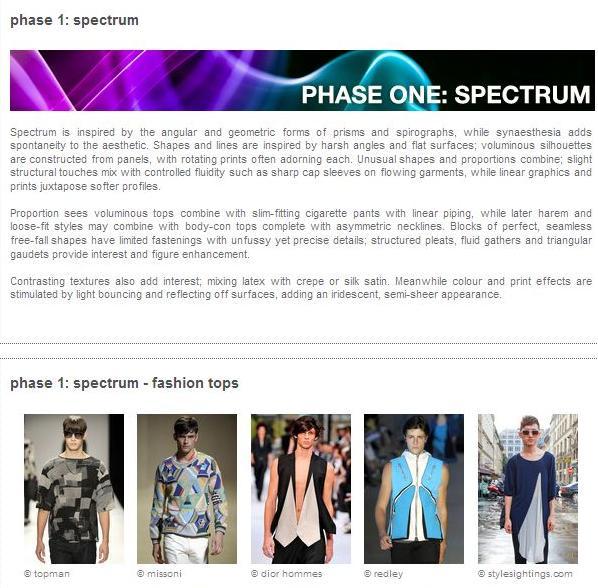 KEY WORDS:clever panelling; angular & prism prints; controlled fluidity; contrasting colours; soft silhouettes; precise clean cuts; soft layered fabrics; bright colour palette; simple shapes featuring block prints; gaudets & geometric inserts; long line tee's; uneven hemlines.

KEY WORDS:precision-cut tapered trousers; colour contrast hemlines; saturated & abstract graphic prints; light colour fade effects; sharply creased denim jeans; asymmetric folds & drape; fitted and pleated waistlines; bold colour palette; carrot & peg leg shapes.

KEY WORDS:statement waterfall jackets; bold colour blocking; linear piping; asymmetrical hemlines; free falling fabrics; clashing cubic prints; refracted light inspired prints; defined necklines; minimal detailing; synthetic high-shine & iridescent fabrics.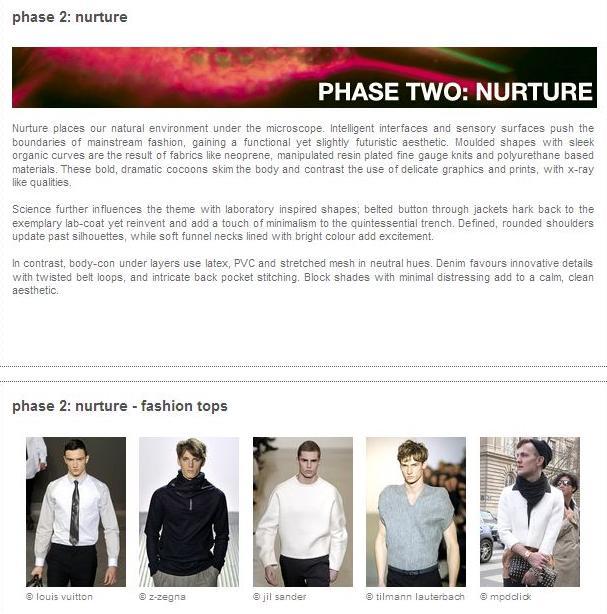 KEY WORDS:clinical block white; moulded shapes; organic structure; modern minimalistic styling; reworked silhouettes; form holding fabrics; soft funnel necks; style meets function; clean cut; exaggerated & rounded shoulders.

KEY WORDS:functional traditionally cut trousers; reinvented classics; tapered leg; defined seams; contrasting detailing, linear graphic prints; cool white; minimalistic design, lab inspired basics; synthetic textiles; unaffected & plain denim.

KEY WORDS:sculpted shoulders; laboratory inspired shapes; organic silhouettes; asymmetric zip placement; simplistic styling; linear shapes; controlled fluidity; tailored aesthetic; geometric panelling; oversized outerwear, magnified nature themed digital prints; moulded panelling.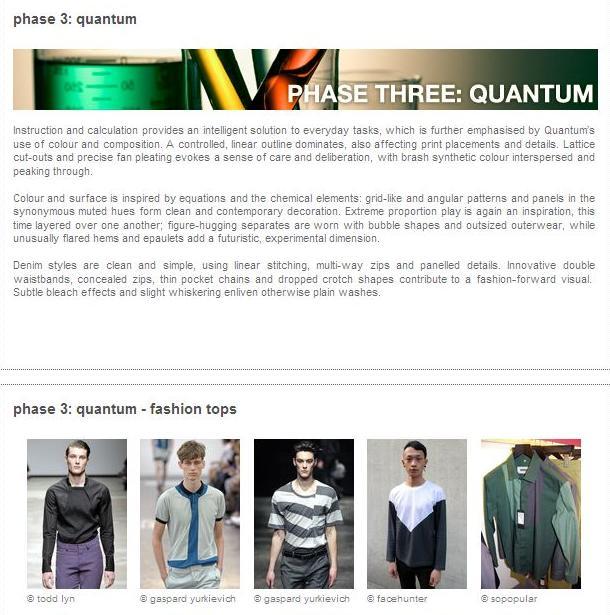 KEY WORDS:reworked tailored shirts; clean multi-functional shapes; geometric patterns; colour flashes; basic cut tops; mathematical panel detailing; contrasting colour blocking; interrupted stripes; synthetic fabrics.

KEY WORDS:controlled panel placement; geometric inserts; straight leg; clean precise pleating; contrast fabrics; intelligent & treated textiles; linear colour flashes; leg lengthening side seam details; deliberate proportions; overdyed denim jeans.

KEY WORDS:contrasting piping details; diverse fabric choices; proportion play; silhouette altering shapes; accurate detailing; calculated panel placement; 3/4 length jackets; sharp hemlines; visually stimulating prints.