Men's Denim S/S 2017, The Big Denim Stories
Fashion Snoops presents their Spring/Summer 2017 men's denim seasonal trend stories. Each forecast starts with a seasonal narrative and collage to set the mood and inspiration as you will see below. We hope that you are inspired by these SS 17 forecasts that are rich in cultural relevance and thought-provoking dimension!
We have compiled this information into a special report for WeConnectFashion members, courtesy of Fashion Snoops. The full version of the trend report is available now for individual purchase in the WeConnectFashion Trend Shop.
Editors' Top Picks
DRIFT
Inspired by our Spring/Summer 2017 Visionary trend, Raw Coast, Drift is inspired by rugged natural landscapes and the beauty found in seaside minimalism. Foamy waves, natural weathered surfaces, and ocean tides inspire blue-based denim washes, while raw edges and nautical-inspired finishes translate a rustic appeal. Lounge suiting, soft and slouchy interpretations, and diluted watercolor finishes epitomize this perfectly understated trend. The idea of new luxury is inherent here, with perfection found in the simple meeting of man and nature.

Ode To Wanderers
Deep in the Costa Rican rainforest, where lush greenery and the fresh scent of rapid waterfalls permeates throughout, the Ode To Wanderers man feels most at home. His jungle journey allows him to experience the natural wonders of the world through full environmental emersion. His surroundings inspire his denim – painted finishes, faded camo prints, and sandy color tones mimicking the landform around him. Animalia embroidery and contrast fabric patchwork add to the tactile theme.

New Havana
Inspired by our Spring/Summer 2017 Visionary trend, La Isla, New Havana creates a relaxed island attitude for our tailored yet romantic fellow. Colorful pops inspired by Cuba's warm tropical climate perfectly capture this Cold War gentleman's aesthetic. Impeccable style and timeless tailoring is accented by the military vibe present here too, underscored by utilitarian details. Double-breasted closures and shoulder epaulettes add an air of sophistication, while short suits and band collar shirts reference old school styling with an updated retro twist.

Orbit
Intrigued by space exploration and discovering the unknown, Orbit tells the story of one man's curiosity with life beyond the universe as we know it. He is allured by the never-ending clouds and cosmos clutter of the sky. He is fascinated by gravity, technology, and landscapes. A strong graphic component sees galactic wording and foiled surfaces combine with moon-centric badge appliqués and astronaut-inspired lace-up details. Metallic and waxy finishes reference shiny space crafts and spatial vessels, while aerial viewpoints and painterly brush strokes imitate contoured landscapes.

Electric Beach
The psychedelic swell is ready for its new crop of spring surfers in Electric Beach. The neon lights and high energy appeal of this trend story is replicated in colorful sponge-printed denim and intense tie-dye washes. The tropics get an intoxicating jolt of energy as heavy embellishment, iridescent infusions, and ombré washes capture the essence of what happens at this after-hours boardwalk. Colored denim reinvents itself for spring with a blend of pastel and bright shades, mixing saturated hues with paler tones to create this explosion of psychedelic color.


Purchase the Full Report
The full SS 2017 Men's Denim Forecast Trend Storiesreport offers mood collages, as seen above, then navigates to collages that focus on the key washes and finishes, details, key item silhouettes, Style Guide and Trend Map. View Details Here.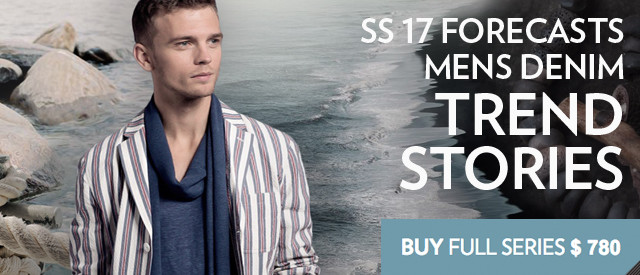 This SS 2017 Men's Denim Forecast Trend Stories by Fashion Snoops focus on a clear, concise product & lifestyle road map for the Men's denim customer. Visit our Trend Shop to learn more!
The complete series of forecasts for Spring/Summer 2017 and previous seasons are available now for purchase through the WeConnectFashion digital Trend Shop. Additional comprehensive reports are also available across all markets and incoming seasons.