Men's Collections Runway Trends F/W 2010-11
Runway Report Men's: Ironic convergence, is one way to describe the Fall/Winter 2010-2011 menswear collections. The big news: heritage- a design basis for some of the most lauded menswear collections– sits snuggly with rapid-fire media and new technologies to promote real-time runway interest. Trade & Consumers merge: rembember the days when everyone was freaked about knock-off artists, when access to runway events was reserved exclusively for the trade? OMG things are changing fast. Photo: Getty Images. Runway: Costume National Homme.
In reviewing Mens Fall/Winter 2010-2011 collections, I came across an article written by Daniela Petroff, for the Associated Press, an editorial that was posted (in all places!) on Canoe Technology. Title: *Fashion goes online*. Anyone who has been in the fashion industry for any length of time can appreciate the huge shift that is occuring.
Petroff sums it up: "Gone are the days when house bouncers, trained to spot potential copycats, blocked any unauthorized person who dared snap a picture during a show… Today's fast-moving media world, using such accounts as Youtube and Facebook, as well as their own sites, designers are encouraging real-time runway interest."
Real-Time Runway
**BURBERRY PRORSUM **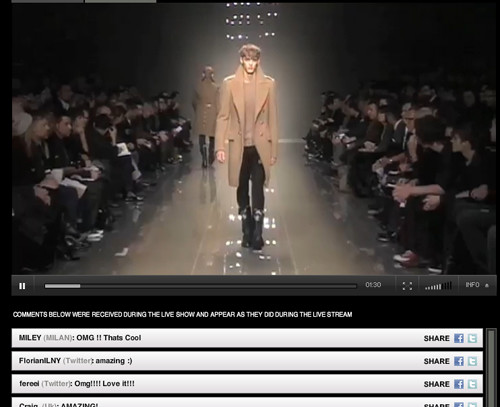 Filmed in Milan, with comments received during the live show and appear as they did during the live stream.
**DOLCE & GABBANA **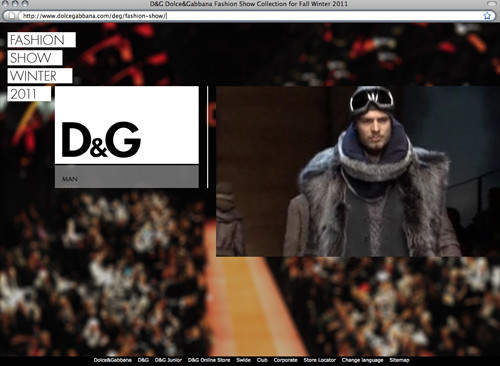 As seen on D & G's site, a live feed during the show..
ALEXANDER McQUEEN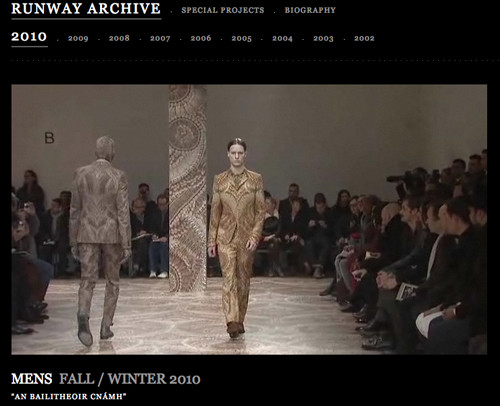 Now relegated to the "Archive," section on Alexander McQueen's site. After all, the show is over.
Real-Time Participation
Some of our favorite sources:     • Tim Blanks for the Style File Blog. Love his take on the collections.
    • MEN.Runway2Reality, generally no commentary, just lots of well-edited photos.
    • GQ At The Men's Fashion Shows.
    • Suzy Menkes for the International Herald Tribune and NY Times.
    • Men's Fall Collections, on WWD.
Ahead of Time Previews
**WALLPAPER SLIDE SHOW **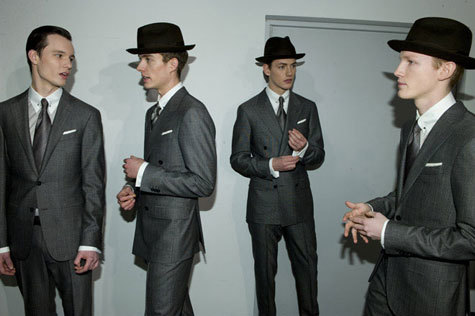 With media delivering immediate information, Wallpaper jumps ahead of the pack with behind scenes coverage of the menswear collections before the shows start… Photo: Jason Lloyd-Evans. Clothing: Ermenegildo Zegna.
View first days of the Men's A/W 2010 collections, Milan, including: Ermenegildo Zegna, C.P. Company, Jill Sander, Burberry Prorsum, Dolce & Gabbana, Emporio Armani, Bottega Veneta, Roberto Cavalli, Vivenne Westwood, Neil Barrett, and Prada (so far). While at Wallpaper, view the Moncler Gamme Blue video, Thom Browne's collection, " a military themed presentation that had fashion folk the length and breadth of the catwalk standing to attention."
<object type="application/x-shockwave-flash" data="http://widgets.clearspring.com/o/4933ece1fc5bc3ab/4b54cf41bdb43f52/494a2c2a3cd20344/841f4b91" id="W4933ece1fc5bc3ab4b54cf41bdb43f52" width="250" height="261">
</object>
In addition, Wallpaper has a handy news widget, so consumers and the fashion trade alike can stay-tuned to coming attractions.