MAGIC Sourcing Galleries, Mens Forecast F/W 2016-17
Trade Show Report: an exclusive first look at the Fall/Winter 16/17 Trend Galleries presented by Fashion Snoops at the August 2015 Sourcing at MAGIC in Las Vegas. The Top trends range from Method + Madness, Nautilus, to Rest/Full for the Men's market. This information has benn compiled into a special report for WeConnectFashion members, courtesy of Fashion Snoops. The full report is available in the WeConnectFashion Trend Shop.
METHOD + MADNESS
The man behind Method + Madness is a curious collector who is disturbingly informed about scientific theory, the early days of medicine, chemical reactions, human anatomy, and the ancient practice of alchemy. With a not-so-subtle nod to dark laboratories and clandestine practices, his life is dripping with mystery and full of precise techniques, boxy yet workable silhouettes, an overall approach at uniform dressing, and design-forward seams, pleats and cut-outs that mimic the systems of the body.

REST/FULL
Sun-drenched afternoons in the city loft, brunch in bed, and a bit of Beatnik charm create a "Rest/Full" peace of mind for F/W 16/17. Inspired by cozy classics, extra-plush surfaces, and cocoon-like living, this story is as charming as it is handsome. The languid romance of wintery pastels, oversized coats, easy-going velour, and pilly flannel perfectly complement the feeling of a tranquil Sunday afternoon in bed.

NAUTILUS
He's a Sci-Fi seafarer who seeks the deepest depths of the ocean and places not found on a map — the murky mysteries of the world. Imagine if Jacques Cousteau, Herman Melville & Jules Verne were living in a contemporary world where dimensions and horizons were fused into a single entity full of weirdness and wonder.

EQUUS FERUS
Latin for "wild horse," Equus Ferus is a dramatic journey along the dark and twisted road of tradition. He rides in the shadows, fully embracing the time-honored tailoring that pays homage to Victorian gentlemen. His estate is full of enigmatic corners, perfectly weathered surfaces, and just the right amount of grandiose.

Purchase The Full Report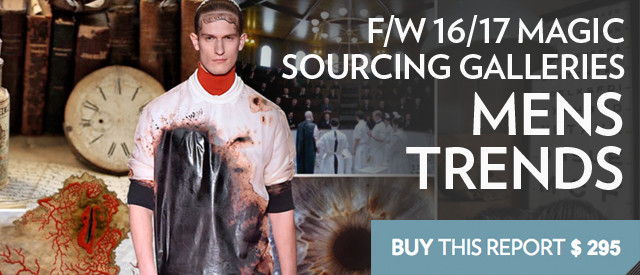 This Fall/Winter 16/17 Men's Trend Stories report by Fashion Snoops includes all top trends covered at the MAGIC sourcing gallery and seminar, led by Creative Director & Menswear Editor, Michael Fisher. 
The complete series of forecasts for Fall/Winter 16/17 and previous seasons are available now for purchase through the WeConnectFashion digital WeConnectFashion Trend Shop. Additional comprehensive reports are also available across all markets and incoming seasons.