MAGIC Sourcing Galleries F/W 2015-16
Trade Show Report: an exclusive first look at the Fall/Winter 2015-16 Trend Galleries presented by Fashion Snoops at the August 2014 Sourcing at MAGIC convention in Las Vegas. The Top trends range from Inner Calm, City Slicker, Northern Narrative to Kingdom for the Men's and Women's markets.
Mens & Women's Seasonal Themes
Inner Calm
Tucked away miles from civilization, the Inner Calm man and woman live in a minimalist wood cabin where they have created a cocoon atmosphere in their home and way of dress. Knit heavy, multiple textures play an important role with chunky yarns everywhere. Nature factors in not only with natural fibers, but with fur pelts and abstract motifs inspired by the world around them. Neutral colors to keep it clean yet warm, and minimalist lines add a subtle modern edge.
City Slicker
The ultimate urban dweller is at home in an active setting. Just like the city they inhabit, their metropolis surroundings are reflected in their lustrous surfaces, sharp silhouettes, plenty of contrasting details, and an underlying reference to sport. This head-to-toe look is a conversation that embraces the mineral sleekness of the city with dimensional and technical elements. This story is a celebration of the sportif lifestyle with a decidedly urbane approach.
Northern Narrative
Old textile traditions emerge in design with decorative elements, creating a one-of-a-kind feel expressed by the Bloomsbury Set of intellectuals in London. Recalling the first half of the 20th century, the setting draws to mind the quarters of writer Virgina Woolf and painter Duncan Grant. A harmonious contrast occurs between folkloric stories and the surrounding environment, whether it be on anÊadventurous outing or upon return home. This story unfolds like family traditions that are carried from generation to generation, with a dreamy and adventurous spirit.
Kingdom
Uncharted territories, cozy corners, rustic surfaces, time-honored tribal traditions of the North, and tales untold of strong men and women, and their rugged adventures. Telling the story of a medieval romance, Kingdom is rooted in fairy tales coupled with a tough warrior reality and the will to conquer. With a harmonious contrast between pure air, aggressive barren surfaces, and enveloped green earth, this story is raw romance at its best.
Purchase the Full Report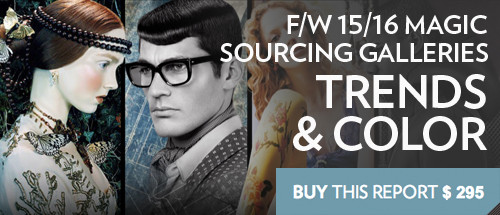 The full trend report from MAGIC is now available. The FW 15/16 Magic Trend Stories + Color Direction report by Fashion Snoops includes all top trends covered at the MAGIC sourcing gallery and seminar, led by Creative Directors Michael Fisher and Melissa Moylan.