Madame X: Intimate Apparel Trend Report
**Spring / Summer 2009 Women's Intimates Trend Report: ** Spring / Summer 2009 brings with it a sultry mood, inspired by the showgirls of Chicago and Moulin Rouge. We can expect to see highly seductive lingerie that oozes glamour and lustful desire. Every woman will be transformed into a temptress with the flirtatious silhouettes and opulent fabrics. !!! INFWG0000909 !!! 's new collection conveys this lustful atmosphere, with sheer fabrics that hint at what lies underneath.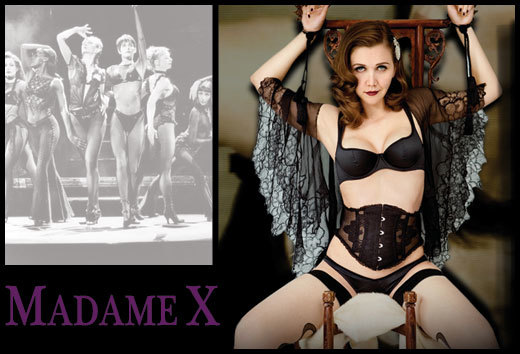 Madame X uses flirtatious silks, satins and delicate lace, which adds elegance to this provocative and passionate trend. Huit America, Inc, top left, have used frills around the bust-line to add detail and interest to a simple black lingerie set, but their use of black keeps the desire. Frills were also used by !!! INFWS0001942 !!!, on the right, who suggestively layered tulle frills around the bottom of a figure hugging black and sheer bustier. Bottom left,Van de Velde NV simple combination of frilly shorts and sheer black stockings show the sophisticated seductiveness of Madame X.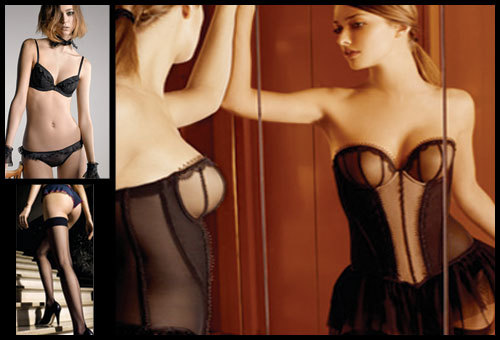 The colors for Madame X are dark and passionate with black as the core color; deep reds and purples are used to accentuate the sexy glamour of the season. Lise Charmel,on the left, have seductively layered black lace over a passionate red so only a glimpse of the underlying color shows through. This trend calls for color to be used in a sophisticated way with mainly blocks of color although black can be used as an accent color. Triumph International North America, on the right, used of this enchanting deep purple to striking effect with just a hint of black lace used around the bust.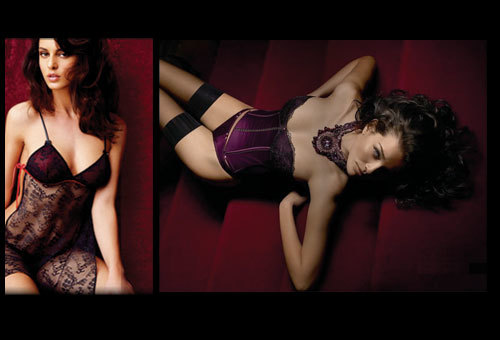 Madame X is not just a seductress she is a performer, her presence is enchanting and cannot be ignored. With her sheer black stockings with the flirtatious seem-line on the back she captivates her audience, stockings on the left by Wolford America Inc. On the right, the black set by Aubade shows the sophisticated glamour of Madame X. Her enchanting provocative side is shown by the combination of a form hugging corset and ruffled panties by Blush Lingerie.