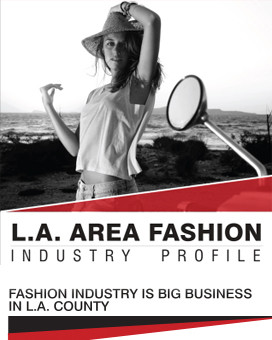 Los Angeles Fashion Industry Profile and Outlook
According to a report released by California Fashion Association CFA and sponsored by CIT Group, CIT Trade Finance, Fashion remains the most under‐appreciated industry in Los Angeles. It truly has a global reach.
The mere mention of apparel manufacturing, unfortunately, can conjure up very dated negative images – sweatshops, minority workers, abusive bosses….
For the true picture, consider these images: design entrepreneurs sit in a well‐lit design studio. They imagine new clothing designs and send them electronically to offshore factories or to a local contractor. Logistics experts arrange for merchandise to be shipped to distribution centers or specialized clothing stores around the world. Freight forwarders electronically sign customs papers accepting a shipping container full of finished merchandise from distant shores.
L.A.'s apparel industry success has long been driven by the pull of design talent; favorable cost economics; the appeal of casual clothing (particularly denim); fashion; and speed to market.
Apparel & Textile strength in Los Angeles

More Report Details
To read the 68 page report in its entirety, visit the California Fashion Association website for details.