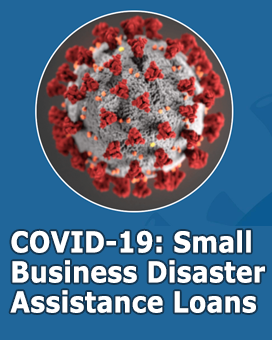 Loans for Small Businesses Impacted by COVID-19

Coronavirus-Related Small Business Guidance
Our nation's small businesses are facing an unprecedented economic disruption due to the Coronavirus (COVID-19) outbreak. On Friday, March 27, 2020, the President signed into law the CARES Act, which contains $376 billion in relief for American workers and small businesses.
In addition to traditional SBA funding programs, the CARES Act established several new temporary programs to address the COVID-19 outbreak, including:
Paycheck Protection Program (PPP)
Economic Injury Disaster Loan (EIDL)
SBA Express Bridge Loans
SBA Debt Relief
Requirements for a Disaster Assistance Loan has been relaxed. For under $25,000 no collateral is required.           
To find out about Coronavirus Relief options or to start the process for a SBA Disaster Loan go to: www.sba.gov/funding-programs/loans/coronavirus-relief-options. 
These loans may be used to pay fixed debts, payroll, accounts payable and other bills that can't be paid because of the disaster's impact. The interest rate is 3.75% for small businesses and  2.75 for non-profits.  SBA offers long-term repayments in order to keep payments affordable, up to 30 years. Terms are determined on a case-by-case basis, based upon each borrower's ability to repay.  


Find out more, Click Here.