Lipstick Graphics Prints, SS 2010
Print and Graphics Report Women's: S/S 2010 Lipstick Graphics. Influenced by up-and-coming Belle Sauvage, Danielle Scutt and Issa, it draws from 80's vintage and 60's futuristic prints for younger contemporary market. This trend inspires surface design, accessories, packaging & displays. Presented on WeConnectFashion, courtesy of Trendstop.com, the site known for great visuals and early trend identification.
Print and Graphics, Trendstop.com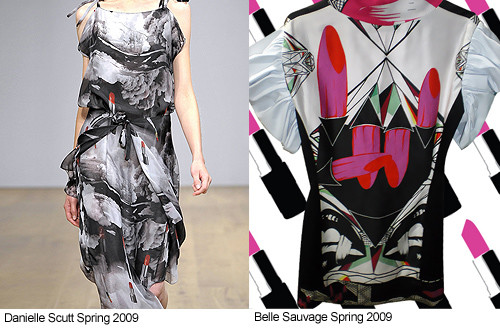 The iconic image of a lipstick barrel evokes power and glamour. Its graphic and retro feel lends it well to kitsch ditsy prints, graphic comic book style or pop art treatments, working as both as a repeat and as a placement graphic.
LIPSTICK GRAPHICS COLOR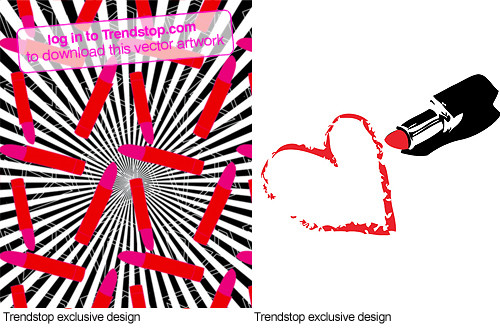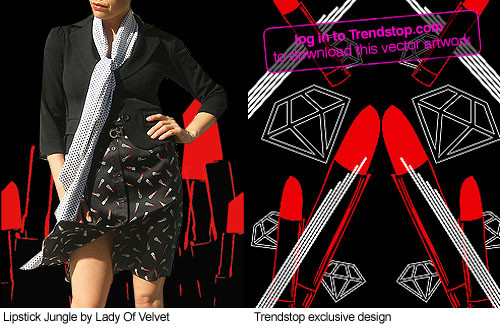 Red, white and pink set against black or navy backgrounds provides a contrasting appeal. Monochromatic appeal is tougher still, whilst tonal versions of lipsticks in unexpected colorways such as blue on white works especially well with denim.
ADDITIONAL APPLICATIONS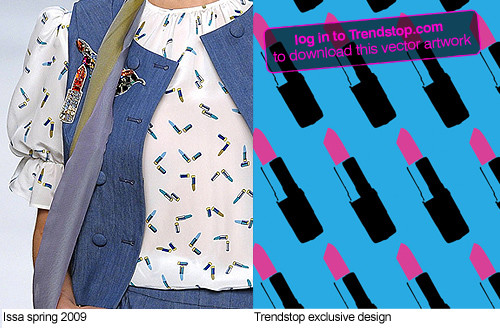 The lipstick quite rightly transcends to accessories and embellishments in the form of jewel encrusted broaches and sequins appliques. Read more on Trendstop.com
Trendstop.com is the online trend service for fashion professionals. Trends are updated daily, and many include editable vector downloads. Trendstop.com explains the trend concepts commercially and shows plenty of examples of how the concepts and trends can be translated for all market levels, so you will be able to use your invaluable time more effectively.