Lingerie Americas - Curve Expo Trend Report S/S 2008
Spring / Summer 2008 - New York blew the roofs off for 2008 with two trade shows dedicated to the intimate apparel and women's swimwear market. Lingerie Americas, held at the Altman Building and the Metropolitan Pavilion, and Curve, located at the Penn Plaza Pavilion, displayed the industries' sexiest and finest intimate apparel manufacturers and designers. Leg-wear is definitely a strong category for the fall 2008 / winter 2009. For Spring / Summer 2008, wild jungle prints, florals and geometric patterns are going to be big trends. Lace has taken lingerie into a sexier realm with its chic styles and intricate details. Hanky Panky Ltd displayed a magnificent collection displaying two of the key trends for the season (view, below).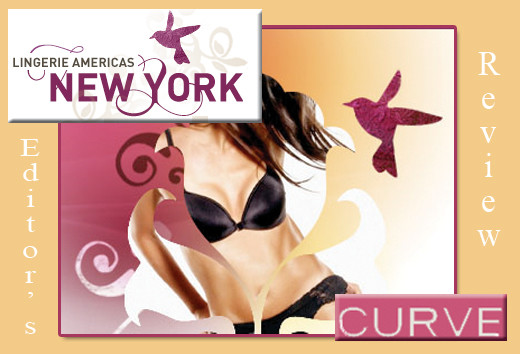 Accessories were exuberant this year with new innovations and top-notch displays. Newcomer, !!! INFWB0002088 !!!, by Jane Webb, came up with a stylish protective travel bag for your bras and fine lingerie. Seen, below, left: a chic denim bag with rhinestone buckles and studs; middle, an underwear bag in a variety of styles. Zazendi, USA Office continued with upscale travel accessories, using silk in an assortment of colors as seen below, right, a soft pink silk pouch and a gingham-blue with floral lined silk pouch. Hollywood Fashion Tape and !!! INFWM0002186 !!! were going head to head with their make-up accessories in a beautifully displayed booth. !!! INFWM0002186 !!! had pucker protectors, rescue sponges, popper-stoppers for pregnant ladies and lint rollers as seen below on left. Instead of your typical bra strap, Milili Corp. USA, created beaded bra straps that could criss-cross in the back or front or look like your basic bra strap in a variety of designs (view, below middle).
Exhibitors had jungle fever showing off their wild prints and floral negligee. Zazendi, USA Office incorporated some of this trend with their travel accessories as seen below on left with the silk pink and brown swirl bag and leopard bag. Diamond Tea Inc had an assortment of animal prints and tribal influences throughout their collection of robes (view, below below in middle). Ke Koqueta maternity intimate apparel was very stylish with floral prints in vibrant spring colors (view, below right).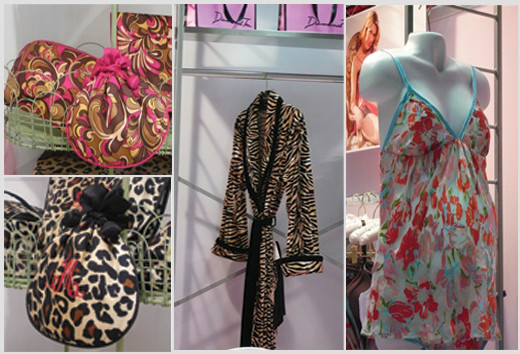 !!! INFWM0002189 !!! dominated the leg-wear category with crazy and unique designs in all sorts of colors and styles. Knee high and thigh high tights had geometric shapes, polka dots and striped patterns. In colors such as maroon, black, gray and white tights (view, below). !!! INFWM0002189 !!! became even more creative with bandana designs on red tights, sheer white footless tights with intricate embroidered details, plaid prints and little black bows as embellishments (seen below). Milili Corp. USA black printed boy shorts (seen below left), plaid print boxers (view, below right) and pink horizontal striped bikini high cut underwear with black lace (view, below middle) tagged right on along with the bold prints.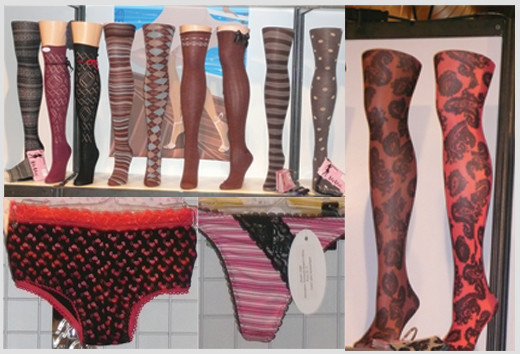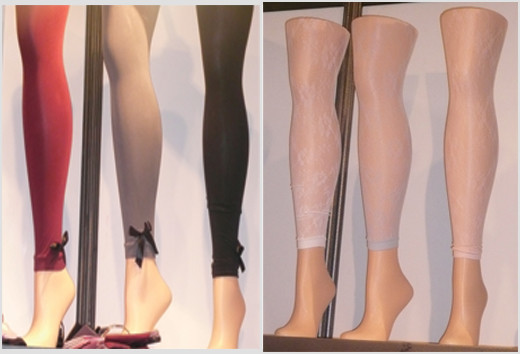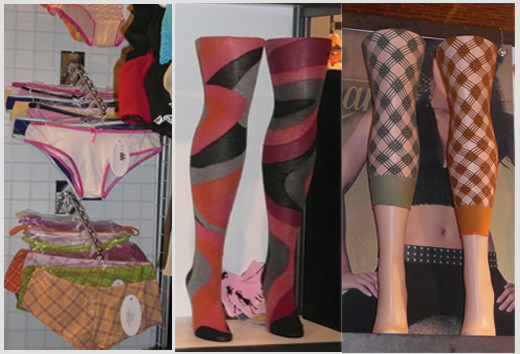 Lace was insanely sexy for lingerie and the superb designs kept you crawling back for more. Ke Koqueta wanted pregnant women to feel flirtatious in a sheer black chemise with lace over the bust and a black thong (view, below right). In keeping up with this trend Milili Corp. USA lace collection included a black burlesque bustier with black lace on the bottom half and a matching burlesque rhinestone thong (seen below left). They also had a satin ribbon and lace baby doll with a rose print and satin ribbon and lace boy shorts (view, below in middle). Some of OnGossamer Inc best selling pieces were made from lace such as their pink bra and panty set (view, below left) and the geometric lace baby doll (seen below right). Blush Lingerie had a sensuous collection that included silk camis with appliquéd lace on top and along the hem with matching bottoms (view, below middle).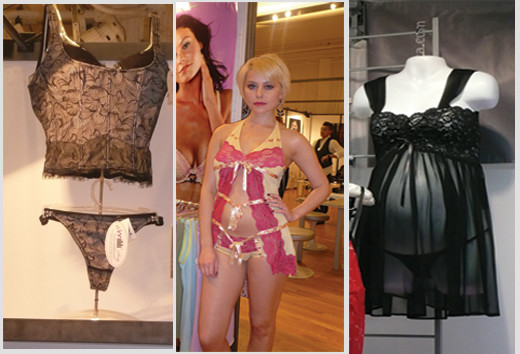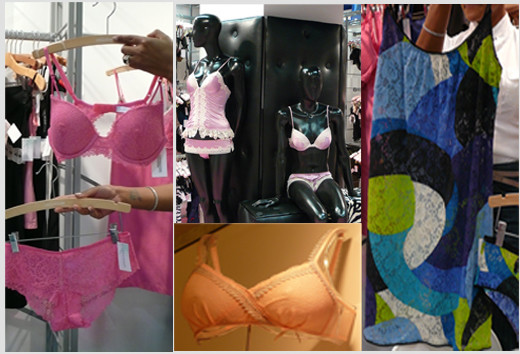 Straight out of New York, Graffinis Swimwear brought an urban flare to their swimwear collection. Inspired by graffiti art scattered throughout Soho and Chinatown, Graffinis Swimwear amps up swimwear with their one piece, string and halter bathing suits. The photographic imagery has extraordinary colors with everyday objects like ATM machines and street signs (view, below).
Graffinis Swimwear