Lineapelle Milan Fall Winter 2018-19 Leather Showcase
The fall/winter 2018-19 edition of leading international leather showcase, Lineapelle in Milan, saw creative reinterpretations of the classics with unexpected color combinations and bold reworkings of traditional tanning techniques according to Trendstop.
This week Trendstop editors offer WeConnectFashion readers an exclusive look at the color, print and texture directions that will be informing leathers for the Fall/Winter 18/19 season."Terracotta Dune" brings a warming, autumnal flavour to natural leather products while "Laundry Bag Checks" introduce a modern, utility appeal to printed skins. "Shredded Suede" illustrates the importance of texture his season, with heavily napped surfaces that combine leather's tough and rugged qualities with a soft and tactile handle.
Leather Direction. Lineapelle Trade Show

Colour - Terracotta Dune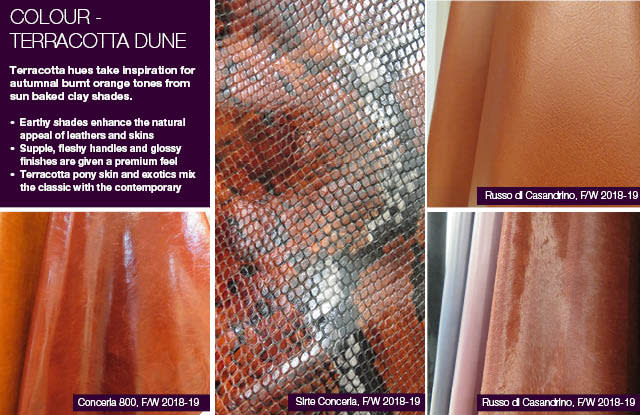 Terracotta hues take inspiration for autumnal burnt orange tones from sun baked clay shades to bring warmth to the winter palette.
Earthy shades enhance the natural appeal of leathers and skins
Supple, fleshy handles and glossy finishes are given a premium feel
Terracotta pony skin and exotics mix the classic with the contemporary

Print - Laundry Bag Checks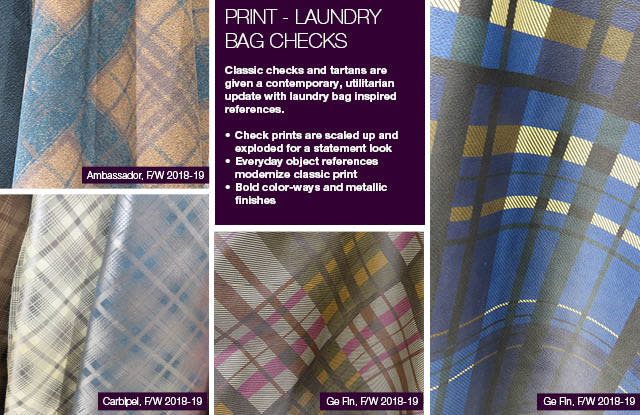 Classic checks and tartans are given a contemporary, utilitarian update with laundry bag inspired references.
Check prints are scaled up and exploded for a statement look
Everyday object references modernize classic print and pattern
Bold color-ways and metallic finishes enhance the fashion-forward feel

Skin Textures - Shredded Suede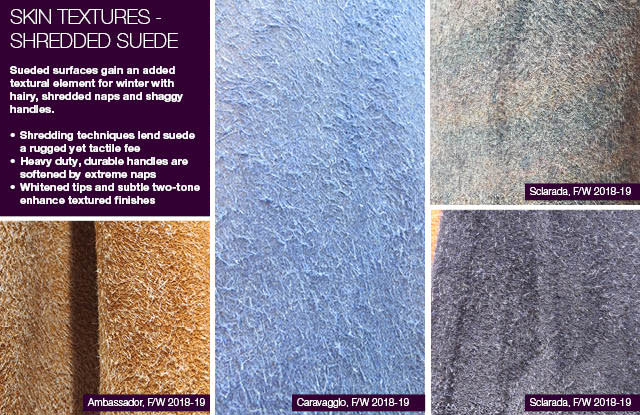 Sueded surfaces gain an added textural element for winter with hairy, shredded naps and shaggy handles.
Shredding techniques lend suede a rugged yet tactile fee
Heavy duty, durable handles are softened by extreme naps
Whitened tips and subtle two-tone enhance textured finishes
All images courtesy of Trendstop.

Exclusive Offer
WeConnectFashion readers can get FREE ACCESS to Trendstop's Fall/Winter 2017-18 Lineapelle Fabric Show Overview, an essential guide to the season's leather and material innovations direct from Lineapelle, Milan. Simply click here, to receive your complimentary report.


Trendstop.com, is the world's leading trend forecasting agency for fashion forward trend information that is validated through early consumers to give you confidence in your trend decision making. Clients include H&M, Primark, Forever21, Zalando, Geox, Evisu, Hugo Boss, L'Oreal and MTV.

RELATED REPORTS