Kid's Innovate Trend Theme FW 2011-12
F/W 2011-12. "Innovate," a clean, considered aesthetic draws inspiration from instructional diagrams and scientific symbols for the girls and boys market. Nature under the microscope, refracted light patterns and chemical colors synthesize with organic for an invigorating vision.
Girls Market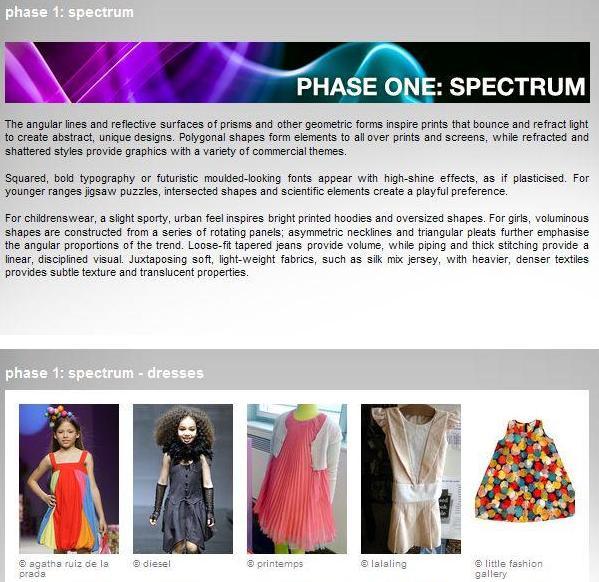 key words: angular prints; precise fan pleats; linear prints; jetted pockets; geometric structures; voluminous shapes; clever tailoring; bright colour palette; uneven proportions; controlled fluidity; reflective tones.

key words: trapeze shapes; tonal layering; loose fitting t-shirts; 3d embellishments; angular prints; bright colour palette; sheer fabrics; structured linear pleating; blured lense effects; tucks & gathers.

key words: astral prints; geometric embellishments; layered sheer fabric; pearlescent crystal organza; angular panelling; light wash denim; bright bold typography; visible contrast seams; reflective fabrics.

key words: diamond quilting effects; bright colour palette; heavy floral prints; soft silhouettes; fluid free-fall shapes; decorative ruching; reflective metallic materials; figure skimming styles; statement collars; subtle futuristic aesthetic.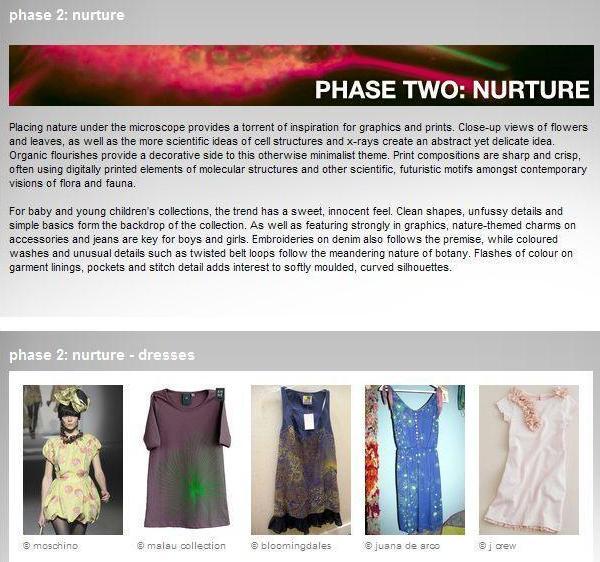 key words: uneven bubble hemlines; voluminous skirts; oversized t-shirt dresses; soft silhouettes; figure skimming designs; unexpected floral prints; neon brights colour palette; angular necklines; 3d embellishments.

key words: all over floral prints; reflective fabrics; oversized t-shirt shapes; loose fitting designs; linear prints; slouchy casual styling; abstract nature; bright colour palette; functional designs; colour contrast lined collars; broken strobe light effects.

key words: science inspired prints; loose flowing silhouettes; tapered trouser legs; bright micro florals; clean laboratory influenced designs; neon brights; wide-leg pants; futuristic aesthetics; coated fabrics.

key words: laboratory inspired coats; straight clean silhouettes; futuristic quilted jackets; functional designs; slouchy loose knits; floral embellished panelling; soft whites; stud & stitching details; hooded styles; moulded aesthetic.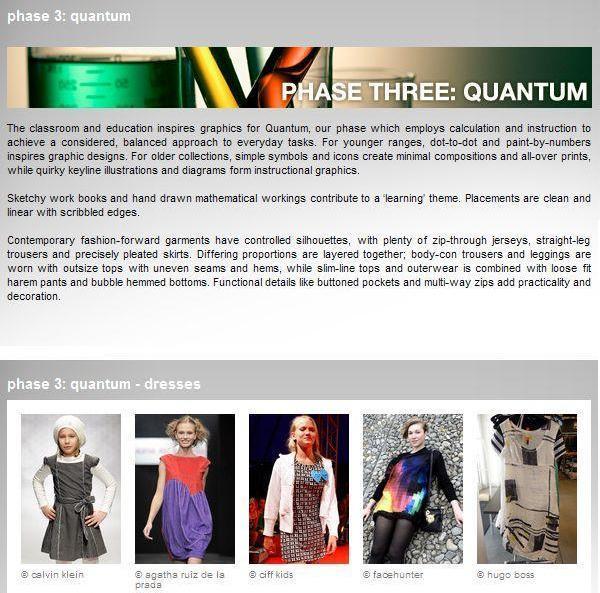 key words: precise linear piping; assorted greys; proportion play; bright synthetic colours; monochrome geometric prints; multicoloured cubist graphics; grid-like patterns; pixelated; simple shift shapes; high hemlines.

key words; linear stripes; bold colour blocking; geometric shapes & panelling; bright synthetic colour palette; precise laser cut perforations; contemporary robotic themes; abstract angular designs.
Boys Market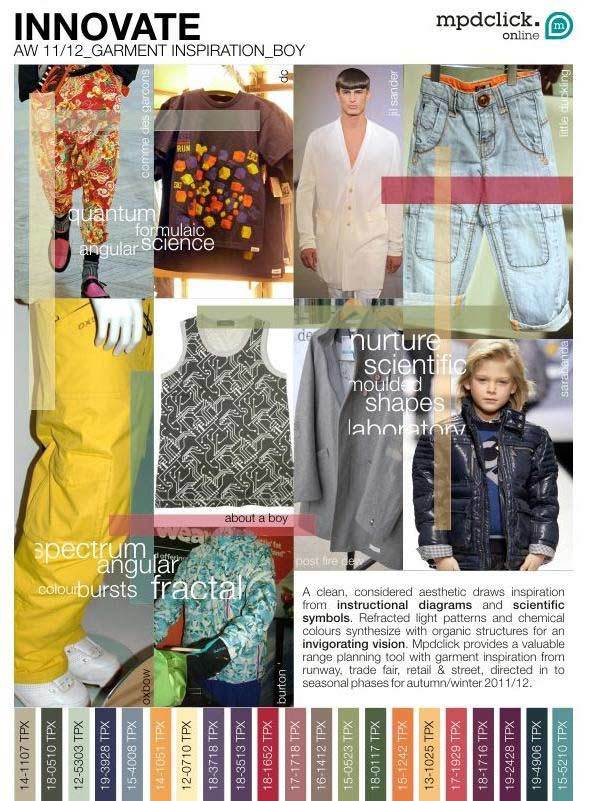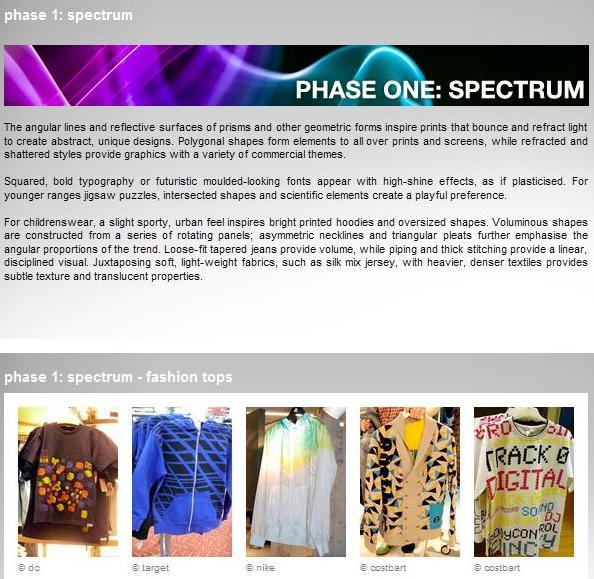 Key words: basic t-shirts; 3-d cube graphics; electric blue; futuristic grid print; graduating colour; overlaying geometrics; double breasted cardigan; digital typography.

Key words: cobalt blue trousers; colour flash; winter sports inspired; canvas trousers; zipped cuff; tapered jeans; cargo pockets; wash effects; contemporary combats.

Key words: patent shine mac; longline; casual sport inspired; metallic panel inserts; fractured prints; see-through; block colour; panelling; metallic shine finish.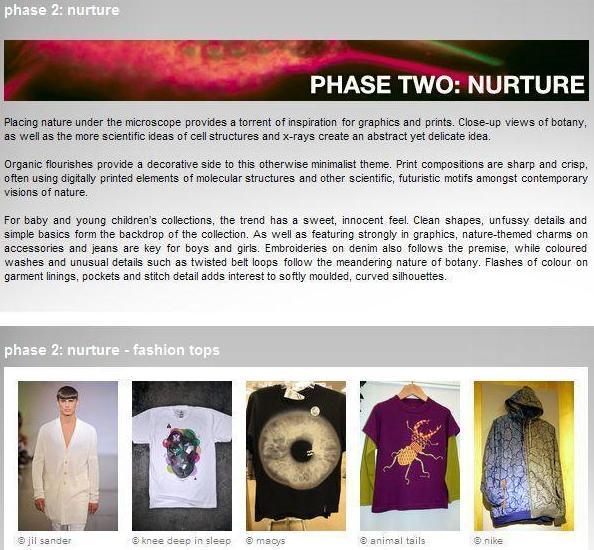 Key words: basic t-shirt; overlaying graphic elements; rounded aesthetic; relaxed cardigan; simple on-tone detail; biology; anatomy; printed insects; cracked rock print.

Key words: woven trousers; front trouser seam; botanical prints; extreme harem; proportion play; slim fitted smart slacks; repeat print; nature inspired; green accented denim.

Key words: quilted puffa jacket; functional; white blazer; laboratory inspired; rounded panels; double breasted; quirky bug print; hooded; sulphur yellow; stand up collar.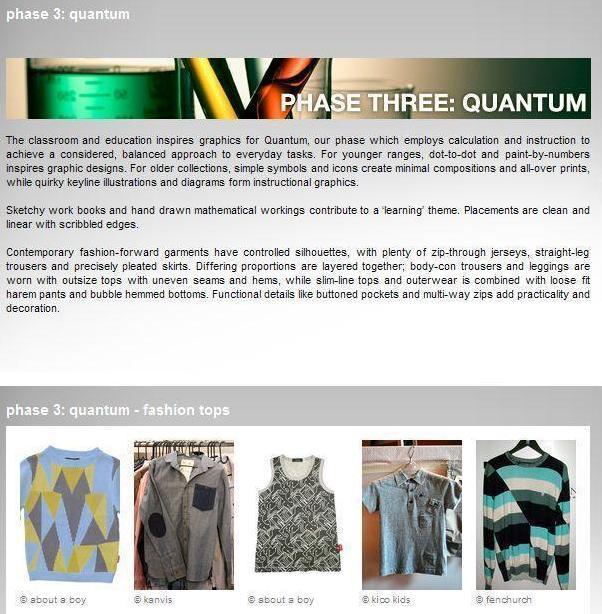 Key words: geek chic; geometric printed jumper; contrasting fabrics; elbow patches; microchip inspired; angular dotted pockets; contemporary stripe print.

Key words: dark blue jeans; top stitch accents; angular panelling; overlaying elements; checked pockets; tabs; combat jeans; blueprint style; prominent knee patches; orange accents.

Key words: panelling; perforated texture; vivid green; patent shine finish; quilted puffa jacket; block colour; hooded jersey; elbow patches; longline woven coat; perforated leather bomber.