Kid's & Home Interior Trends SS 2010
Here are four of six trends for 2010, which take inspiration from kid's lifestyles, from the need for escapism through to parent surveillance and GPS tracking. Watch out for vintage references too, as parents look back to their own childhoods and remember happier, simpler times. All rights reserved. Image copyright belongs with the originator.
VINTAGE TEA PARTY
This theme builds upon parents' desire for nostalgic, vintage homeware, from knitted and crochet toys through to heirloom quality furniture. A simple, sugared almond palette of chalky pastels is used for polka dot and posy floral prints, which are perfect for baby through to teen girls.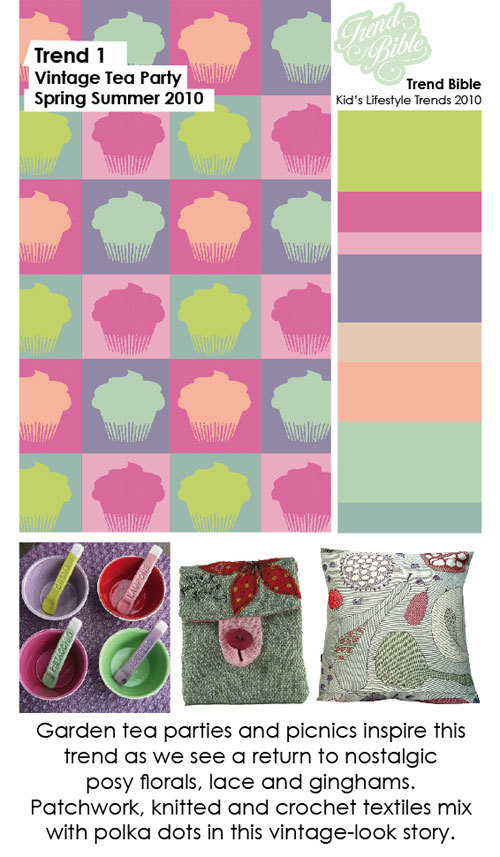 Image credits: Main image: Trend Bible Print Portfolio. Bottom row, left to right: MV%, Poppy Treffry, HildaHilda
ADVENTURE PLAYGROUND
Escapism is a key theme for 2010, as children are under increasing scrutiny and feel the need to daydream, explore and build backyard dens and treehouses. Here, jungle creatures meet garden bugs and leafy foliage for print inspiration.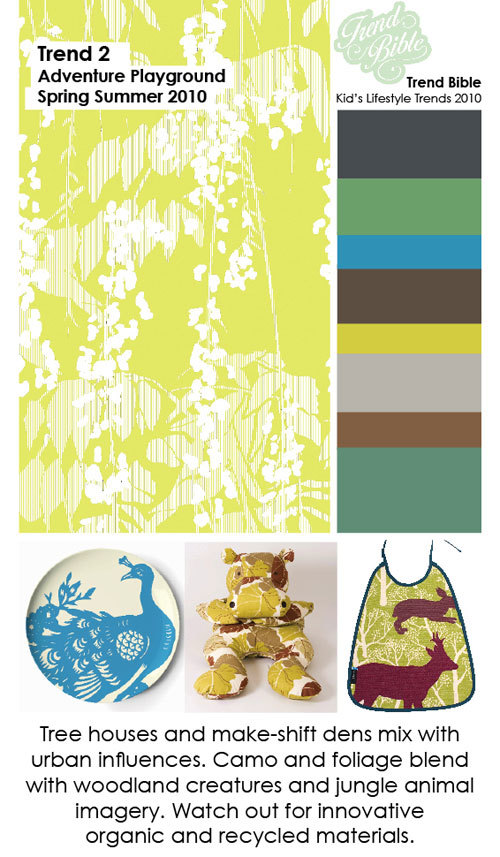 Image credits: Main image: Kuboaa. Bottom row, left to right: Supernice-Thomas Paul, Beasty Bags, Ziestha
WONDERLAND
Dark, sinister fairytale elements underpin this trend, as children are increasingly fascinated with witches, wizards and otherworldly creatures. Alice in Wonderland, The Chronicles of Narnia and Harry Potter provide inspiration for dark ground prints, magical reflective and metallic elements, spooky enchanted forest imagery and shocks of bright neon colour.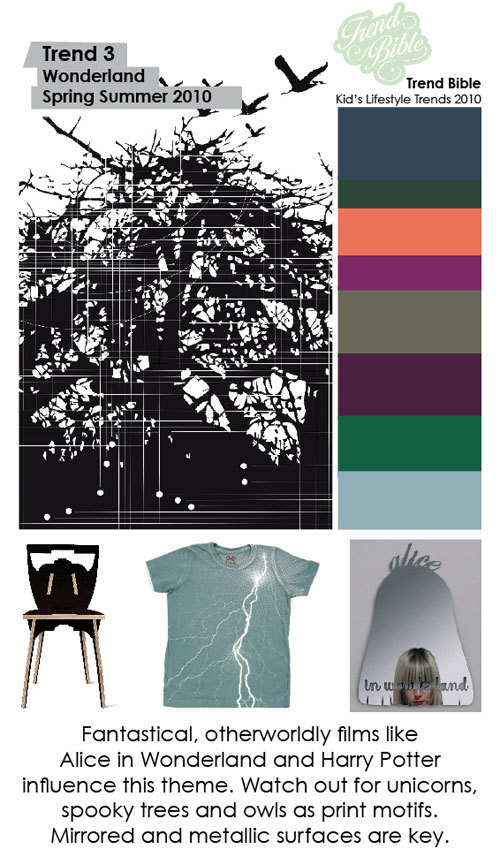 Image credits: Main image: Eco-Borastapeter. Bottom row, left to right: Studio Lo - La Corbeille, Ross Menuez, Domestic
FUTUREPLAY
Children are sourcing games and toys from different eras and different countries thanks to the internet, so here we see culture clashes from Japanese toys to 60s Pop Art. Bold, minimalist shapes mix with strong colours, while robot and space imagery influences wallpaper and textile prints.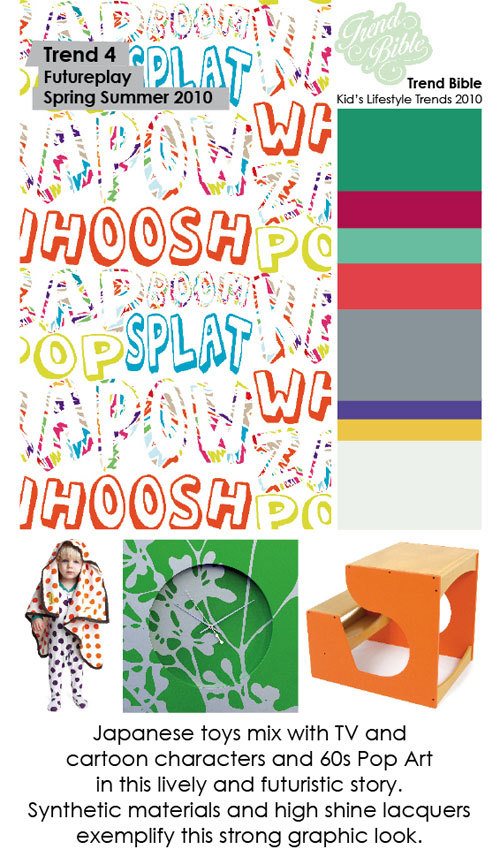 Image credits: Main image: Trend Bible Print Portfolio. Bottom row, left to right: Brights amp; Stripes Silly Gifts, P'Kolino
MORE REPORT DETAILS
At Trend Bible, we don't consider ourselves futurologists or trendhunters or gurus. We just know how to pinpoint future trends and how to translate this into commercial success for our clients in a usable, no-nonsense way. Some of what we do is a science - it's researchable and quantifiable; some of it relies on our 15 years of experience, and the rest is well-honed instinct.