Kid's Contemporary Trends SS 2011
S/S 2011, for Girls, denim is given fresh appeal in a range of party dresses while white dresses play with frothy textures and volume. Appliqued bow tops and traditional macs mix things up… For Boys, utilitarian shapes are key. Denim is either stark white or sunfaded with distresses features. Prints are vibrant and loud with kitsch lightweight knits and tye-dyed effects.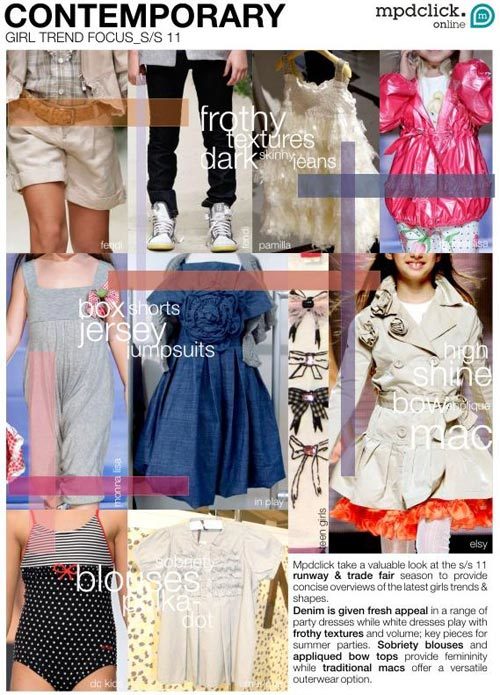 Girls Key Items &amp, Details

Applique bow tops
Key words: Far left: Black satin bows; sleeveless v-neck; monochrome palette. Second left: Fluid fabrics; loose fit t-shirt; feminine tones; varying pink satin bows. Centre: Oversized applique bow; salmon pink & rose; floral corsage detail. Second right: Mix & match aesthetic; expressive illustration; monochrome palette; tulle & rhinestone embellishment. Far right: Small ivory bows; subtle sheen; ice blue vest top.

Sobriety blouses
Key words: Far left: Halterneck shirt top; sleeveless; crisp white cotton; clear button. Second left: Frilled front placket; feminine details; school blues; cap sleeves; tie-waist. Centre: Neutral tones; classic collar; voluminous shape. Second right: Quaker inspired; frills; pure white. Far right: Soft checks; grey trims; long-sleeve top; soft cotton fabric.

Denim party dresses
Key words: Far left: Sun faded denim; twisted waist tie detail; ornate fastening detail; classic shape. Second left: Dark denim; subtle bleach effects; studded panels & trims; frills; inspired by 1950s dress with a rock 'n' roll twist. Centre: Pumice stone effects; shift dress with soft bubble hem; sleeveless. Second right: Classic blue denim; statement floral detail; manipulated fabric; cinched in waist & voluminous skirt. Far right: Strapless tube dress; tiered frills; button-up front; patterned tights.

White frothy dresses
Key words: Far left: Ethereal tulle layers; jersey top; modern lace; tiered. Second left: Decorative fabric floral applique; rhinestone centre; tulle & organza skirt; lightweight shorts. Centre: Feather-light tulle & lace; embellished trim; soft volume. Second right: Chiffon; feather-like tiers; whitened tones; ruched top. Far right: Vintage slip inspired shape; subverted handkerchief hem; cotton; tie-up straps.

Dark skinny jeans
Key words: Far left: Triple-wash indigo; intense dark indigo; slim-fit. Second left: Black denim; contrast stitch; tapered. Centre: Authentic denim; elasticated waist; triple top-stitch detail; classic cut. Second right: Alternative button front detail; low-slung crotch; treated denim. Far right: Dark denim; subtle rust effects; chain; ultra slim-fit.

Rolled up box shorts
Key words: Far left: Casual linens; rolled up hems; woven leather belt; neutral tones. Second left: Boxy shape; pocket detail; black leather belt; front pocket detail. Centre: Brown cotton shorts; flat exterior pocket; adventurer explorer theme. Second right: Lightweight fabric; blue satin bow; minimal detailing; crisp turn-ups. Far right: Mid-cast greys; large metallic button; feature pockets.
Boys Key Items &amp, Details

Tie dye tops
Key words: Far left: All over print; tie-dyed striped jersey; grey hues; discreet skull print; casual streetwear. Second left: Hooded jersey top; striped print; tie-dye effect; frosted blue; lemon; pink; embroidered feature. Centre: Striped polo shirt; pastel hues; charcoal grey typography overlay; vertical text. Second left: Midnight blue; polo shirt; contrast orange stripes; tie-dyed effect. Far left: Purple tie-dye spiral; psychedelic; 70's inspiration; white jersey.

Vibrant checked shirts
Key words: Far left: Blue hues; translucent red highlight; all over checked print; white buttoned front; double breast flap pockets. Second left: Earthy hues; double breast flap pockets; short sleeved shirt; orange highlight; white stitching. Centre: Bold square pattern; vibrant palette; warm orange hues; olive green; blue shades. Second left: Delicate check print; purple & green hues; long sleeved shirt; flap pockets. Far left: Crinkled short sleeved shirt; red & green; buttoned front; all over check print.

Kitsch patterned knitwear
Key words: Far left: Light grey cardigan; comical print; yellow monster graphics; buttoned front; v neck. Second left: Nude; pastel green trim; contrast buttons; random all over print. Centre: Bright red trim; all over repeated print; light grey knitted jumper; monster. Second left: Bold star graphics; lime green; sky blue; indigo; striped trim; buttoned front; light grey cardigan. Far left: All over geometric print; triangles; round neck jumper; purple trim; colourful.

Ripped and distressed denim jeans
Key words: Far left: Indigo blue jeans; ripped patch; appliquéd features; raw edges; slim fit. Second left: Light blue denim; delicate tears; turn up hem; blue & white gingham lining. Centre: Distressed jeans; ripped leg; faded panel; slim fit; mid-wash blue. Second left: Patch-worked panels; ripped features; faded front; stone wash. Far left: Light blue; distressed; turn up hem; orange stitching.