Key Menswear Color Trends F/W 2016-17, Wintry Blues
As menswear fashion week season concludes across the style capitals of London, Milan, Paris and New York, the trend experts at Trendstop present WeConnectFashion readers with an exclusive preview of some of the inspirational color directions predicted to influence catwalk collections for Fall/Winter 2016-17. This season, we see the cold weather mood reflected in a fresh, cooling palette, characterized by directional icy casts and a spectrum of wintry blues.
Early Indicator: Fresh & Cooling Color
Keep a look-out for these must-have color trends manifesting in the Fall/Winter 2016-17 catwalk season, as leading menswear designers from all over the world reveal their latest collections on the runway.
Arctic Denim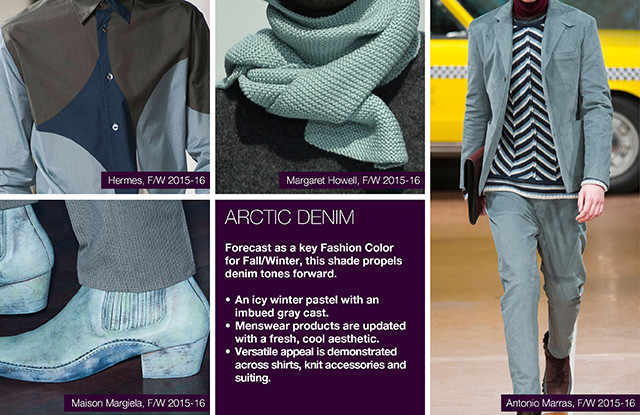 Forecast as a key Fashion Color for Fall/Winter, this shade propels denim tones forward.
An icy winter pastel with an imbued gray cast.
Menswear products are updated with a fresh, cool aesthetic.
Versatile appeal is demonstrated across shirts, knit accessories and suiting.

Midnight Ink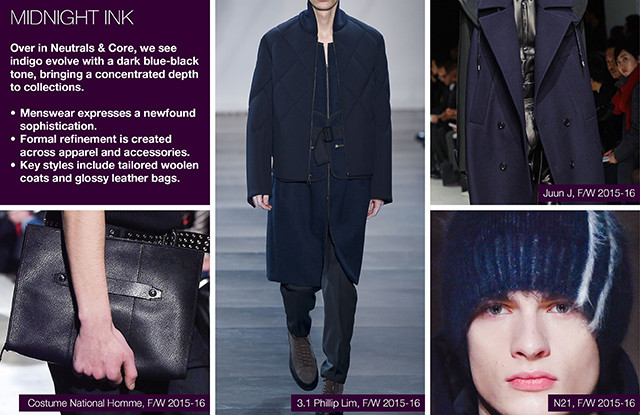 Over in Neutrals & Core, we see indigo evolve with a dark blue-black tone, bringing a concentrated depth to collections.
Menswear expresses a newfound sophistication.
Formal refinement is created across apparel and accessories
Key styles include tailored woolen coats and glossy leather bags.

Tricolor Blue
Lastly, in the Accents & Active color sector, a patriotic shade of blue is injected with a modern edge.
A bold, fresh tone with a sportive dimension.
A play on texture adds interest to winter warmer designs.
Highlights range from material mix bags to fuzzy two-pieces.


Exclusive Offer
WCF readers can get 10% off Trendstop's complete Fall/Winter 2016-17 Men's Color Forecast,a must-have guide to the best-selling color trends for the upcoming season to inform your new season collections. Simply enter promo code WCFMW16 to receive your exclusive discount.



Trendstop.com, is the world's leading trend forecasting agency for forward fashion forward trend information that is validated through early consumers to give you confidence in your trend decision making. Clients include Forever21, PVH, Ralph Lauren, H&M, Hugo Boss and L'Oreal.
Related Reports