Key Menswear Color Trends F/W 2016-17
Just before catwalk season kicks off for Fall/Winter 2016-17 menswear, the trend experts at Trendstop reveal a sneak peek at a selection of fresh and inspiring color directions predicted to influence Men's collections this season. A warming palette comes through for fall, rounded out with a play on edible colors and soothing, creamy skin tones. Below, WeConnectFashion readers are presented three essential color trends for Fall/Winter 2016-17.
Early Indicator Trend: 3 Essential Colors
Ideal for textured surfaces and winter outerwear, these three shades add a dimension of comfort and richness to men's market products, from apparel to footwear and accessories.
Apricot Tan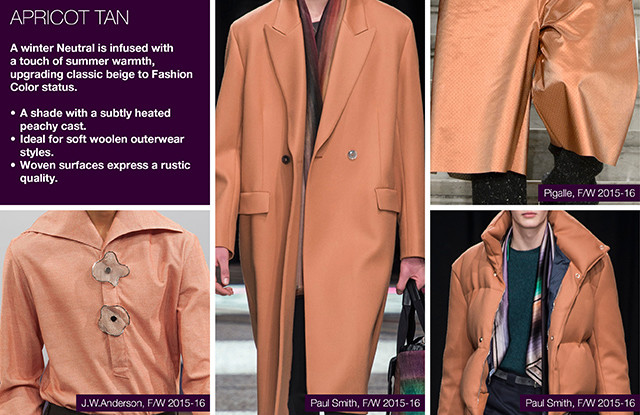 A winter Neutral is infused with a touch of summer warmth, as classic beige is upgraded to Fashion Color status
A shade with a subtly heated peachy cast
Ideal for soft woolen outerwear styles
Woven surfaces express a rustic quality

Chocolate Liquor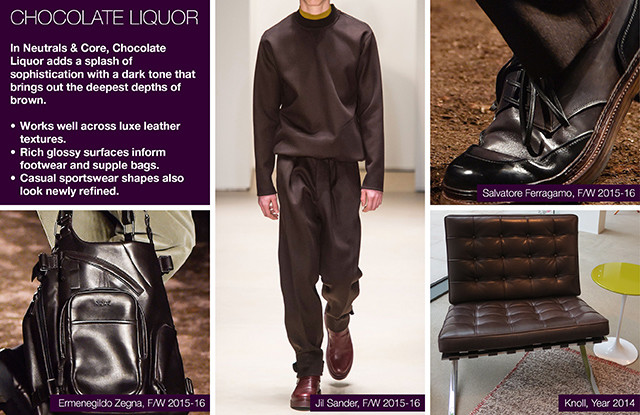 In the Neutrals & Core palettes, Chocolate Liquor adds a splash of sophistication with a dark tone that brings out the deepest depths of brown.
Works well across luxe leather textures
Rich glossy surfaces inform footwear and supple bags
Casual sportswear shapes also look newly refined

Oyster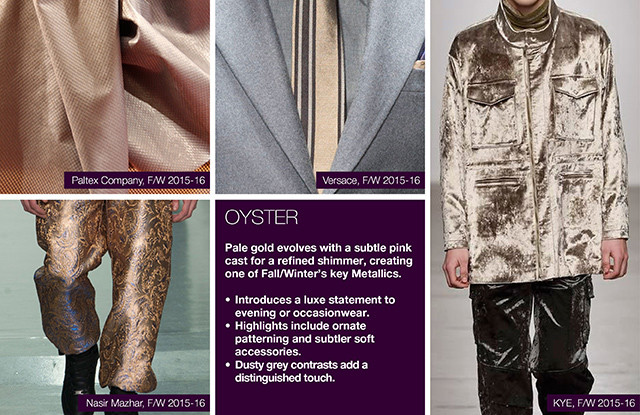 Pale gold is treated with a subtle pink cast for a refined shimmer, creating one of Fall/Winter's key Metallic tones.
Introduces a luxe statement to evening or occasionwear
Highlights include ornate patterning and subtler soft accessories
Dusty grey contrasts add a distinguished touch


Exclusive Offer
WCF readers can get 10% off Trendstop's complete Fall/Winter 2016-17 Men's Color Forecast,a must-have guide to the best-selling color trends for the upcoming season to inform your new season collections. Simply click here to receive exclusive discount.



Trendstop.com, is the world's leading trend forecasting agency for forward fashion forward trend information that is validated through early consumers to give you confidence in your trend decision making. Clients include Forever21, PVH, Ralph Lauren, H&M, Hugo Boss and L'Oreal.
Related Reports