Key Material Trends from Premiere Vision Paris F/W 2016-17
A must-see event for fashion professionals, Premiere Vision Fabrics is one of the industry's leading fabric fairs, featuring fashion directions 18 months in advance. For the Fall/Winter 2016-17 edition, PV revamped cultural, creative and tech concepts. Designs combined industry and futurism with contemporary crafts and rustic nature, creating a forward aesthetic based firmly in the present. Autumnal comfort was a key component in fabric collections, as themes of flawed elegance added a softly distressed twist to padding and quilting. Discover three inspirational Premiere Vision materials trends courtesy of Trendstop.
Futurism melds with rustic nature.
Lunar Crinkle
Technical materials are transformed with crisp, crunchy finishes to create a crinkled and wrinkled effect.
Styles express a futuristic feel with a lunar-inspired glow
Cratered surfaces incorporate shimmering metallic finishes
Dark Space Age colorways can also be used

Soft Pixels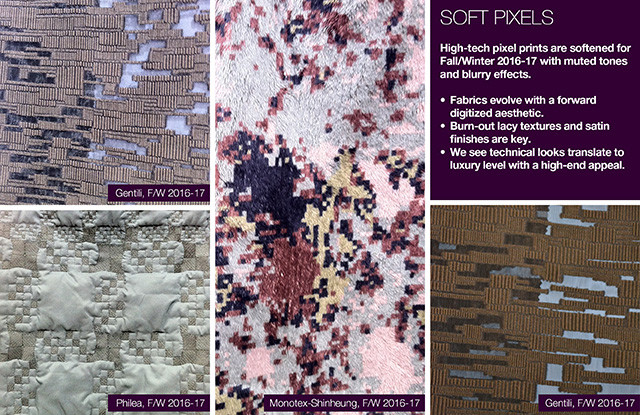 High-tech pixel prints are softened for Fall/Winter 2016-17 with muted tones and blurry effects.
Fabrics evolve with a forward digitized aesthetic
Burn-out lacy textures and satin finishes are key
We see technical looks translate to luxury level with a high-end appeal

Scandi Inspired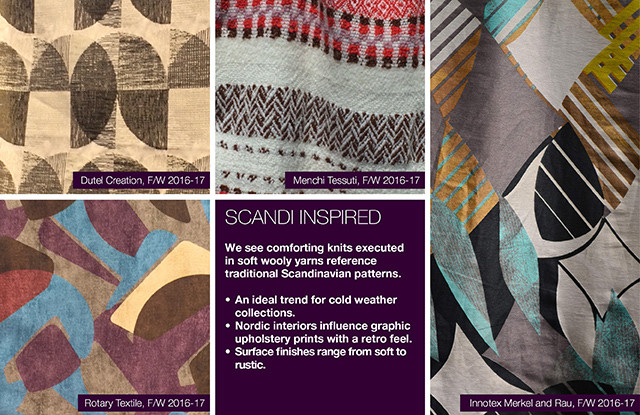 We see comforting knits executed in soft wooly yarns reference traditional Scandinavian patterns.
An ideal trend for cold weather collections
Nordic interiors influence graphic upholstery prints with a retro feel
Surface finishes range from soft to rustic

Exclusive Offer


Trendstop.com, is the world's leading trend forecasting agency for forward fashion forward trend information that is validated through early consumers to give you confidence in your trend decision making. Clients include Forever21, PVH, Ralph Lauren, H&M, Hugo Boss and L'Oreal.