Key Items Mens & Womens F/W 2015-16
Great Report! Fashion Snoops Key Items Forecast series for women and men identify all top Fall/Winter 15/16 items. Presented across all major classifications, these trends serve as a virtual line sheet for the season. The Seasonal Must-Haves guides additionally identify the most important items to have in your assortment for next season. From an undeniable cozy season ahead to the strong active influence across markets, these are the key trends you need to know now.
Women's Market
As the last piece of The Edit, Fashion Snoops' Key Items Forecast identifies all F/W 15/16 items featured in Women's and Young Contemporary Trend Stories. An emphasis on outerwear and sweaters reflects the weight of both classifications in an undeniable cozy season. In skirts, the midi takes center stage while dresses stick to familiar territory. Rounded shapes influence tops while in bottoms, wide leg styles are featured across multiple items.
Turtlenecks
Turtlenecks are key to the sweater classification, applying to a wide range of looks. In shape, oversized silhouettes are explored with rounded shoulders, which emulate the trend in outerwear, though fitted styles are also relevant. Neck details range from classic to funnel or loose necks, while stitch variation is plentiful from contrast cables to Intarsia and 3D techniques.
Blanket Coat
Continuing the trend for oversized outerwear, the Blanket Coat is a favorite in both women's and young contemporary markets. As a naturally bohemian item, excess fabric is necessary, with asymmetric lines and kimono sleeves capturing the blanket reference. Lapel interest includes fur lining or double-faced techniques, while oversized collars are also featured. A self-belt draws in the excess bulk, while fringe hem nods to nomadic roots.
Knit Pants
The sweater classification extends to bottoms this season with the introduction of Knit Pants. Though jersey track pants continue to be relevant at retail, traditional sweater stitches extend to pants for a new cozy look. Paired top-and-bottom sweater sets are considered. Relevant bottom silhouettes include cropped, tapered and extra long styles. Styling details like the fold over waist or side pockets achieve a soft look. Novelty details include contrast panels and holes.
Midi Skirt
The single most important direction in skirts and dresses is the Midi, short for the mid-calf shape. After several introductory seasons, the midi now reaches a broad audience, appealing to both women's and young contemporary markets. Most relevant on skirts, slim styles feature details like center slits and flared hems. Fuller dirndl skirts offer variation with A-line, asymmetric, fitted seams or pleats.
Wide Leg Pant
Wide Leg Pants land on the Seasonal Must-Have list once again as a key bottom direction. Leveraged in a handful of themes, design details tap into relevance for the women's or young contemporary markets. Womenswear styles tend to favor tailored aspects like high waists, crease front or side panel details. The young contemporary market focuses on the waistline with drawstring, paper bag or gathered details. Cuffed hems are a seamless extension of wide leg pants.
Men's Market
With a strong active influence, items like the sport suit, easy pant, graphic sweatshirts, and trail coat take some of the best things about sporty basics and reinterpret them for a more contemporary market. A common thread is the concept of cozy updated classics. Softer fabric washes, casual silhouettes, removable and convertible shapes and details, and directional knitting techniques all hint at the continuing focus on comfort going forward. With downloadable sketches for each key item, along with suggested design updates and runway inspiration, this is your virtual line sheet for F/W 15/16 spread across all classifications.
Trail Jacket
The trail jacket is the fun and casual little brother of the iconic North Face Denali jacket. With a focus on utilitarian details and cozy fabrics, the new interpretation takes a much more directional approach than the sporting goods store version of the past. Spray-painted polar fleece creates a fresh dimension for solid Sherpa fabrics, while printed faux textures can mimic suiting fabrics and other traditional looks. To make it comfortable and dependable, designers should consider quilted linings (that can be removed), inside-out construction, funnel necks, and reflecting taping.
Extreme Cable Sweater
While the cable knit sweater is certainly nothing new to menswear, the extreme nature of the cables is getting the attention of all markets for next fall. Super-dense cables create a soft armor of sorts, while heavyweight braided knits, drop-needle stitches, and even two-tone texture make this classic style anything but a wintertime basic. Consider variegated surface effects to slowly transition the look, as well as color-blocked knitting and marled panels to throw off any traditional expectations.
Intarsia Sweater
Sweaters don't have to be boring and basic. Quirky intarsias breathe new life into classic crewneck bodies. Mixed menswear motifs like herringbone, plaid and houndstooth are used together effortlessly, while pop culture cues like text messaging motifs, pop art and advertising shapes, and allover animals are certain to create a conversation for wearers. Pieced patterns result in a masculine yet artisanal patchwork effect, and details like shoulder button closures evolve a very time-honored silhouette.
Easy Pant
In keeping with the many active influences of the season, the easy pant is a tailored yet casual option for creative-minded men. Texture is super important, so felt and flannel panels, plush wide wale corduroy or moleskin, and even heavily-washed and broken-in denim are perfect options. For a more technical look, tonal mesh construction, quilted surfaces, exposed zippers, and drawstring waists are important.
Active Suit
Another tailored extension of the many sporty influences of the season is the active suit. Either as mismatched separates or a classic suit, this must-have is meant to fit and feel like a man's favorite sweatshirt. Shawl collars rendered from jersey, sleeveless bodies, techno piecing, and snap button closures all mimic sophisticated gym class basics. While most blazers and pants will be unlined for ultimate comfort, a denser jersey construction and a faux fly on the pants more closely resembles a traditional suit.
Purchase The Full Report
The complete key item forecasting reports for Fall/Winter 2015-16 are available now for purchase here, click the banners for details.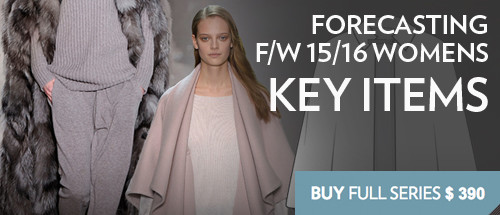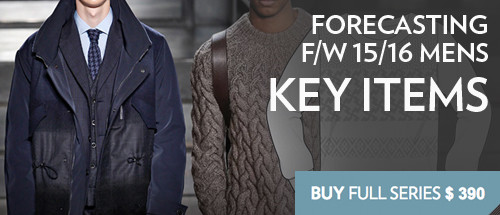 With downloadable sketches for each key item, along with suggested design updates and runway inspiration, this is your virtual line sheet for the season, spread across all classifications.