Key Consumer Insights: Season-less, Buy-Now, Color Palette Switch
Get an exclusive preview of an influential consumer insight impacting on the market, Season-less. To connect with a world-wide audience, fashion is abandoning the seasonal calendar, focusing on products that will appeal to all shoppers regardless of geographical location, hemisphere or climate. Quality and longevity are key as consumers seek trans-seasonal pieces to not only be enjoyed immediately but that will endure for years to come.
Sao Paolo Season-less Show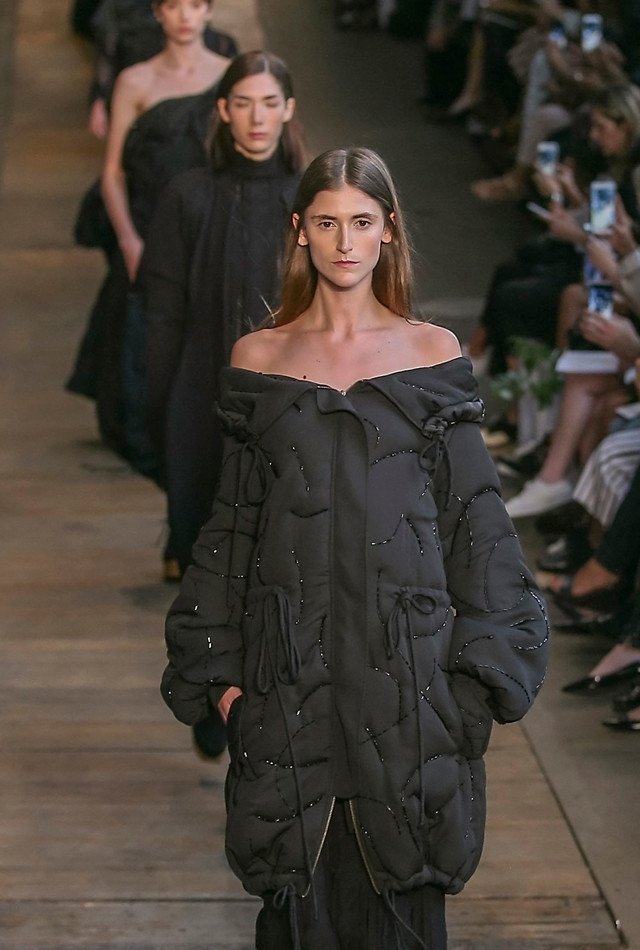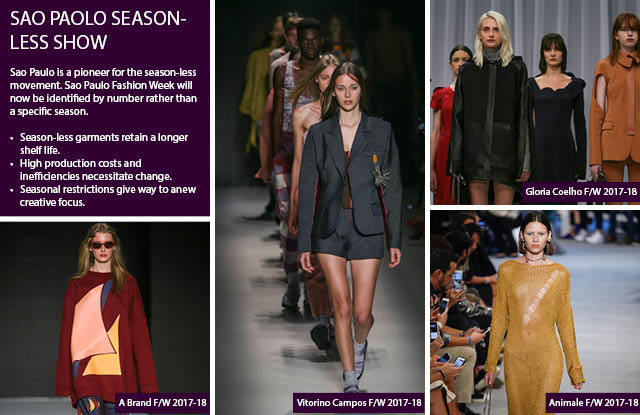 Sao Paulo is a pioneer for the season-less movement. Sao Paulo Fashion Week will now be identified by number rather than a specific season.
Season-less garments retain a longer shelf life.
High production costs and inefficiencies necessitate change.
Seasonal restrictions give way to anew creative focus.
Top image courtesy of Trendstop: Experimento Nohda A/W 2017-18 Collections.

See Now Buy Now Collections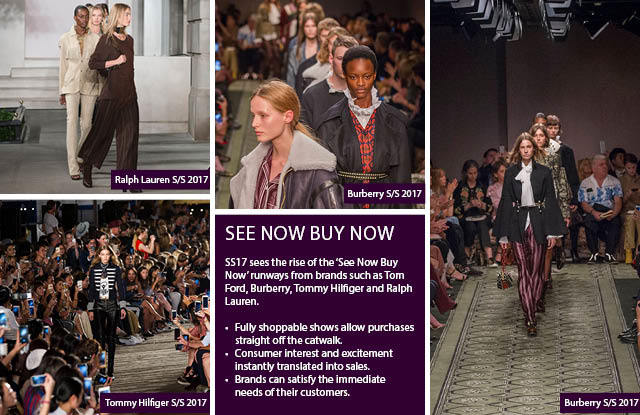 SS17 sees the rise of the 'See Now Buy Now' runways from brands such as Tom Ford, Burberry, Tommy Hilfiger and Ralph Lauren.
Fully shoppable shows allow purchases straight off the catwalk.
Consumer interest and excitement instantly translated into sales.
Brands can satisfy the immediate needs of their customers.

The Color Palette Switch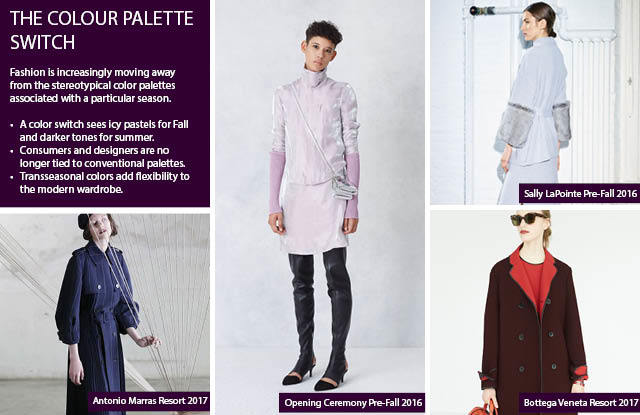 Fashion is increasingly moving away from the stereotypical color palettes associated with a particular season.
– A color switch sees icy pastels for Fall and darker tones for summer. – Consumers and designers are no longer tied to conventional palettes. – Transseasonal colors add flexibility to the modern wardrobe.
All images courtesy of Trendstop.

Exclusive Offer
Would you like to delve further into the future of fashion and explore the consumer mindset? WeConnectFashion readers can join Trendstop's Consumer Insights Briefing, for a special early bird price of $179. To take advantage of this fantastic offer simply click here and book your place.


Trendstop.com, is the world's leading trend forecasting agency for fashion forward trend information that is validated through early consumers to give you confidence in your trend decision making. Clients include H&M, Primark, Forever21, Zalando, Geox, Evisu, Hugo Boss, L'Oreal and MTV.

RELATED REPORTS