Key Color from the Spring 2016 Catwalks
Pinpointed from the front row of influential ready-to-wear designer shows in New York, London, Milan and Paris, new season collections reveal a new palette of fresh shades to update women's apparel, accessories and footwear with a forward and contemporary appeal. Here, WeConnectFashion readers can discover three directional color trends taken from Trendstop's analysis, spanning the Fashion Colors, Core Colors and Accents groups for S/S16. New color directions include a focus on softened pastels and revisited neutrals, as summer darks add a sense of refinement. Elsewhere, products are uplifted with energetic bursts of fiery brights.
SS 16 Update into '17 Mainstream Trends
Magma Orange
Making a vibrant addition to the Accents palette, vivid orange is concentrated with a molten intensity.
This heated color inspires a sense of energy
New season designs make an impactful statement
Highlights include sportswear-inspired looks and futuristic eyewear

Apricot Nude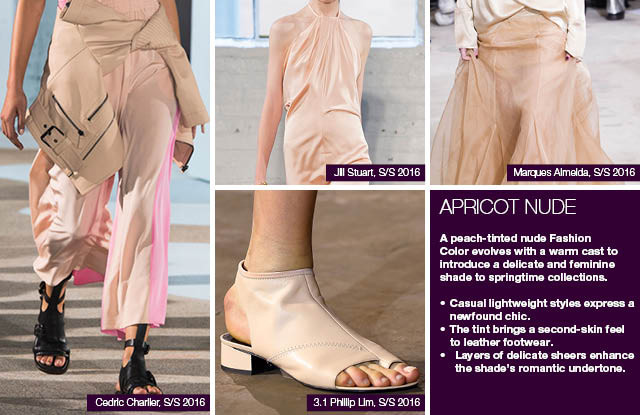 A peach-tinted nude Fashion Color evolves with a warm cast to introduce a delicate and feminine shade to springtime collections.
Casual lightweight styles express a newfound chic
The tint brings a second-skin feel to leather footwear
Layers of delicate sheers enhance the shade's romantic undertone

Deep Ink Denim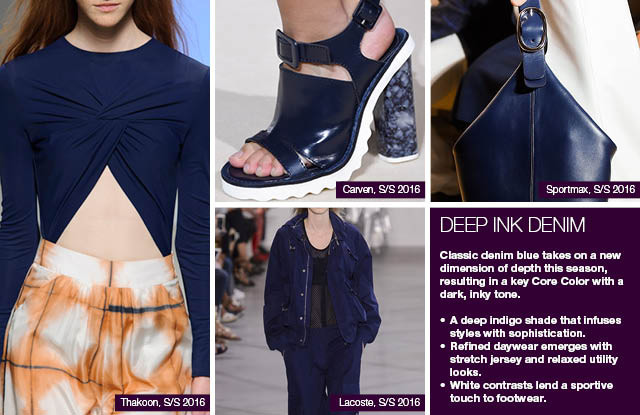 Influenced by the work of master painters, watercolor prints bring a mood of romantic expressiveness to womenswear.
Classic denim blue takes on a new dimension of depth this season, resulting in a key Core Color with a dark, inky tone.
A deep indigo shade that infuses styles with sophistication
Refined daywear emerges with stretch jersey and relaxed utility looks
White contrasts lend a sportive touch to footwear

Exclusive Offer
WCF readers can get10% off Trendstop's complete Fall/Winter Color Forecast Report, a must-have guide to the best-selling shades for the upcoming season, made using Trendstop's validated color analysis. Simply click here to receive exclusive discount.



Trendstop.com, is the world's leading trend forecasting agency for forward fashion forward trend information that is validated through early consumers to give you confidence in your trend decision making. Clients include Forever21, PVH, Ralph Lauren, H&M, Hugo Boss and L'Oreal.