Intimates & Swimwear SS 2011 Seasonal Direction
A Matter of Seduction… As always Interfiliere presents an exceptional trend report that works for lots of different product categories. For S/S 2011, the trend mandate is to "break the rules, abolish the boundaries for a Lingerie, Swimwear and Streetwear interchange. Between loungewear and lingerie: the Loungerie universe born!"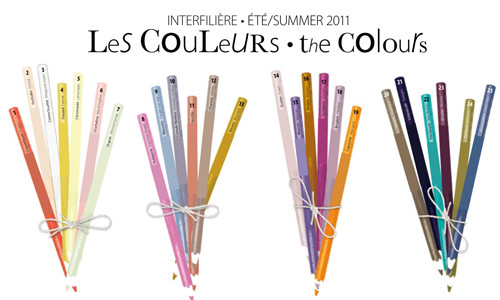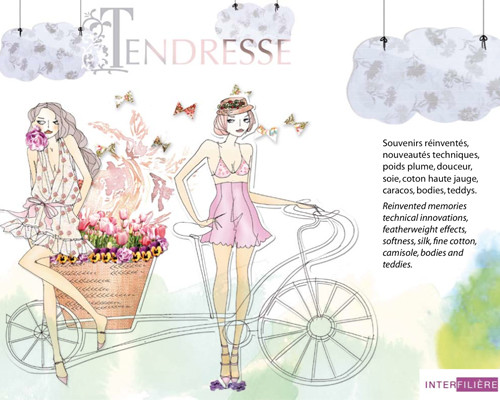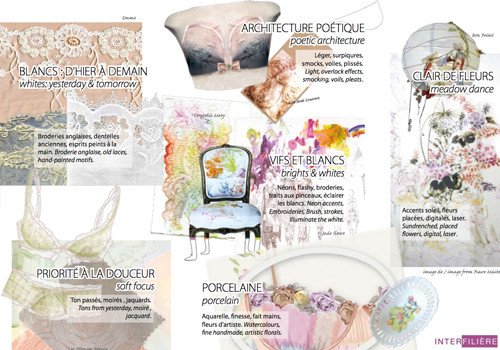 Memories of beauty, refinement in soft colourations and sophisticated material mixes
TENDRESSE: An atmosphere heavily loaded with, memories but reinvented by using, technical innovations. To maintain the, feeling of softness and a nostalgia of charm, there are sophisticated constructions, digital, prints, placed jacquards, audacious accents, and subtle featherweight effects, silks, fine cottons, blends. Then there are the refined, luxury lines of coordinates made to last: it's the triumphant return of the camisole, bodies, teddies… all expressions of an eternal seduction.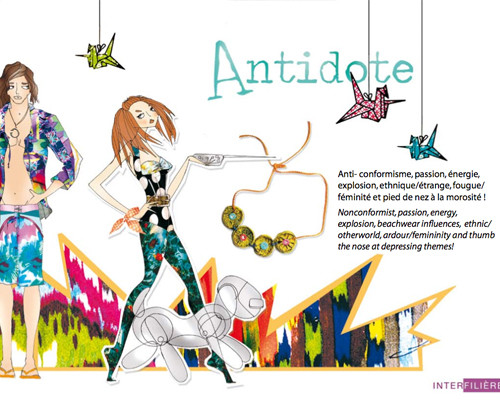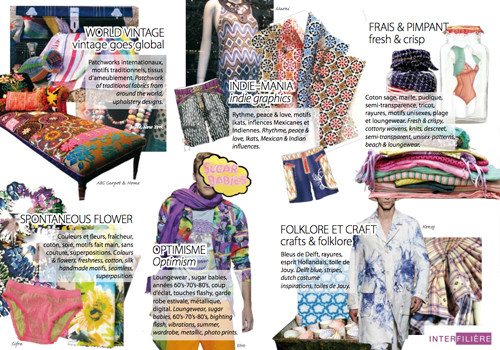 Happiness lies in the surprise of unexpected encounters and in love for what the others do…
ANTIDOTE: Happiness lies in non conformism. Not a question of being good or reasonable but the passion colours evoke, explosions of prints, geometrical accents, Indian flowers, folk music kitsch, cartoon influences and naive primitives create a wild patchwork. A liberated celebration of all that everyday life is about. Amusing creativity, beachwear influences, mixes of ethnic and otherworld, ardour and femininity, the whole based on strong lines. And the urge to thumb your nose at depressing themes!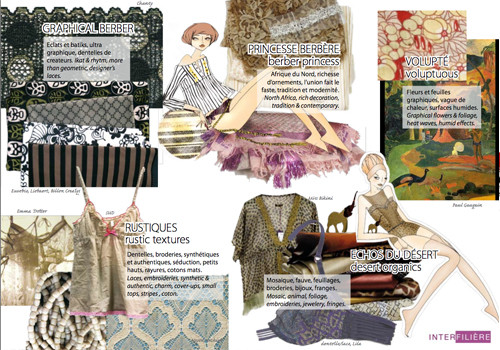 Exotic and exuberant contrast with a desert landscape of sun and shadow and rustic beauty aged by the years…
OASIS: Pleasure gorged on sun and freshness. On the one hand, the exotic – exuberant nature inspired by Gauguin, luxuriant foliage and cat-like beachwear motifs. On the other hand, the desert – a landscape of sand, primitive embroideries, Berber stripes, beautiful laces patinated by the years, ikats and metal accents.
For ample shapes such as caftans or djellabahs, dry knits, charming linens and cottons for the Loungerie trend.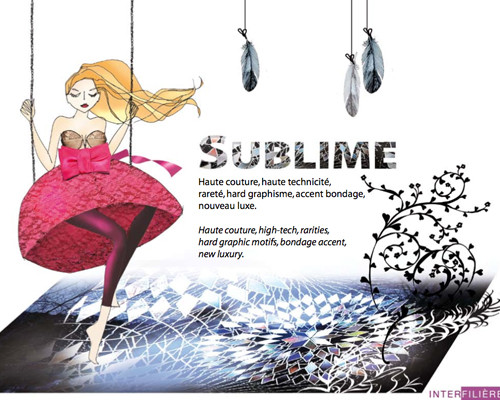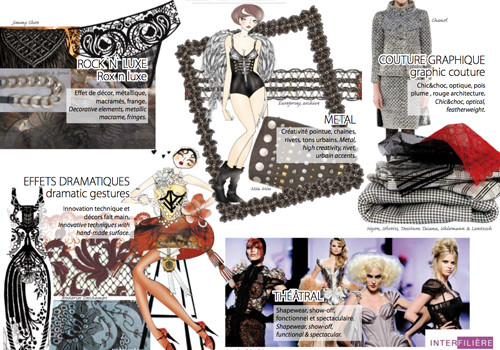 The essence of a new luxury, ostentatious and astonishing with a hint of theatrical and urban roughness…
SUBLIME:Haute couture plus high-tech. The scene is ostentatious, emphatically astonishing, unique. In the corridors of this new theatricality… surface effects, contrasts of opaque and transparency, flocking, placed burnt-outs, transfer prints, graphics and bondage accents. Spectacular decorative touches, large coloured stones, vintage embroideries. This is the essence of the new luxury, exceptional beauty ready to conquer the land of modernity.
Find out more about Interfiliere : the #1 fabrics trade show for intimates and beachwear.