Intimates Color Trends, FW 2014-2015
Color Solutions International presents their Fall / Winter 2014-15 Intimates Inspirations. On view, the important key colors and color combinations for the season: rich berries in "Zima," a Slavic winter folk art inspired theme, toned down dreamy colors of "Autumnal," deep, saturated modern shades in "Needles & Pins" to "Pink All Over" where rich autumn colors are mixed with a splash of fuchsia and pink.
Autumnal Color Palette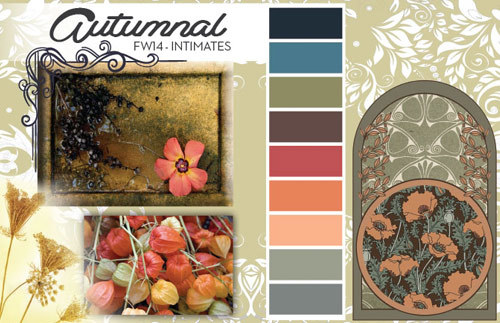 AUTUMNAL. The beauty of all forms natural and organic, the rhythmic flow in romantic floral patterns, the idea of creating a design that is so close to nature that becomes one with it, makes the theme of "Autumnal" so current and important. The colors are toned down and yet beautiful, carrying the dreamy feel and ambiguous atmosphere of the Art Nouveau style and design.
Needles and Pins Color Palette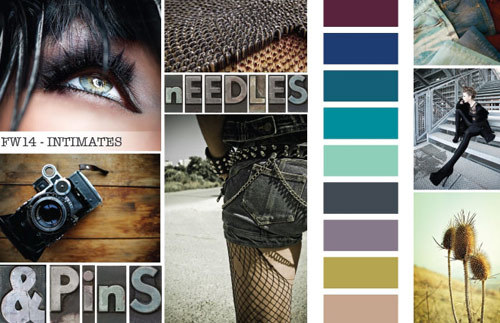 NEEDLES AND PINS. They choose to be different and they value originality. They are fascinated to see life from different perspectives, inspired by the city and its multiple faces, the stories of ordinary people and the underground art. They are the new urban artists and poets, unconventional, genuine and free. Red burgundy and dusty purple, peacock and cobalt blue, bright mint and  turquoise, toned down with anthracite grey and nude beige or enhanced with acid green, compose a palette with a contemporary, edgy feel.
Pink All Over Color Range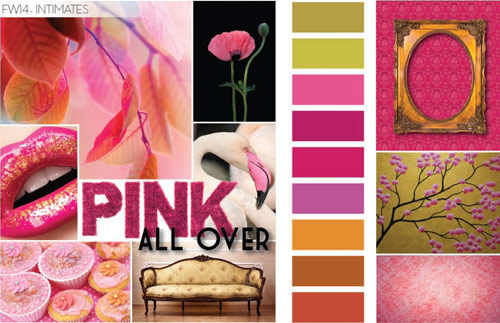 PINK ALL OVER. In the midst of the season when nature adorns itself with golden colors, pink comes as a nice surprise. Pink is alluring and exciting, fun to wear, and sweet addition to the otherwise traditional seasonal palettes. Pink whispers "Love". Love who you are, love what you do, love every new day with a passion! Who wants to be neutral when pink is so much fun? Palette of rich autumn colors with a splash of fuchsia and pink carries the beauty of the season and brings joy to the senses.
Zima Color Palette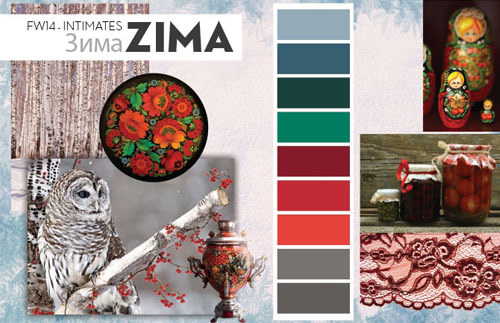 ZIMA. The inspiration behind "Zima" is the Russian decorative art, with its vibrant folk prints of flowers, fruits, leaves and whimsical birds. The name "zima" comes from the Slavic word for "winter". Rich berry reds, forest green and emerald are the focal point in this color palette. The blues are softer and somewhat dusty creating a cozy elegant feel, while the neutrals add a beautiful balance and enhance the vibrancy of the reds even more.
More Report Details
To view the Color Solutions International, CSI trend report, click here.
Color Solutions International, CSI, a division of DyStar LP, is the leading provider of color standards and color communication tools for the entire style industry supply chain. Color Solutions International, provides retailers and brands with a variety of flexible color options and services. Our expert staff will create, manage and distribute your color standards. Additionally, our global DyStar Textile Services team offers a variety of additional services such as consultancy and training, expert solutions, textile testing, testing solutions and ecology solutions.