Inspirational Blog, Into The Fashion
Every once in a while I find a blog written with a really unique POV. This is the case with Diana Marian Murek's publication where she analyzes current fashion trends, sources of inspirations and similarities within collections. Her references and correlations are refreshing and smart.
INSPIRATION VOGUE 1974 - Blugirl FW 2011/12
A photo shoot by Barry Lategan for Vogue UK in 1974 [left] and Blugirl's collection for FW 2011/12 [right].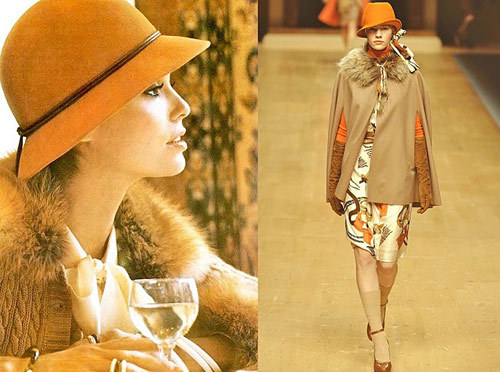 INSPIRATION Louis Vuitton SS 2008 - LOUIS VUITTON FW 2011/12
I think sometimes Marc Jacobs is the Quentin Tarantino of fashion. Meaning: he let quotations be a significant part in his work. But for next winter season we see him for once doing some self-quoting.
The SS 2008 collection, inspired by the artwork of Richard Prince, shows Naomi Campbell in a white plastic nurse uniform and white tights [left]. Not less kinky is the sheer organza version in black with black stocking for Louis Vuitton's FW 2011/12 fetish collection [right].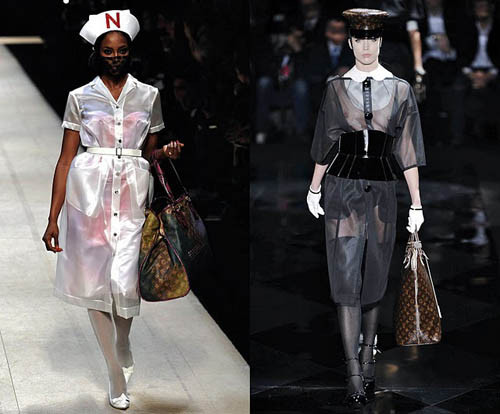 INSPIRATION Francesco Scognamiglio FW 2009/10 - VIKTOR&ROLF FW 2011/12
Wonderfully placed ruffles on erotic transparency in Francesco Scognamiglio's FW 2009/10 collection [left]… and several seasons later at Viktor&Rolf [right]. Love how the red lips turn into a red face…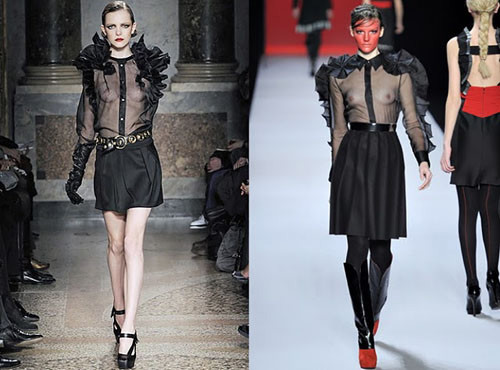 INSPIRATION LUCIO FONTANA 1960 - Alexander Wang FW 2011/12
"Ambiente spaziale con tagli" created by Lucio Fontana in 1960 for a friend in Milan [left] and an outfit from Alexander Wang's collection for next winter [right].
Lucio Fontana [1899-1968], an Italian painter and sculptor, is mostly known as the founder of Spatialism and his ties to Arte Povera. He executes the first perforated canvasses in 1949, and they all carry the title "Concetto spaziale" [Space Concept]. Lucio Fontana pierces the canvas, thus opening the image area, entirely doing without the conventional illusionist means of composition.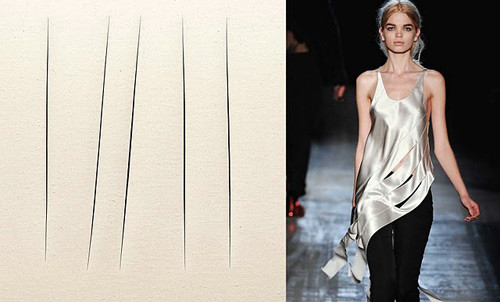 INSPIRATION Vogue 1972 - MISSONI FW 2011/12
Comforting cosiness in supersoft brushed cashmere knit… Barbara Streisand photographed by Kourken Pakchanian for the Vogue July issue in 1972 [left] and Missoni's enchanted winter fairytale collection for FW 2011/12 [right].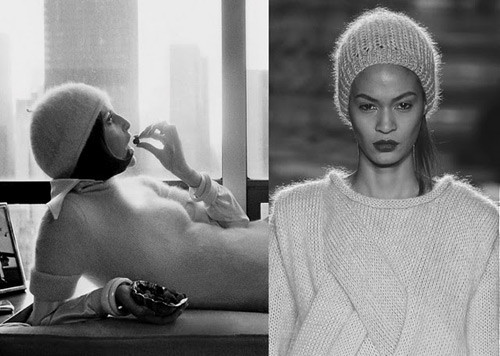 INSPIRATION PRADA SS 2010 - Rodarte FW 2011/12
Similarities in detailing, colors and hairstyle: Prada SS 2011 [left] and Rodarte FW 2011/12 [right].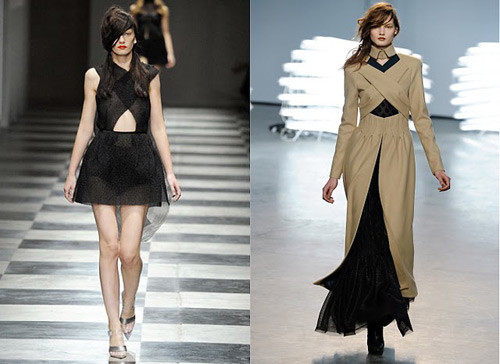 More Report Details