In Store Report, Retail Trends Spring 2010
Men's & Women's Denim Report
Denim has an unrivalled popularity across the globe, a result of its versatile and multi-purpose nature. Hardwearing, yet a light-weight cover-up option for the summer months it easily translates into styles for both men and women. This summer look for military styling, love-worn and faded washes, or subtle Seventies styling details that hint at emerging trends. Presented on WeConnectFashion, courtesy of Trendstop.com, the site known for great visuals and early trend identification.
Women's Denim Apparel Sightings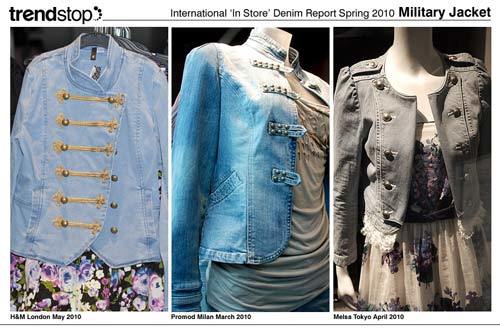 Military Jacket
Military inspired fastenings add interest to simple jacket shapes, which come with gently rounded hems and peter-pan collars. Bracelet length sleeves and slim-line pocket detailing reinforce the underlying femininity; pair with faded florals to further emphasize this conceit.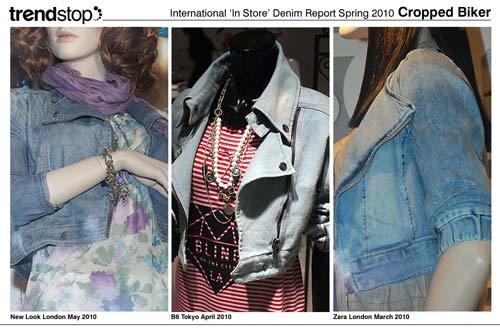 Cropped Biker
The classic denim biker is a season must have, an ideal alternative to leather fabrications. The style is updated in cropped shapes, with slim-fit elbow-length sleeves, contemporized with bleached fabrics, elasticized cuffs and stitched shoulder details.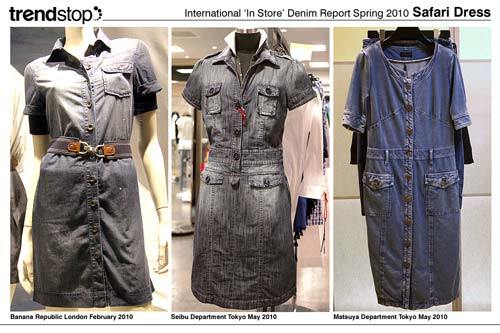 Safari Dress
Replete with utilitarian details, the safari dress promotes a streamlined silhouette. Cinch at the waist with a coordinating belt, or look for fitted styles that accentuate the female form. Above-the-knee styles can be adapted with a drop-waist that promotes a more relaxed aesthetic.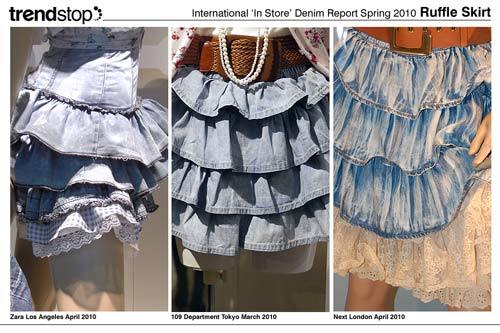 Ruffle Skirt
Representing a new take on home-spun, prairie chic faded denim ruffle skirts promote a flirty appeal. Wear with lace or gingham underskirts to create extra volume, emphasize the shape with a wide waist belt in natural leather tones.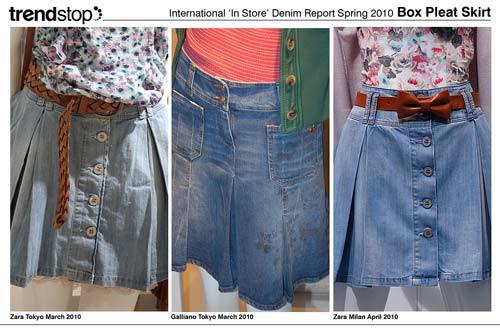 Box-pleat Skirt
Tapping into the prevailing Seventies trend, the box-pleat skirt represents a subtle nod to the decade. Shorter lengths in A-line shapes are feminine and when executed in summer light denims represent a key seasonal transition option. Button-through styles feature oversized round buttons, whilst flat hip pockets provide an alternative style.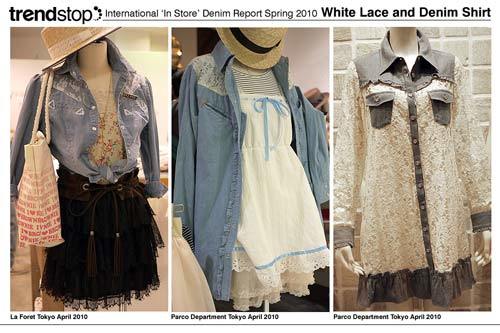 White Lace and Denim Shirt
Adding a distinct edge of femininity to soft denims, white lace is stitched over shoulder panels on cropped or oversized shirts. The masculine connotations of the loose silhouette are tempered by ruffle details and a white summer dress. In contrast a lace shirt dresses in finished with denim edges, patchworked pockets recalling the utilitarian inspiration of the original garment.
Men's Denim Apparel Sightings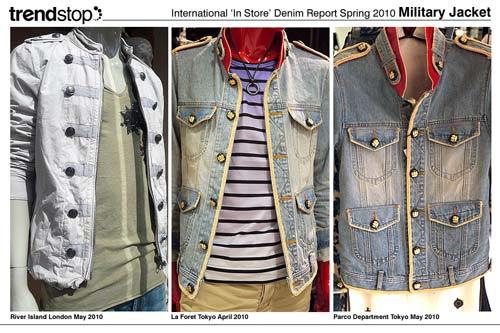 Military Jacket
Gold braided hems and military insignia buttons add a decadent twist to traditional denim jackets. Works well in stone washed denims, but the style also works well in over-washed and crumpled fabrications. Collars lined with red add a vivid splash of color, also reinforcing the military theme.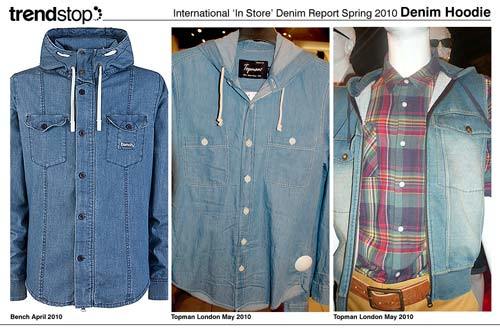 Denim Hoodie
The ubiquitous hoodie is reappropriated in denim, from shirt-inspired styles to more conventional representations. Adaptable for both button-through or zip fastenings, look for soft fabrics and loose shapes. Rope drawstring fastenings reinforce a casual conceit, whilst sleeveless versions are ideal to style over multi-colored plaid shirting.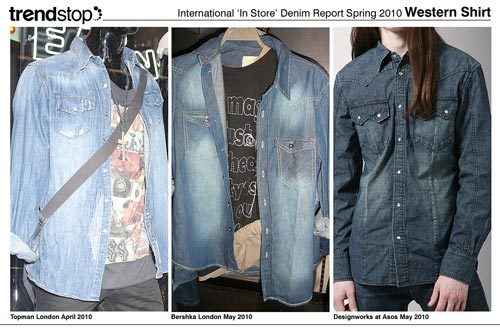 Western Shirt
The familiar western shirt, replete with shiny popper fastenings and slim-line fits and rolled-up sleeve louche, in reinterpreted in soft denims in a variety of washes. Key to this look is a love-worn sensibility, look for pre-frayed pockets, curled hems or softly crumpled finishes.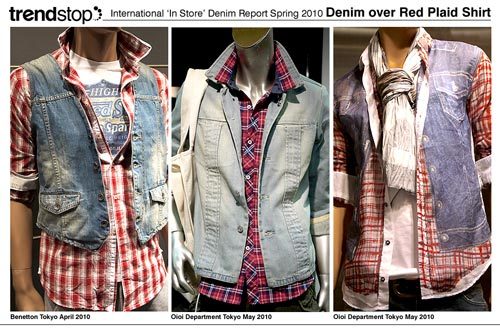 Denim over Red Plaid Shirt
Kurt Cobain's sartorial legacy continues to influence, the underlying grunge aesthetic is combined with traditional denim workwear. Worn with pale or stone washes, jackets or cropped waistcoats, and layered over graphic print t-shirts the look exudes a relaxed ethos. Trompe l'oeil print details provide a contemporary twist.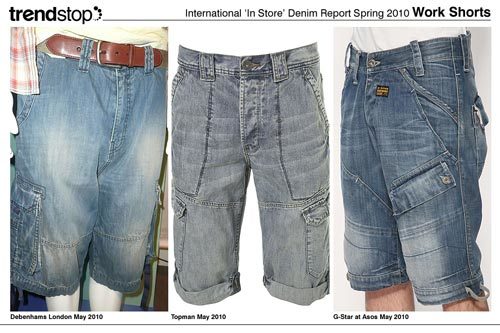 Work Shorts
Infused with utilitarian sensibilities and borrowing details from the casual cargo trouser, longer length denim shorts represent a hardwearing and practical garment. Best in darker denims, geometric stitching and diagonal shapes add interest. Key details include drawstring hems and button-flap pockets.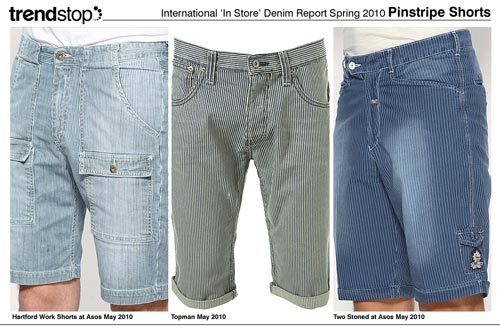 Pinstripe Shorts
Far removed from City constraints, the pin-stripe is reinvigorated on knee-length shorts, more suitable for everyday attire. Turn-ups and sleek utility pockets highlight this transition; opt for monochrome color palettes to keep the pattern contemporary and wear with a simple white t-shirt.
Trendstop.com is a leading trend agency whose clients include leading brands, luxury brands, retailers, etailers, stylists and celebrities. Trendstop.com specializes in the commercial translation of conceptual trend looks to help you create best-selling on-trend styles. With access to vast image galleries, focused key trend reports, emerging trends and major themes updates, trendstop subscribers are always ahead of the trend.