If The Shoe Fits: Footwear Trends
**Spring 2009 Women's Footwear Report: Strappy & snappy. **
Metalics, glossy shine, woven bodies, bondage allure: springtime footwear inspiration as seen in fashion forward stores around New York City… Part of an ongoing series tailored to the needs of accessories manufacturers and retailers alike, *Trend Of The Week * newsletters are usually only accessible by subscription. This report is made available to WeConnectionFashion visitors courtesy of AccessoriesDirections.com, the accessories only trend forecasting group.
SPRING 2009
Footwear Trend Inspiration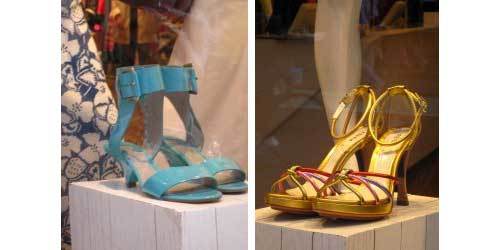 Ankle straps, like belts, come in a variety of widths. The two styles above are currently on display in the store window of Intermix in Soho. Wide ankle straps hint at the "tongue in cheek" bondage trend, reminiscent of Chanel's fall runway styles, while skinny straps are the safer, more conventional feminine look.

We adore Stella McCartney's Spring 2008 collection. Whether high or low, the platform mules and woven leather flat sandals pictured above are two perfect options for summer. They're casual enough for a Memorial Day picnic, but equally appropriate for a beach wedding in East Hampton.

Oxford shoes (a.k.a. "jazz" styles) are now all the rage. They may have been big in the 1980s, but in their newest incarnation, they've never looked better! Currently in stores like London's Topshop and Oak, the Brooklyn based retailer with a store on New York's Bond Street, they abound in a wide variety of colors, shapes and textures. We love the woven canvas twist on this classic version (upper left). editorial credit: James Boone