Ideas For Entrepreneurs Oct 2009
Handpicked shoes by monthly subscription. Mystery t-shirts that create an element of surprise. Niche retailing for vintage fashion. Fresh skin care products shipped straight from the lab. A denim service for mom's-to-be, offering a solution to wear your favorite jeans during and after pregnancy. Great business ideas to inspire found at Springwise, an intelligence firm dedicated to reporting on new business ideas and opportunities from around the world.
Fashion & Beauty, New Businesses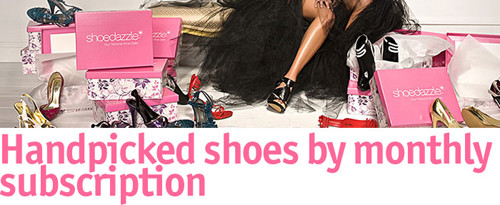 ShoeDazzle does much the same for shoes, but on a recurring, monthly basis.
Users of Los Angeles-based ShoeDazzle begin by taking a fashion survey, the results of which are used to guide the company's personalized shoe selections. Each month, ShoeDazzle's personal stylists then send the user an email with five new shoe choices, handpicked to suit her personality and fashion preferences. The user simply logs into the site to select the pair she wants, and it gets shipped out for free. Monthly membership costs USD 39, which covers the shoes and shipping. Members can skip a month's selections, in which case they won't be charged; they can also return or exchange shoes they don't like.
ShoeDazzle currently ships only within the United States and Canada, but it's a safe bet that fashion-minded consumers in other parts of the world would also appreciate some monthly shopping guidance, for shoes, clothes or accessories. (Related: Clothes swapping meets Netflix - T-shirt subscription based on news stories.)
Website: www.shoedazzle.com Contact: customersupport@shoedazzle.com Spotted by: Judy McRae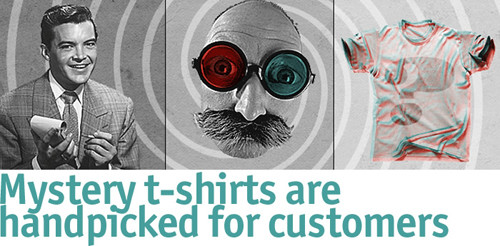 Hipstery, a web store for mystery t-shirts, thinks they are. Which is why there are no t-shirt designs to choose from on Hipestry's site. Instead, customers select a size, pay EUR 17 (plus shipping) and answer a series of questions about themselves. The Hipstery's 'style scientists' run the responses to this quiz through their 'innovative style algorithm'-both concepts which the site's irreverent tone would lead us to interpret loosely-to select the right t-shirt from their exclusive range of designs, many of which are out-of-print shirts from small suppliers.
Leipzig-based Hipstery's openly opaque business model latches onto an anti-trend noted by our sister-site trendwatching in last month's briefing about transparency. While most companies are providing ever more choice and ever more information, a gap is opening for businesses who can relieve consumers of the burden of decision. Acknowledging that this is a big responsibility to hand over, Hipstery will replace any t-shirts that customers don't like, with the option of a refund if they're wrong the second time. Sometimes a lack of choice is a good thing, especially if used to surprise and delight consumers. It's a theme creative entrepreneurs should have fun exploring. (Related: Soft drinks for the undecided - Kashiwa Mystery Cafe.)
Website: www.hipstery.com Contact: www.hipstery.com/contact Spotted by: Andreas Milles
Odacite, however, places manufacturing dates at the forefront of its business, producing freshly-made organic skin care products and leaving out preservatives. Stating that "freshness is the key to effectiveness", Odacite marks each product with a "Freshiency Date" showing the month of manufacture and the month after which the product will start to degrade.
Going against the common practice of letting tubes and jars sit on store shelves, Odacite products are only sold online and made in small batches so they can be shipped to customers immediately. Customers are advised to keep their products in the fridge to help preserve them. To really hit home the brand's point of difference, it even sells a branded mini-fridge. The company claims that there are serious health benefits to its methods, since it can make moisturizers, cleansers, eye creams, etc with as few chemicals as possible. Prices start at USD 45 for a jojoba exfoliant and Odacité ships to France, the UK, the Netherlands, Germany, Canada and the US.
Odacite isn't the first skin care company to place an increased emphasis on freshness; it resembles a high-end version of Lush, which also manufactures in small batches but sells its products at its own stores around the world. Skin care and cosmetics are a multi-billion dollar industry, so there's plenty of room for targeting carefully defined-and carefully marketed-niches. (Related: Expiration date stickers for cosmetics - Niche-niche skin care - Lush brings back discontinued products on demand.)
Website: www.odacite.com Contact: contact@odacite.com
Spotted by: Romain Gallard
Market Publique has found its niche. Based in Brooklyn, it aims to attract premium sellers and buyers of vintage fashion. Goods are sold both through auction sales (eBay-style) and fixed prices. Potential sellers fill out a brief application form before joining. Besides selecting those that offer great vintage clothing, Market Publique also ensures they possess necessary skills such as correctly taking measurements. Once a seller is accepted, there's a USD 0.25 charge per listed item, plus a 5% commission fee for each sale.
Buyers and sellers receive monthly itemised bills from Market Publique, making it easier to keep track of purchases and sales. Sellers also benefit from the site's active blog and promotion through advertising in print and on the web. Currently, only women's clothes and accessories are on offer, but men's items and housewares will follow soon.
By focusing on one niche and creating an appealing storefront for carefully selected vendors, Market Publique takes the standard online marketplace model and makes it more attractive and reliable for both buyers and sellers. (Related: Online marketplace focuses on mid-century design.)
Website: www.marketpublique.com Spotted by: Bonnie Sandy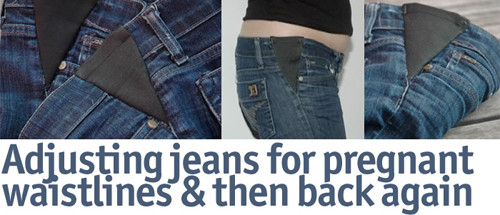 Springwise wrote about Denim Therapy 's jeans-doctoring service, and now the company has added a new offering to its line: a special service that adjusts favourite jeans for pregnant bellies-and then, post-baby, back again.
Pregnant mothers simply send New York-based Denim Therapy their favourite jeans. Denim Therapy then inserts expandable side inseams in the pants that will move and grow as the woman's belly expands. Perhaps even better, however, is that once the baby is born and the mother has brought herself back to her pre-baby figure, Denim Therapy will restore those jeans back to their original form. As the company puts it, "Why spend money on a new pair of maternity jeans when you can feel sexy and comfortable in your own favourite jeans. And voila, you're also doing your part of being environmentally conscious." Pricing on the service is USD 60 per pair.
More than 4 million babies are born in the United States alone each year, and that translates into a whole lot of jeans in need of modification along the way. Crafty minipreneurs : time to stock up on expandable fabric for a similar service of your own…?
Website: www.denimtherapy.com/maternity-jeans/ Contact: info@denimtherapy.com Spotted by: Cecilia Biemann
To view the full array of entrepreneurial ideas, visit Springwise.