Ideas For Entrepreneurs June 2010
Find great business ideas to inspire along with innovative products to stock in your store, including: five (more) businesses that let customers design or personalise products. For the active fashion-conscious customer, reflective lace for protective gear. Woolfiller, a 21st century approach to darning, brings a little good, old-fashioned ingenuity to the sustainability-minded. Plus more.
Design and Personalize Products
WOOLFILLER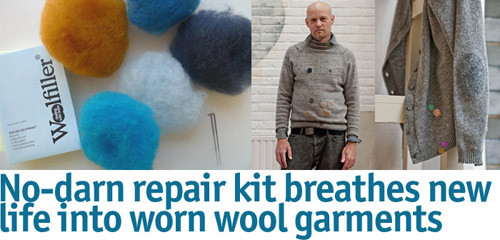 Just as Denim Doctors can inject new life into a favourite old pair of jeans, so Woolfiller can extend the usability of a much-loved wool item.
The brainchild of Dutch product designer Heleen Klopper, Woolfiller repairs holes and hides stains in woollen jumpers, cardigans, jackets and carpets. In a 21st century approach to darning (their words), Woolfiller takes advantage of the unique quality of wool, whose fibres each contain miniscule scales that open up when pricked with a felt needle. Once open, those scales bind with each other and do not separate again, even when washed. To use Woolfiller, consumers place a small bunch of patching wool in the spot that needs help. They then repeatedly prick the old and new wool with a needle, working from both sides over a foam block, until the new patch has bound. Six standard, colour-themed kits are available on the Woolfiller site, priced at EUR 17.50 each delivered within the Netherlands, but custom kits can also be created for EUR 21.50. Each kit contains five pieces of coloured wool, two felt needles, a piece of foam and a user's guide.
Last fall Klopper won the Doen Material Prize for Woolfiller, which is available both online and in outlets in the Netherlands and in New York. Green and crafty retailers around the globe: time to bring a little good, old-fashioned ingenuity to sustainability-minded, wool-loving consumers near you?
Website: www.woolfiller.com Contact: info@woolfiller.com
Spotted by: Green Thing
PERSONALISATION

Over the past seven years, Springwise has covered dozens of businesses that let customers design or personalise products. People love having it their way, and entrepreneurs can gain a competitive advantage by combining offline manufacturing with online sales and personalisation. Five recent spottings:
1. THE MAGICAL STORY MACHINE - For GBP 5.95 or less, the Magical Story machine allows users to record their own children's audiobook, along with a personal message. Users pick from a selection of popular children's stories, then record the words online using their computer's microphone and a web-based autocue tool. Appropriate sound effects and music are automatically mixed in with the storyteller's voice, and the result is made available for download as an MP3 file.
2. I AM A STUFFED ANIMAL - I Am A Stuffed Animal makes cuddly toys that resemble caricatures of real people. Users send in one or more photos of themselves (or whoever they want parodied) and some descriptive information such as interests and clothing choices. The stuffed Mini Me is then delivered within four to six weeks; a little more if the destination is outside the United States. The price? USD 69.
3. QUILTCREATOR - QuiltCreator.com allows consumers to come up with their own unique bed quilt by choosing from a wide range of themes, patterns and colours, using a drag-and-drop tool. Six to eight weeks later they'll receive a hand-crafted, 100% cotton quilt that matches their design.
4. EDELWISER - In a similar vein but a very different field, Edelwiser Ski lets users design the livery for the top layer of skis purchased from the Austrian company. Full-colour graphics can feature artwork, images and text. There are also downloadable templates for Adobe Photoshop and Illustrator if users to prefer to do their graphic design using familiar software.
5. FLUID FORMS - Also from Austria, Fluid Forms is a design label that specialises in using CNC technology to create products customised by customer input. Their latest line is Streets Earrings: jewellery featuring an etched map of any location that's special to the earrings' future wearer. Like most personalisation concepts we've covered, it's all done with an easy-to-use web tool.
Spotters: Martina Meng, Judy McRae, Dave Lueder, Dietfried Globocnik
ONE NOFFS

Sringwise frequently writes about companies who engage in upcycling to create scarves, bags, teddy bears, and more. Similarly, our latest spotting breathes new life into cast-off clothing, but adds a charitable twist. Launched by the Ted Noffs Foundation, Sydney-based One Noffs offers local aspiring fashion designers the opportunity to rework donated garments into one-of-a-kind designs, which are then sold to fund programs for disadvantaged kids.
Participants receive a big bag of pre-loved clothing which they have three weeks to remanufacture, either at home or on One Noffs' in-store sewing machine. A section of the foundation's second-hand stores will be dedicated to these one-off designs. Each designer receives 20 percent of the sale price and their bio is added to the item's swing tag.
There's nothing like one-of-a-kind designs to make consumers feel unique, but add stitch of upcycling, sew in a social cause element and the products become all the more desirable. (Related: T-shirts with a story, and a cause - Salvation Army's 50/50 project.)
Website: www.noffs.org.au Contact: onenoffs@noffs.org.au
Spotted by: Gerard McLennan