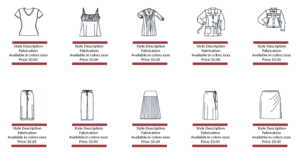 How To Build An Apparel Line Sheet
A line sheet is a presentation tool used to sell the line effectively. This is usually given to buyers at shows or after sales meetings, and if the sheet is prepared well, it can be the ticket to success for the season.
Line sheets are always personalized to fit a particular company's needs, but the basic information that MUST be included is:
Flat sketch of each style/piece, front and back

Name and/or style#

Wholesale price

Fabrication

Size information

Colorways

Color/fabric & leather options

Silhouettes (ex: hobo, clutch, tote)

Hardware detail

Closure Description (ex: working buckle, magnetic snap, zipper)

Interior workings (ex: zip inside pocket, cell phone pocket)

Season

Delivery Dates

Order cut off dates

Company and/or Sales Rep Information

Order Minimums
One of the main things that buyers respond well to are options for color and fabrication, so make sure that if those are available, to say so on the line sheet, and provide swatches on the fabric or leather/color card. Try not to forget any important information on the line sheet, as it could result in a fantastic sale or result in devastation for the season.
A good tip to remember is to create your line sheet as if the buyer is never going to see your actual line. Make it so they don't have to guess who you are; make it so they will know your company just by looking at the sheet. It is really quite easy to design and create a line sheet and, again, it all depends on what your preferences are and how you want your company to be seen, since line sheets are also among the items that help to represent your company's image.
Line sheets can be as simple as computerized flat sketches with color cards attached, or can be as complicated as digital images of each piece in every single style and color…again, it is your call. But, all line sheets should be organized and easy to follow.
Buyers are very busy people, so don't give them a line sheet which is cluttered with images/pictures and confusing to understand. Also, it is highly suggested by retail buyers that you organize your line sheets according to the merchandise, for example outerwear on one sheet, accessories on another, etc.
This is so important! Buyers usually have tons of paperwork with them, including several other line sheets from different companies. So in case some of your pages get mixed up in a pile of other paperwork, the buyer will know who that page belongs to. Remember, there is no need to be fancy with line sheets. They are for functionality more than anything else, and are tools for buyers to make their orders.
Be fancy and creative with your look books; that is the time to be creative and interesting! This is so important!