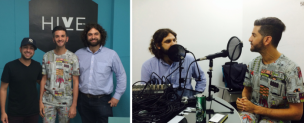 How Curated E-Commerce Can Flourish
The 27th Episode of the Fashion Is Your Business featured guest Raed Alawadhi. Alawadhi is a co-founder of the new curated e-commerce website Modern Look.
The platform debuted a week before Open Source Fashion's Freestyle Conversions Conference in Miami. This episode has me interested in Modern Looks' site. It also has me thinking about how curated shopping sites operate and thrive in general.
Note, there is an advertisement at the beginning of the podcast. Be patient, the interview is worth the wait.
I think of curated e-commerce sites as online versions of shopping boutiques. A boutique shopping experience is successful by driving the consumer value in two important ways. First, they present a collection of products based around an aesthetic or a design point of view. Also, they provide an aspect of discovery for the shopper…introducing them to products for the first time. Examples of curated e-commerce sites include Mr. Porter/Net-a-Porter and Lyst.
With a number of these sites in existence now, how does a site or a brand differentiate themselves? That is an issue that Modern Look is going to have to solve. With that said, Raed and his team have a number of things going for them:
Their Miami Location: Modern Look is based in Miami's design district. This is one of the worlds most current, and forward thinking retail communities. I'm sure this will lend them inspiration and a unique perspective that other brands might not have. While New York City is the fashion capital in the United States, Miami is a bridge between North and South American markets. The city itself is a unique blend of culture and fashion that has influence from both sides of the equator.
Photography and Storytelling: Their team has created strong visual assets. A customer's first impression, beyond the quality of the images, is that these products exist in a context. Clothes are being worn and items are being used. Doing this work in house assures that varied items and brands are posted with a uniform look and feel.
Raed himself: He is a trend-setter. This is clear by hearing the story of how Modern Look came to be. One can get a glimpse of his style just by seeing the outfit he wore talking to Fashion Is Your Business.
These attributes help differentiate Modern Look from its competitors, but will not insure success.
There are a lot of curated e-commerce sites. It takes hard work to gain visibility, and stay ahead of competition. Platforms must create a strong first impression, and provide an exceptional customer experience. We're excited to follow the progress of Modern Look.