Home Interiors Report FW 2011-12
Fall/Winter 2011-12 is torn between two polar opposite moods; between being reserved, conservative, careful, investing in the practical and functional for the long-term benefits, and on the other hand being exuberant, pushing forward, celebrating life and the end of the recession. For the Home market, themes range from Perfected multi-functional elements, Utilitarian and Geographique which evloves the trend for hand-crafted goods, to comforting and cozy Alpine Shelter.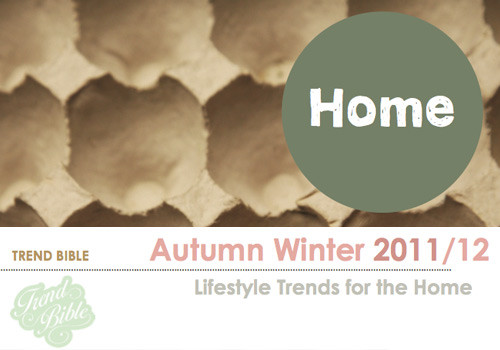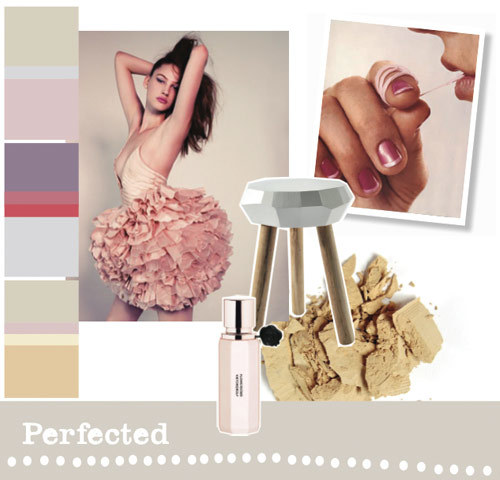 PERFECTED
Borrowing from the world of cosmetics and futuristic healthcare, this trend blends soft, delicate tactile elements with architectural structure that is almost clinical in places. The home of the future becomes a highly efficient place, where multi-functional furniture and flexible storage are the immaculate foundation; and where pretty, comforting accessories create a soulful, soothing environment. Raw and natural ingredients and materials mix with futuristic and highly scientific techniques as we seek out perfection in a very modern sense.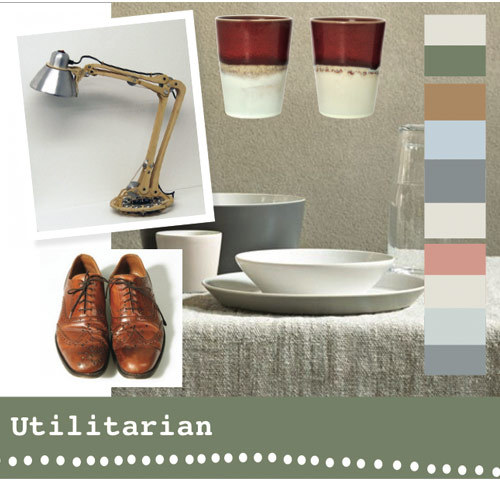 UTILITARIAN
Inspired by the trend for at-home rapid prototyping, Utilitarian celebrates functional and robust items that stand the test of time. This trend in part is nostalgic and traditional, but is more about refocused, recontextualised design made modern to cope with the requirements of life tomorrow. As we increasingly push forward for a fresh start, there is reassurance in the familiar, and the concept of what is essential brings together new and established design icons. Craftsmanship is still key, evident in crude manufacture, understated and almost incidental form, and casual, tonal colours that suggest one-off designs.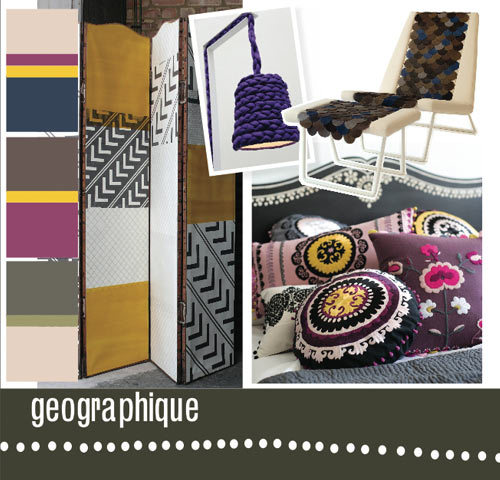 GEOGRAPHIQUE
Geographically all-encompassing, this trend is rootless and nomadic in its inspiration, mixing influences from near and far. A mismatch of pattern and texture is simultaneously exotic and familiar, exciting and comforting, foreign and local. The trend for crafted goods continues to gain momentum as we value the work of the artisan. Hand-made furniture and textiles are patchworked and pieced, while geometric jacquards and knits are key for soft furnishings. Assymetric shapes, colour blocking, and highly patterned surfaces make this a happy, upbeat look for winter.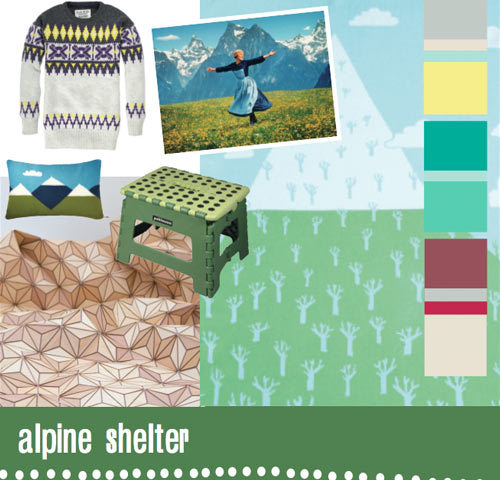 ALPINE SHELTER
Alpine ski lodges inspire this trend as we seek out comforting, cozy environments for winter. There is a sense of cheerfulness and positivity in bold and unusual colour combinations mixed with familiar Scandinavian references like pale wood, fairisle knits and heavily patterned textiles. This quirky look embraces crafted pieces with a childlike naiivety, as we see graphic print icons like snow-capped mountains, snowflakes and icicles executed in Sound of Music technicolour!
All rights reserved. Image copyright remains with the originator.
MORE REPORT DETAILS
Trend Bible, a new generation trend forecasting agency specializing in home interior, kid's lifestyle and packaging trends.