Home Interior Trend Report FW 2010-11
Palettes for Fall/Winter 2010-11 are inspired by simplicity of days gone by, futuristic modern living and a and return to the land and nature. This color report features three color trend themes: Reclaim, Explore and Humility. Presented by Fashion Snoops, an online forecasting service and consulting company that empowers leading companies around the world.
Seasonal Direction
RECLAIM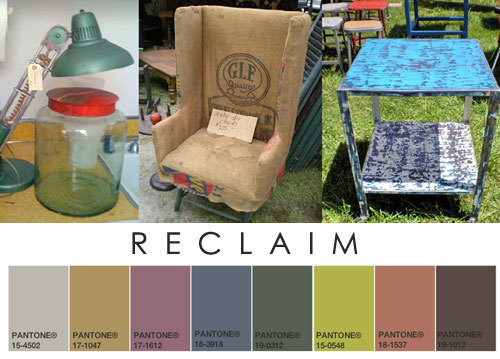 Old is the new new. By creating a style that is at once full of history yet updated by reinvention we are able to rediscover the simplicity of days gone by. Finding items long forgotten and discarded, using what we already have, and exploring new ways in which to use objects lays claim to sustaining our World. Reclaiming and reusing shifts our view of what recycling means. We find beauty in decay and reclaim objects from our ancestor's past, which bring new value, and comfort us in memories.
EXPLORE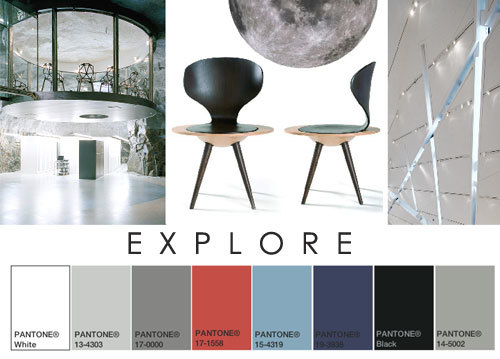 In 1964 The Worlds Fair informed our view of futuristic modern living. It was there that Charles and Ray Eames were able to showcase their design aesthetic and society became enchanted with the future of design seen through their eyes. The innovative technologies they used such as molded resin, fiberglass and wire mesh to create their iconic chairs as well as many other furniture pieces struck people as new but approachable. Society embraced these ideas of moder living an amenities much as we embrace the idea of future colonies in space today. We look forward with one eye trained on the past because while we strive for the modern we ultimately crave the familiar.
HUMILITY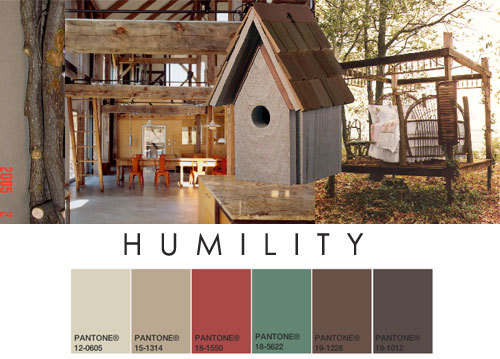 The unstable economic climate has created a desire to live a more grounded existence and fine a modicum of control in the chaos that surrounds us. Most of us have been caught in the over consumption of the past decade and we are ready to peel away the unnecessary and return to the land and nature. We find ourselves gravitating towards a lifestyle made from humble materials of wood, stone and found objects. Looking to the beginning of time when man was a hunter and gatherer. We are drawn to strong simple materials that protect as well as allow us to cocoon. Understated yet strong they sit quietly offering comfort and a safe haven, reminding us that originally we were creators with our own hands and that we can be again.
http://qa.weconnectfashion.com/admin/articles/search?q=trend+bible
http://qa.weconnectfashion.com/admin/articles/search?q=design+opt
http://qa.weconnectfashion.com/admin/articles/section/trends/page/4
http://qa.weconnectfashion.com/admin/articles/search?q=trendstop
THE FULL REPORT IS AVAILABLE NOW
Trendstop.com is one of the world's leading trend forecasting agencies for fashion and creative professionals, renowned for its insightful trend analysis and forecasts. Clients include Forever21, Ralph Lauren, H&M, Hugo Boss, and L'Oreal.

MORE REPORT DETAILS
Design Options, has a golbal client base, filling the color needs of large retailers to small indie design firms. Design Options Inc is dedicated to bringing Southern California's unique aesthetic to the world. Its singular, cutting edge perspective, coupled with a comprehensive knowledge of the current marketplace, fuels the company's imaginative products and high-end consulting services.
CIFF #####MORE REPORT DETAILS

NILIT #####MORE REPORT DETAILS
Visit Nilit, a recognized leader in innovative performance yarns.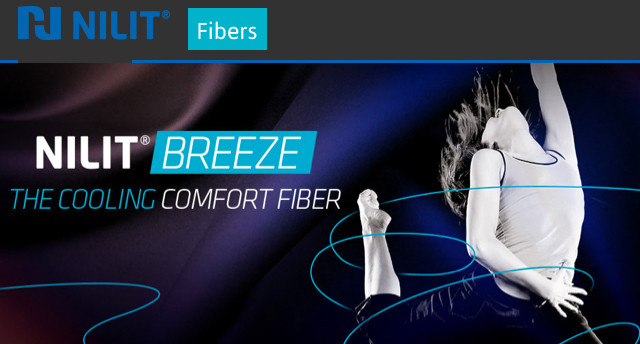 fashion snoops link w logo
This FW 2015-16 Men's Color Seasonal Recap
The full version of Fashion Snoops' Fall/Winter 2015-16 seasonal denim reports for men and young men are available for purchase through the WeConnectFashion digital Trend Shop, with women's denim coverage too.
More Report Details
An in-depth analysis of design themes for Ladies, Men, and Children is available for purchase at the WCF Trend Shop. Reports on other trend areas like color, design themes, key items, details, materials, accessories, etc are also available.