Home Furnishings and Interiors Color Spring 2019
On view, PADOGA HORIZONS, a Home Furnishings and Interiors trend mood direction for the Spring Summer 2019 market. This must-see report features color boards and inspirational write-up. Thanks to Design Options Inc, the color forecasting firm who is dedicated to bringing Southern California's unique aesthetic to the world.

Padoga Horizons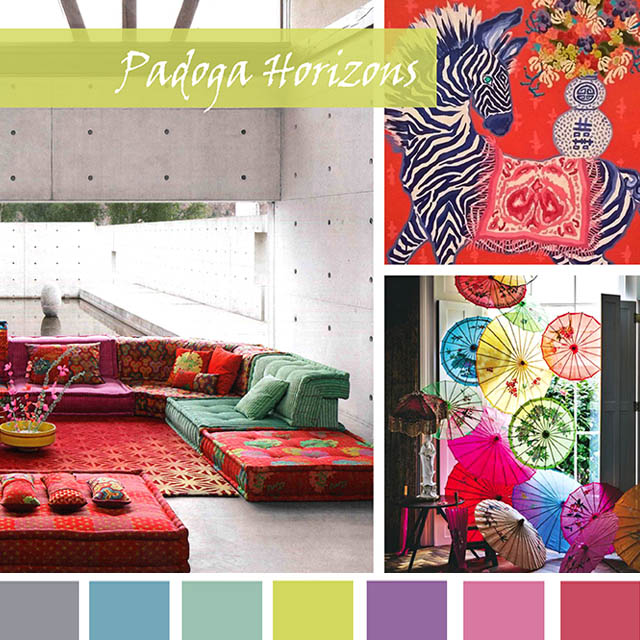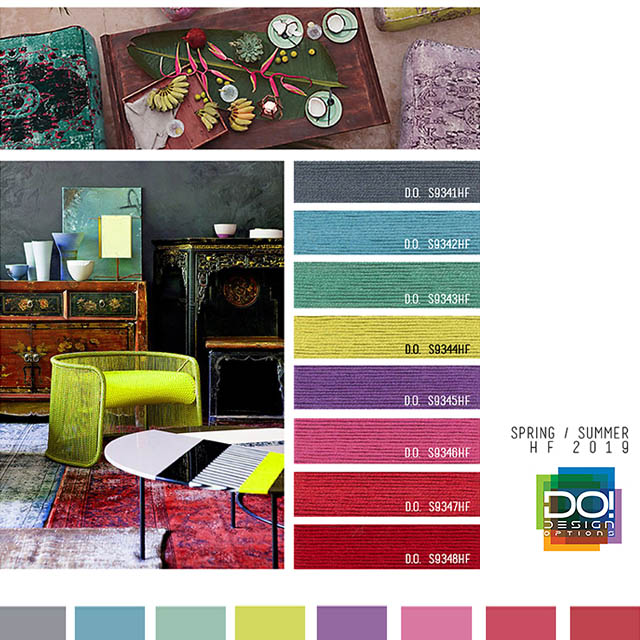 Padagoa Horizons
In a temple buried in a paradies of culture lie spectacular sights of the most vibrant hues. Radiant reds ordain the halls with genereations of deeply rooted power behind prayer. For years on end, spiritual purples guide the worshiper, propelling the imagination to morph into concrete reality. Yellow sightings set the idea in montion while green protect the beholders desire forward with prosperity and good karma, A finale of unbelievable colors escalates as the serrendipitous mingling of blue and pink skies set the mood for the Pagoda Horizons.

MORE REPORT DETAILS
Padoga Horizons is one of six Home Furnishings / Interiors color palettes Design Options offers for the Spring Summer 2019 season.
If you are involved in the Interiors/Home Furnishing industry – a brand, retailer, manufacturer, or fabric convertor – I strongly encourage you to consider Design Options S/S 2019 color products. Their color trend service is inspirational and wildly affordable.
Single Palette for $175 or six palettes for $795, includes:
Mood theme boards, 11" x 17" on card stock
Pantone TCX codes are included on boards
Inspiration pictures along with theme description
Detachable skein card, individually color matched to each Pantone
Separate skeins of each color way on a ring
Design Options, has a global client base, filling the color needs of large retailers to small indie design firms for over 20 years. Design Options Inc is dedicated to bringing Southern California's unique aesthetic to the world. Its singular, cutting edge perspective, coupled with a comprehensive knowledge of the current marketplace, fuels the company's imaginative products and high-end consulting services.

RELATED REPORTS

RELATED CONTACT LISTS PRODUCTS