High Class Revival: Activewear SS 2008 Trend
It's a Renaissance of classicism: designers are racing back in time to revive the glory of high-class sports as worn in the 1920's.
Authentic Tennis & Golf Classics
From flawless golf ensembles to firmly pressed white tennis skirts, the athletic classics are making their way back with a splash of vivid colors, modern fabrics and tasteful design twists. Adidas, left.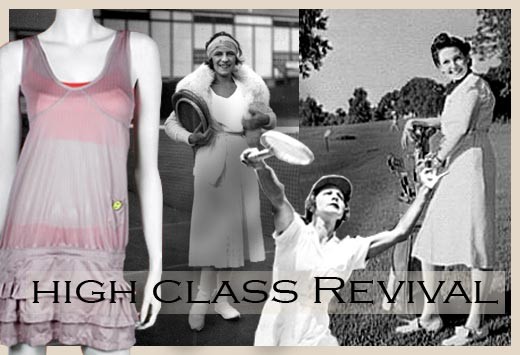 Suzanne Lenglen
The style of the tennis legend Suzanne Lenglen is a staple of this season. Simple white tennis dresses are updated with technical fabric (Wimbledon, far left, Nike, left). Also a v-neck top and pleated skirt by Fila (right) effortlessly polish off the look. After the game, add a leather belt for modern elegance (Puma Apparel}, middle).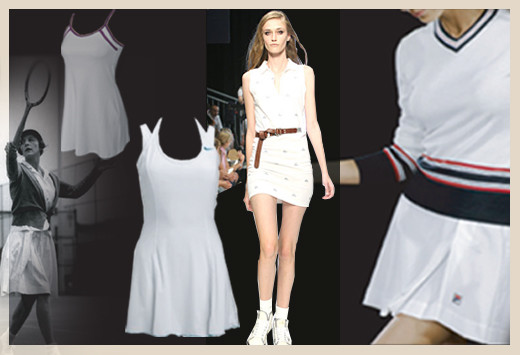 Jazzed up classics are revived with color and silhouette updates. It's a New takes on active lifestyle merchandise. Yellow sleeveless polos and shorts are perfect for a jog (Lacoste, Right). You can be chic without sacrificing comfort by wearing high quality sportswear in classic cuts (Mari Dade, middle, Frankie Morello, right).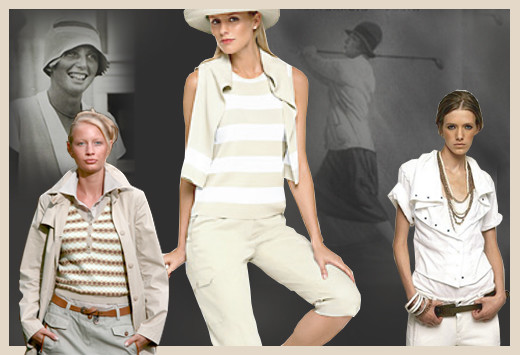 Big collars and subdued hues: vintage golf outfit inspired activewear brings sophistication. Slim fit polo shirts and A-line skirts represent timeless stylishness (Belfe, left). Coordinate your attire in beige for simplistic charm (EP Pro, middle). Cropped jacket with metal detailing and rolled up sleeves give it an extra edge (Nicholas K Collection, right).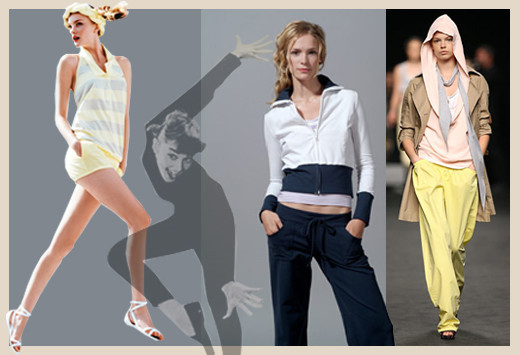 This catalog was created for hardworking fashion merchandisers devoted to their consumer and their well-stocked boutiques. Above is a small tasting of extraordinary labels promised to bring any shop success.