Haute Punk, Women's Market Forecast, FW 2014-2015
Punk rebellion is refined with a new sophistication for Fall/Winter 2014-15, creating statement styles that preserve a subversive undercurrent, say the trend analysts at Trendstop. We see stylish designs tempered with dark tones and hardware detailing for an edgy, youthful insouciance. View catwalk and retail validation for both accessories and apparel.
Key Seasonal Trend Direction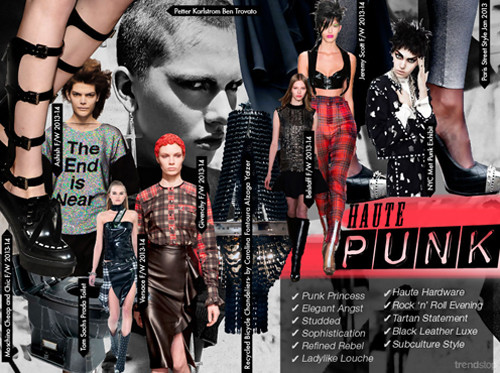 APPAREL, RUNWAY
With a mix of signature tartan and luxurious fabrics, Haute Punk apparel commands attention with a subcultural seasonal flair. Versace fuses black vinyl with monochrome tartan on a revamped kilt, as Rodarte channels a moodiness with an all-black layered ensemble in wool and satin. Jeremy Scott retains a youthful vibe with a vinyl crop top teamed with high-waist tartan pants.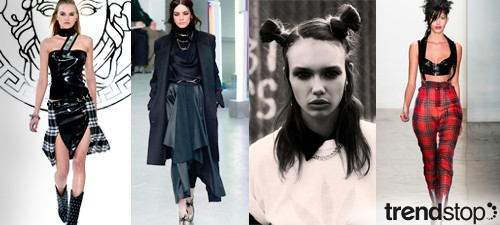 Versace, Rodarte, both F all/Winter 2013-14, Bad Girls Do it Well Photography by Zachary Handley, Jeremy Scott Fall/Winter 2013-14.
APPAREL, RETAIL
Following the catwalk's lead, we see a similar focus on tactility emerge in early indicator retail collections. Freak of Nature offer both leather/mesh crop tops and plaid mix skirts, as dark sweaters sparkle in black wool at Mink Pink and cropped two-pieces incorporate faded tartan at Nasty Gal. Mango offer a shiny quilted jacket in black.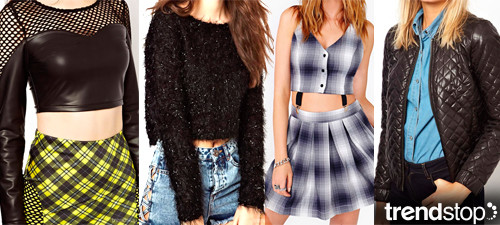 image courtesy Trendstop: Freak of Nature, Mink Pink, Nasty Gal and Mango, all Fall/Winter 2013-14.
ACCESSORIES, RUNWAY
Haute Punks finish their ensembles with a range of edgy accessories where metal detailing is key. Moschino Cheap & Chic's heeled creepers express a fetishistic element with a strappy buckled design, while Jean Paul Gaultier opts for a 'more is more' approach on multi-ringed ear cuffs. Elsewhere, Versace finish a pair of studded leather boots with dangerous-looking spiked hardware embellishment down the center.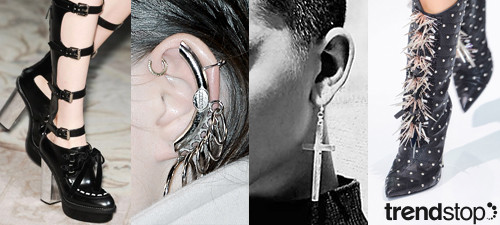 image courtesy Trendstop: Moschino Cheap & Chic, Jean Paul Gaultier, both Fall/Winter 2013/14, Petter Karlstrom Ben Trovato, Versace F all/Winter 2013-14.
ACCESSORIES, RETAIL
We see similar accessory styles landing at directional retail stores, indicating a strong look to translate into next Fall/Winter's collections. Key footwear looks emerge in gold-detailed biker boots at River Island and buckled ankle shapes at Underground. Emanuele Biocchi pairs pyramid studs with fine chains on a pair of earrings, while Vivienne Westwood textures a backpack in red and green tartan.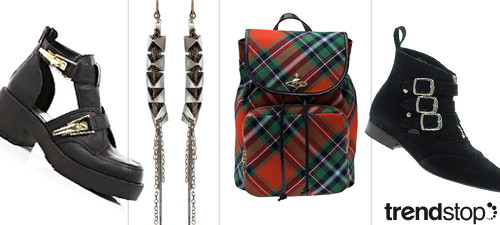 image courtesy Trendstop: River Island, Emanuele Biocchi, Vivienne Westwood, Underground, all Fall/Winter 2013-14.
Purchase the Full Report
Source: Trendstop Theme Trend Book Fall/Winter 2014-15 is available at Trendstop.com.
Trendstop.com is one of the world's leading trend forecasting agencies for fashion and creative professionals, renowned for its insightful trend analysis and forecasts. Clients include Forever21, Ralph Lauren, H&M, Hugo Boss, and L'Oreal.