Handbag Trends Silhouettes & Sketches, FW 2014-15
Handbags which were once an accessory of practicality have thrown all of these useful attributes to the wind, providing an assortment of lust worthy arm candy from oversized hobos to the micro cross body for Fall/Winter 14/15.
The Key Handbags Of the Season
The coming season is heavily focused on what you can hold rather than carry with XL duffels being used as clutches and traditional evening silhouettes such as the minaudiere being used day to night. The battle between the soft and structured tote continues with more styles taking on geometric detailing in both categories. Menswear has a huge impact in handbags as it has in all other product categories in accessories, making the attache one of the hottest styles for the coming season.
ATTACHE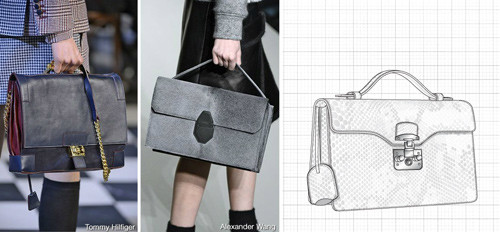 The attache gets its roots from that of menswear. With this briefcase style making cameos from New York to Milan it is certain to be a top seller for Fall / Winter 14/15.
BOWLER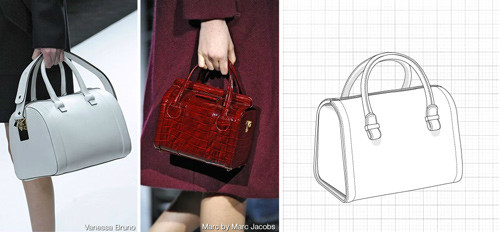 An easy silhouette for any woman to carry, the bowler bag becomes a more important style as we begin to see the traditional tote fade out for Fall/Winter 14/15.
MINAUDIERE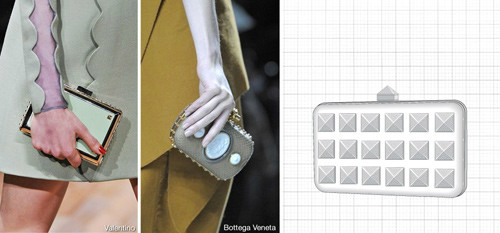 The minaudiere has become a timeless handbag working with any look from day to night. This is among the hottest styles for Fall / Winter 14/15.
MINI CROSS-BODY
The cross-body silhouette has been around for as long as we can remember but for the Fall/Winter 14/15 season we see the bags shrinking down to micro sizes making it the perfect no-fuss bag.
SOFT TOTE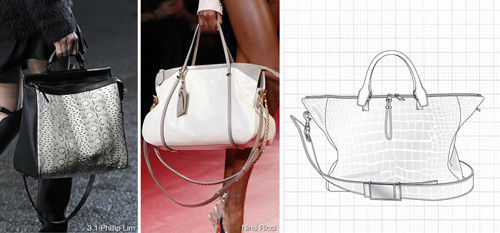 The soft tote is one of the most popular silhouettes for Fall/Winter 14/15. A top handle and cross-body dual strap add practicality to this oversized silhouette.
Purchase the Full Report
FW 2014-15 Key items, styles & sketches for women and men's accessories are now available for purchase here. These concise trend reports guide you through the most important accessories trends of the season for jewelry, eyewear, neckwear, legwear, gloves, belts, headwear, handbags & footwear - as forecasted by the Fashion Snoops editors. Each key item report includes an overview, written analysis, an index summarizing top styles, the top trends selected for each item, along with runway reference images. Also included with each key item, is an archive of downloadable sketches, representing all the top trend callouts from the most recent New York, Paris, London & Milan runways.