Goth Geisha, Women's Direction FW 2014-2015
Fairytale ideals of the Orient are over, as a gothic temptress rises in dark, rebellious imperial clothing for the Fall/Winter 2014-15 season, say the trend analysts at Trendstop.com. Tempering seemingly modest traditionalism with references to bondage and fetishism, this trend inspires a nighttime intensity across both apparel and accessory styles.
Key Seasonal Trend Theme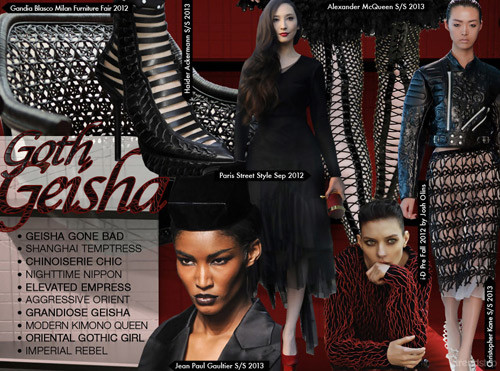 APPAREL, RUNWAY
Updating traditional Eastern styles with a dark Western flair, Goth Geisha apparel makes a romantic statement on the runways. Prada opt for an austere floral placement two-piece, as moody blooms surface on black grounds across a mini dress and cape at Leonard. Christopher Kane experiments with sheer underlays on an ornately wrought leather midi dress.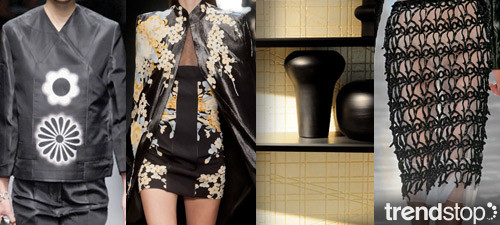 image courtesy Trendstop: Prada, Leonard, both Fall/Winter 2013-14, Molteni & C, Christopher Kane Fall/Winter 2013-14.
APPAREL, RETAIL
Taking cues from the catwalks, we see Goth Geisha elements emerge in early indicator retail collections. A pleated mini dress seduces with sheer panels at Valentino, as River Island offer an elegant kimono complete with devore detail and tassels. Topshop opt for a more casual interpretation, incorporating ornate jacquard print on a black jersey sweat.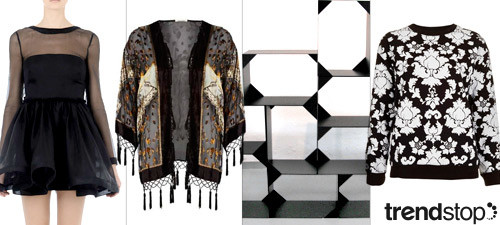 image courtesy Trendstop: Valentino, River Island, both Fall/Winter 2013-14, Nendo, Topshop Fall/Winter 2013-14.
ACCESSORIES, RUNWAY
A Goth Geisha would be nothing without her treasure trove of darkly sophisticated accessories, as styles fuse Oriental elegance with fetishistic qualities. Alexander McQueen's thigh-high heeled boots inspire notions of leather corsets, as Ruffian's statement gold collar is finished with a large horsehair tassel. Haider Ackermann adds interest to an ankle bootie with woven textures and layered skinny straps.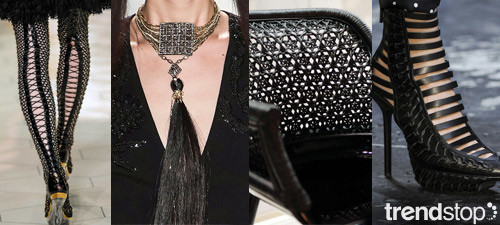 image courtesy Trendstop: Alexander McQueen, Ruffian, both Fall/Winter 2013/14, Gandia Blasco, Haider Ackermann Fall/Winter 2013-14.
ACCESSORIES, RETAIL
A parallel theme surfaces in accessory designs from directional retail stores, indicating a key look to translate into collections for next Fall/Winter. ASOS offer a pair of chunky geisha-inspired platform sandals, as bejeweled earrings are finished with fine chain tassels at Topshop. A boxy clutch is worked in quilted leather and gold metal detailing at Lulu Guinness – a perfect piece for party season wardrobes.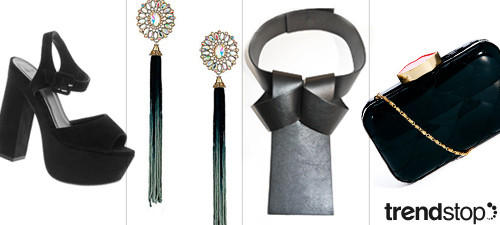 image courtesy Trendstop: ASOS, Topshop, both Fall/Winter 2013-14, Sonja Bischur Spring/Summer 2013, Lulu Guinness Fall/Winter 2013-14.
Purchase the Full Report
Source: Trendstop Theme Trend Book Fall/Winter 2014-15 - purchase the full report at Trendstop.com. Download the free Trendstop TrendTracker smartphone app or sign up to our new free TrendStream feature for more daily trends.
Trendstop.com is one of the world's leading trend forecasting agencies for fashion and creative professionals, renowned for its insightful trend analysis and forecasts. Clients include Forever21, Ralph Lauren, H&M, Hugo Boss, and L'Oreal.