Global Consumers: The Ultimate Innovators
Consumer Lifestyle Trends International Retail Report: Ever wonder how the world's apparel consumers view their shopping experiences in their home countries? If so, this report has several revealing insights to share, courtesy of Cotton Incorporated and Cotton Council International. Since 1999, these two marketing firms have conducted the Global Lifestyle Monitor research project, which investigates lifestyle issues, clothing purchasing habits, and clothing interest and attitudes.
Shopping and Fashion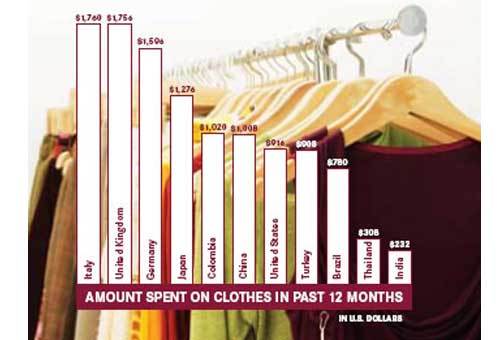 Consumers around the world prefer small, independent stores (with Italy leading at 42% of responses), although department stores aren't far behind (in China, 37% of the respondents preferred them)- but street markets dominate in Thailand (51%) and Brazil (43%), while consumers in the UK (36%) like to shop at chain stores. U.S. consumers split their preferences between mass merchants (23%) and chain stores (23%).
Beyond the U.S., where 75 % of consumers hit the stores once a month or more often, Europeans are the most frequent fashion shoppers, led by the UK (64%), Turkey (57%) and Italy (54%). Concern about selection and pricing is lower in Europe (28%) than in Asia (43%) and South America (38%).
Denim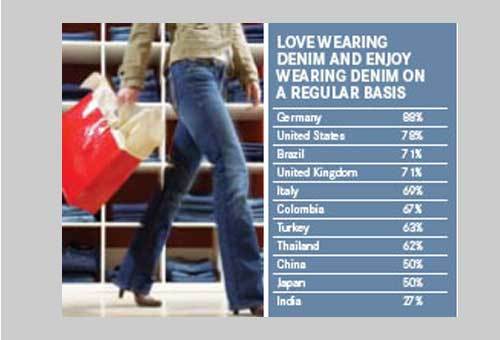 Globally, more than six out of 10 (62%) consumers say they love and enjoy wearing denim. Eighty-eight percent of German consumers love and enjoy wearing denim, and 3% say denim is not for them. In the U.S., that figure is 78%, with the same 3% who say denim is not for them. Except for India, the rest of the countries researched range from 50% to 71% in answering this denim question. While inroads have been made in India, still nearly half of consumers say denim is not for them.
Clothing Care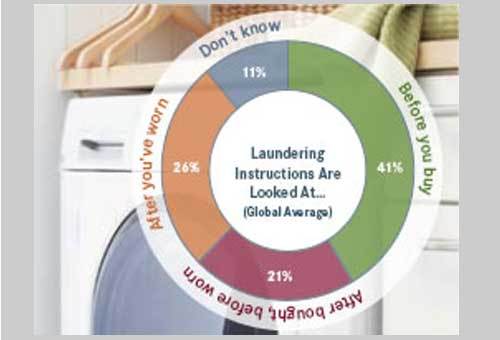 Which apparel consumers are most likely to look for laundering instructions on the label before purchasing? The highest is the Chinese at 59%, followed by the Japanese at 53%. Shoppers in Columbia and Brazil are the least likely to look for laundering instructions before purchasing. In the U.S., only 36% of consumers check out laundering instructions before buying.
Environmentally Friendly Clothing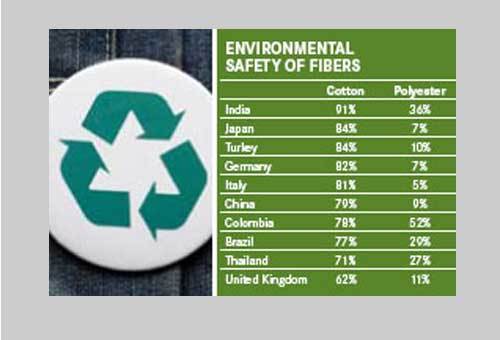 Cotton enjoys a strong association worldwide with positive attributes such as soft, breathable, comfortable and a quality fabric. Globally, 92% of consumers agreed that cotton was comfortable, compared with 31% for polyester. Cotton also was more often perceived as soft (88%), breathable (84%), and a "quality fabric" (89%).
Natural fibers like cotton, silk and wool were clearly seen as being more environmentally friendly. Eighty percent of global consumers believe cotton is an environmentally safe fiber, compared to only 19% of global consumers who believe polyester is an environmentally safe fiber.
Fiber Content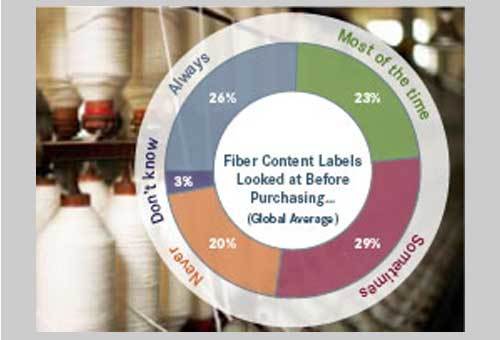 Which apparel consumers are most likely to check out fiber content? Sixty-nine percent of Chinese consumers always-most of the time look at fiber content labels before purchasing, with the Japanese at 63%. As with clothing care instructions, shoppers in Colombia and Brazil are the least likely to look for fiber content. In the U.S., 50% check fiber content.
Which consumers are selective about fibers? Of those who said they avoid particular fibers, polyester was the most mentioned fabric (25%). Overall, 44% of consumers said they actively avoid one or more fibers when shopping for clothing (slightly down from 46% in 2006). Fiber avoidance was highest in Germany and Italy, both of which said polyester was the most-avoided fiber. Of Turkish consumers, 83% avoid nylon; 61% of Thais avoid wool.
This story is one in a series of articles based on findings from Cotton Incorporated's Lifestyle Monitor tracking research. Each story focuses on a specific topic as it relates to Lifestyle attitudes and behavior regarding shopping, fashion, environmentally-friendly clothing and fiber quality.