FW 16/17 Men's Top Runway Trends, The Highlights
As the Men's FW 16/17 runway season recently wrapped in NY and the Women's ready-to-wear season soon to follow, you can count on Fashion Snoops to bring you the top trend highlights as the shows wrap up.
JOIN US as we highlight the top 10 takeaways for men's apparel and accessories, including: themes, colors, materials, design details, patterns, graphics, must-have key items and more.
PRE-REGISTER now for Fashion Snoops' exclusive webcast, starting Thursday, February 11th, 2016 at 10am. For now, get a sneak peek at some of our favorite trends below, fresh off the most recent runways!
This information has been compiled into a special report for WeConnectFashion members, courtesy of Fashion Snoops. The full version of the trend report is available now for individual purchase in the WeConnectFashion Trend Shop.

Men's Editors' Top Picks - A Sneak Peek.
THEME: Western World / Paris
Inspired by the recent movie The Hateful 8, this theme was all about the remixed western, with plenty of rowdy graphics, plush suede and fur, and cowboy-appropriate trim.

COLOR: Metallics / Milan
Designers from Milan shared a distinctly toned-down color palette for the F/W 16/17 season. Collections from Donatella Versace, Italo Zucchelli (of Calvin Klein) and Giorgio Armani's Emporio Armani label featured a range of metallic tones in varying shades of gunmetal, silver and bronze.

GRAPHIC: Ornate / Paris
Our well dressed gents continue to excite us in Ornate, as always Dries Van Noten offers great pattern inspiration. This is the grand and extravagant gentlemen, who favors paisleys and world traveler influences on plush fabrics with embroidery enhancements. We also love the hint of 60s/70s psychedelia which, strays from it's typical aesthetic.

DESIGN DETAIL: Patches + Applique / London
The F/W 16/17 edition of London Collections: Men was an opportunity for the many emerging and established designers to remind us that being witty and modern is just as heavy rooted in in English tradition as refinement is. From epaulets, fur trim, and piping, the everyday man would also be satisfied, and with activewear still being a heavy trend, the shows were filled with drawstrings, cuffs, and functional seaming for maximum comfort, but by adding exposed zippers and cargo pockets, pouch pockets, toggles, and appliques, some much-needed personality is fused with utility for a fresh approach at dressing.

MUST-HAVE: Belted Winter Trench / Milan
The F/W 16/17 edition of men's Milan Fashion Week was the epitome of Italian tailoring re-defined by a new generation of consumers. Beautifully constructed blazers with appliques and patches, modernized moto jackets, belted trench coats, and complex cable knit sweaters are all hybrids of what the classic well put together Italian man is used to wearing.

TOP DESIGNER: Dries Van Noten / Paris
As WWD said, "Everybody got a backstage pass" at the F/W 16/17 Dries Van Noten show in Paris. Held behind the stage of the city's iconic Opera Garnier, the military-fueled collection was actually soft and sensual. The designer called his army "peaceniks," and in true Dries form, it was all about high-low styling. Military trench coats were worn with fluid pinstripe pants, and luxurious patches and embroidery celebrated the pomp and circumstance of utility. A final grouping of crushed velvet robes and slick pajama suits brought out the designer's signature luxe leisure at its best.

Purchase the Full Report
The full Fall/Winter 2016-17 Mens Runway Analysis is available now for purchase through the WeConnectFashion digital Trend Shop. View Details Here.This visually comprehensive online report by Fashion Snoops includes in-depth runway analysis of men's emerging trends from the FW 16/17 New York, London, Milan, and Paris catwalks.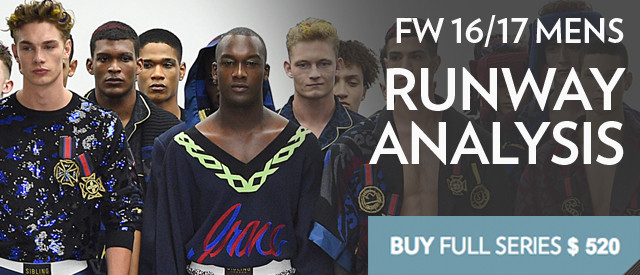 The complete series of forecasts for for incoming direction and previous seasons are available in the Trend Shop. Additional comprehensive reports are also available across all markets and incoming seasons.