Futuristic Finishes Apparel and Accessories Direction SS 2014
With their compellingly futuristic feel, Holographics are guaranteed to give a party outfit or sportswear that innovative statement edge. Sparkling with eye-catching rainbow hues or glowing space-age silver, their 3D quality adds another dimension to both apparel and accessories, with texture explorations in sheer panels and fluid surfaces.
Holographics & Fluid Surfaces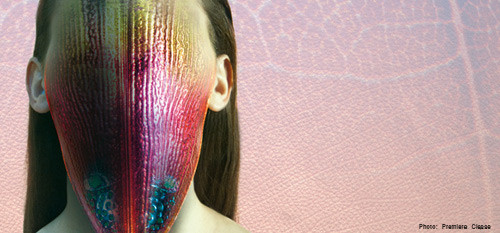 LUMINOUS KALEIDOSCOPE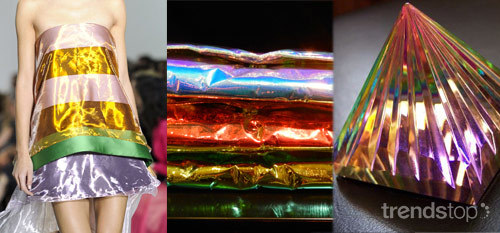 Images courtesy Trendstop: Christian Dior, Zilla Spring/Summer 2013
Luminous Kaleidoscope holographs span every color of the rainbow, complementing futuristic layered stripes in gold, pearl pink, apple green and white, and infusing clutch bags with a vibrant colorful edge.
NINETIES SHINE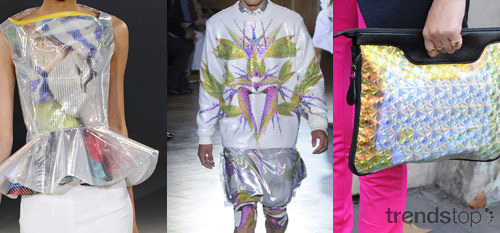 Images courtesy Trendstop: Chalayan Spring/Summer 2013; Givenchy Spring/Summer 2012; Paris Street Style October 2011
A retro reflective shine transports us back to the Nineties, adding a plastic sheen to peplum tops and evening shorts. Geometric holograph patterns create hypnotic visual effects on oversized clutch bags.
SPACE-AGE SURFACES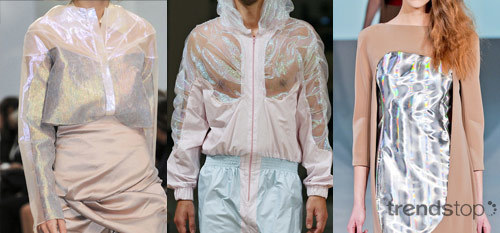 Images courtesy Trendstop: Anne Valerie Hash, Kunsthochschule Berlin Weissensee Spring/Summer 2013,Chalayan Fall/Winter 2012-13
Holograph designs take a trip to infinity and beyond, exploring futuristic cuts and textures. Try space age silver with pearly iridescent fluidity on sporswear, or experiment with shimmering cut-out paneling on sport-inspired shifts.
METALLIC SILVER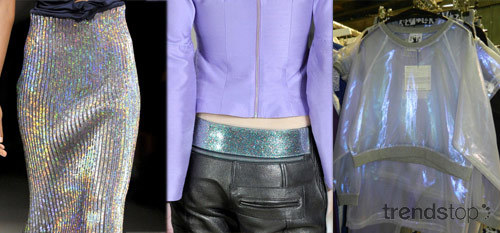 Images courtesy Trendstop: Danielle Scutt, Acne Spring/Summer 2012, Andrea Crews Spring/Summer 2013
Multi-hued metallic silver breaks up the midi length on platinum skirts flecked in rainbow shine; a glittering belt adds a touch of sci-fi adventure, while simple steel-toned jersey bands adorn sweatshirts to bring a luminous celestial sheen back down to earth.
GALACTIC PRISM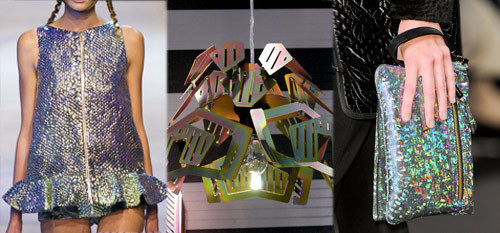 Images courtesy Trendstop: Moncler Gamme Rouge Spring/Summer 2013, Tom Dixon 2012, Vanessa Bruno Fall/Winter 2012-13
Galactic prism holographs produce eye-catching visual displays on funky partywear, such as fun mirror ball dress and dazzling clutch bags that have a texture from another dimension.
MORE TREND FORECAST DETAILS
A variety of trend reports are available at Trendstop.com, one of the world's leading trend forecasting agencies for fashion and creative professionals. The agency is renowned for its insightful trend analysis and forecasts. Clients include Forever21, Ralph Lauren, H&M, Hugo Boss, and L'Oreal.